Week 9 of the NFL promises to be filled with more surprises, beginning with a crucial matchup between two AFC teams looking to further improve upon their respecting middling records.
The Oakland Raiders' offense came to life on Sunday with an impressive victory over the Jets, while the return of Ben Roethlisberger for the Pittsburgh Steelers was not enough to stop the steamrolling Bengals that afternoon. Can the Steelers fare better this coming weekend playing at home against a much-improved Raiders team that's off to its best start in four seasons?
Read on as we take a closer look at this compelling showdown from the AFC. For more Week 9 action around the league, check out a pair of intriguing matchups out in the NFC with our previews for St. Louis vs. Minnesota and Philadelphia vs. Dallas right after this.
[sc:Football ]
Oakland Raiders vs. Pittsburgh Steelers Preview
Where: Heinz Field, Pittsburgh
When: Sunday, November 8, 1:00 PM ET
Line: Oakland Raiders at Pittsburgh Steelers – view all NFL lines
TV Broadcast: CBS
Betting on the Oakland Raiders (4-3)
[sc:NFL240banner ]No sir, these aren't the bumbling Oakland Raiders that we're used to seeing anymore. After a superb 34-20 win at home over the New York Jets on Sunday, the Raiders find themselves as just one of five AFC teams with a winning record to date.
Much of the team's success can be attributed to second-year quarterback Derek Carr, who arguably had his best showing in his young career this past weekend – all the more against the Jets' sturdy defense. Carr finished the game with 333 yards and four touchdowns on 23-of-36 passing, connecting with nine different receivers throughout the game.
Michael Crabtree led all receivers with his seven receptions for 102 yards and a touchdown. But Carr found plenty to love from the rest of his receiving corps as well, with Taiwan Jones completing a 59-yard TD catch for his lone reception and Andre Holmes hauling in two touchdowns of his own for his two catches of the day (with one of those TDs being a 49-yarder).
Even running back Latavius Murray took care of business on his end of the offense with 20 carries for 115 yards on the ground. Oakland's offense was clicking so well that the team did not punt to New York until the fourth quarter of the game.
With a tough road game in Week 9 against Pittsburgh, who has Ben Roethlisberger back for his first home start in over a month, it's a good sign that the Raiders' defense also showed up against the Jets on Sunday. Primarily, the front line held New York running back Chris Ivory to just 17 yards on 15 carries. A stout run D will be badly needed next Sunday, even with DeAngelo Williams coming in for the injured Le'Veon Bell.
On pass defense, 39-year-old Charles Woodson continued his renaissance of a season with another pick on Sunday, giving him his league-best fifth interception for the year. Woodson's leadership and resurgence will go a long way towards the Steelers' strong passing game with Big Ben back at the helm. The Raiders were also fortunate that they had to basically just stop Geno Smith and not Ryan Fitzpatrick on Sunday, who injured his throwing hand on the Jets' opening drive.
Oakland is 2-4 SU/ATS in its last six games on the road, with the total going over on five of those matches.
Betting on the Pittsburgh Steelers (4-4)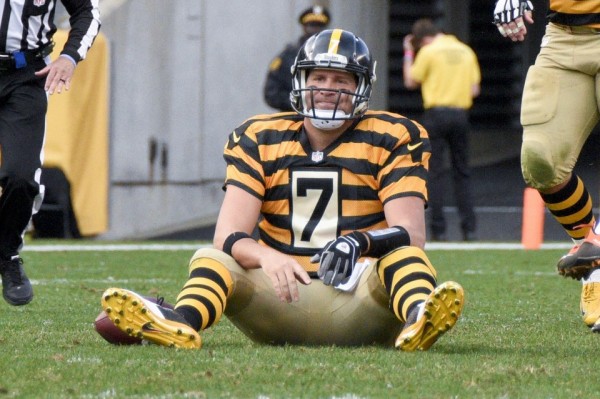 Big Ben's return to the starting lineup did not go as planned for the Pittsburgh Steelers, who fell to the still-undefeated Cincinnati Bengals, 16-10, on Sunday.
Ben Roethlisberger, who made his first start since injuring his knee in Week 3, had a shaky afternoon in the loss. He completed just 28 of his 45 passes for 262 yards, a touchdown and three interceptions – two of them coming in the final quarter with one of them leading to a late Cincy field goal to put the Bengals up by six points.
Roethlisberger found little time to get his act together after a month-long absence mainly because Pittsburgh lost stud workhorse Le'Veon Bell to a "badly torn MCL" on his right knee in the second quarter. With Bell ruled out for the year, veteran DeAngelo Williams will take over primary running back duties. Williams played surprisingly well in the first two weeks of the year when Bell was suspended. He logged in 204 rushing yards on 41 carries with three touchdowns in those two games.
Roethlisberger connected well with his favorite targets in tight end Heath Miller and star wideout Antonio Brown upon his return. Miller had team-highs of 10 receptions for 105 yards for the game, while Brown caught Roethlisberger's lone TD pass and ended with six catches for 47 yards. Still, the Steelers couldn't capitalize on their strong start. After an 80-yard, TD-scoring opening drive, the team just managed to get a field goal the rest of the way.
Atleast the defense also stood up against Cincinnati's daunting offense by limiting Andy Dalton to just 231 yards and one TD for a season-low 64.7 passer rating. The Steeler secondary picked Dalton off twice in the fourth quarter as well, which bodes well for the next matchup against the suddenly prolific Oakland passing game.
Pittsburgh has lost four of the last five meetings (SU/ATS) against the Raiders, with the lone win coming from a 2010 bout on Heinz Field.
Writer's Prediction
The Steelers get back over the .500 mark with a tense 28-25 win over Oakland.
Create a betting account now to start betting on all the hard-hitting action from the AFC and all the other exciting NFL action on tap.
[sc:NFL490Banner ]
2,720 total views, 1 views today
Comments
comments