Hoping to emulate their amazing feat in 2011 when they knocked out the top seed Spurs as the no. 8 seed, the no. 7 Memphis Grizzlies are now one win away from sending Kevin Durant and the no. 2 seed Oklahoma City Thunder crashing out of the playoffs in the first round.
This incredibly close series has needed overtime in four straight games. Read on for everything you need to know to bet on this decisive Game 6 and then don't forget to set up a brand new betting account that comes with a 50% deposit bonus.
[sc:NBAArticles ]
Memphis Grizzlies vs. Oklahoma City Thunder Round 1, Game 6 Betting Preview
Series Schedule & Results
Game 1 – April 19, Memphis 86 at Oklahoma City 100
Game 2 April 21, Memphis 111 at Oklahoma City 105 (OT)
Game 3 – April 24, Oklahoma City 95 at Memphis 98 (OT)
Game 4 – April 26, Oklahoma City 92 at Memphis 89 (OT)
Game 5 – April 29, Memphis 100 at Oklahoma City 99 (OT)
Game 6 – May 1, 8:00 PM ET, Oklahoma City (-3) at Memphis (+3); total 185.0 – view all NBA lines
Game 7 (if necessary) – May 3, Memphis at Oklahoma City
Betting on the Oklahoma City Thunder
The Thunder have quite simply not played well for most of the last four games. They've found themselves behind in the fourth quarter of each game, mostly because Kevin Durant (27 PPG, 37% FG%) and Russell Westbrook (26 PPG, 33% FG%), the team's only consistent sources of offense, have been far from efficient in those games.
[sc:NBA240banner ]And yet in all four games, the Thunder rallied to force overtime. Granted, they've lost three of those four games, but if a few breaks – like Serge Ibaka's potential game-winner in Game 5 – went their way, they would be ahead in the series. Ibaka had tipped in the seeming-winner at the buzzer in Game 5, only for the play to be overturned after the refs found that Ibaka released the ball just milliseconds after the buzzer.
Still, with Durant and Westbrook's uncanny shot-making ability coupled with the Grizzlies' bouts of offensive ineffectiveness, OKC is never truly out of a game or the series as a whole.
They could also expect more help from their bench, with Reggie Jackson (32 points in Game 4) and Caron Butler (15 points in Game 5) finally becoming factors in the series.
As they've struggled to produce as the favorites in this series, OKC is just 1-6-1 ATS in its last eight games.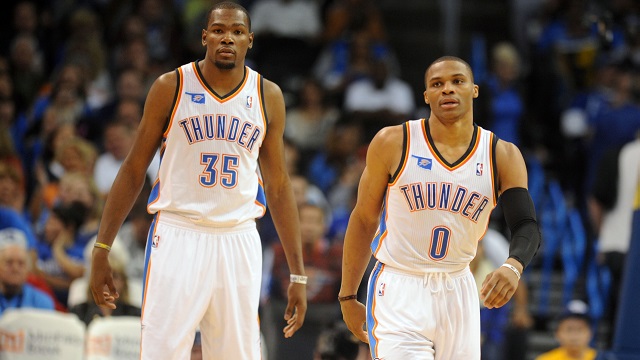 Betting on the Memphis Grizzlies
The excellent Grizzlies defense has lived up to its reputation by containing Westbrook and Durant expertly well as they've jumped to a 3-2 series lead.
They're forcing Westbrook to take some highly inefficient shots, while Durant has looked a shell of his regular season MVP-calibre self under the watchful eye of Tony Allen.
On offense, the Grizzlies have struggled holding on to leads, but their great defense, supplemented by the points of Zach Randolph (18.6 PPG), Marc Gasol (17 PPG) and Mike Conley (16 PPG) has given them enough of a head start to weather those inevitable late-game storms.
And as evidenced by their three overtime wins by a combined 10 points, their offense is still able to execute in the clutch and has produced enough points to eke out wins.
The Grizzlies will do their best to take advantage of home court at the Grindhouse. Memphis is 17-3 SU in its last 20 home games.
Writer's Prediction
Expect Durant and Westbrook to go balls to the wall in an elimination game as the Thunder win again in the Grindhouse to force Game 7. Take the Thunder on the -3 spread as they should roll the Grizz with a more consistent effort.

[sc:NBA490banner ]
1,962 total views, 1 views today
Comments
comments