Roger Federer has 85 ATP World Tour titles in his historic career. However, winning the Italian Open is not found in his lengthy resume. Federer makes another bid for his first ever title at the Italian Open (dubbed this year as the Internazionali BNL d'Italia). His first opponent in the tournament is Pablo Cuevas, ranked 24th in the ATP tour this year.
Don't miss out all the action happening in the Italian Open. Head on over here for our preview of the match between Andy Murray and Jeremy Chardy.
[sc:TennisArticles ]
Roger Federer vs. Pablo Cuevas Betting Preview
Where: Foro Italico, Rome
When: Wednesday, May 13, 2015, 1:35 PM ET
Line: Roger Federer (-500) vs. Pablo Cuevas (+350) – view all 2015 Italian Open lines
Betting on Roger Federer
Winning the Italian Open remains one of Roger Federer's few elusive achievements in his sparkling career. Since 2003, Federer has been to the Italian Open finals match three times. In all three of those attempts, he lost to two Spaniards: twice to Rafael Nadal, and once to Felix Mantilla.
[sc:Other240banner ]His first matchup this season on his path to the Italian Open crown will be against Argentinian Pablo Cuevas. Both Federer and Cuevas met earlier this month for the very first time at the inaugural TEB BNP Paribas Istanbul Open in Turkey.
Federer defeated Cuevas 6-3, 7-6 (11), winning the first ever Istanbul Open title. That title gave Federer his third ATP title for the year. Cuevas fought tooth-and-nail in his first career match against the phenomenal Swiss. Federer needed five match points in the final set to seal the win over Cuevas.
Despite the tournament win, though, Federer has looked very shaky at the start of the clay court season. He was ousted by Gael Monfils in straight sets, 6-4, 7-6(5), in his second match in Monte Carlo, the tournament prior to his Istanbul win. He was then outlasted 6-7(2), 7-6(5), 7-6(12) by Nick Kyrgios at the recently concluded Madrid Masters.
Don't miss out on all the tennis betting action. Create a betting account now.
Betting on Pablo Cuevas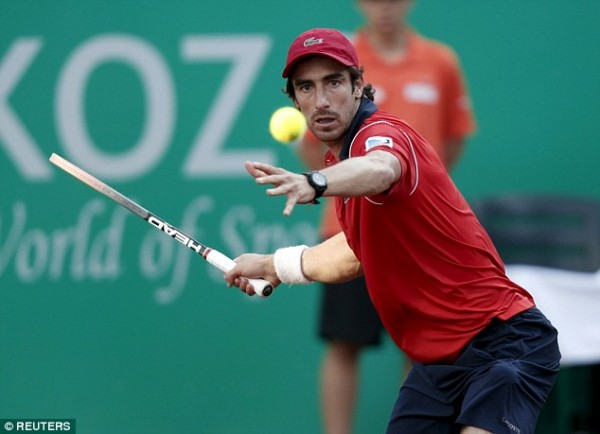 After a valiant effort in Istanbul two Sundays ago, Pablo Cuevas gets another shot at Roger Federer. This time, he plans to play the spoiler to Federer's crack at another ATP Tour title.
Cuevas earned his bout against Federer by defeating Paolo Lorenzi in the round of 64 of the Italian Open. He dominated his match against the Italian, winning 6-3, 6-2. Cuevas won 26 out of 32 of his first serve points in the match, to go along with five aces.
Cuevas has a 15-9 record for this season. He has three ATP World tour singles titles in his 11-year professional career, all of which have come on clay and within the last year. He is looking for his second title in 2015 after emerging victorious in Sao Paolo, Brazil back in February.
Cuevas definitely has a shot to cause the major upset over Federer in Rome. He already showed in their previous meeting that he can be a handful for the recently faltering Federer. But in order to bring down Federer, Cuevas must attack the Swiss' serve and create more break opportunities. He was just 1-for-1 in break points against Federer after winning 14-of-24 break points in his previous three matches.
Writer's Prediction
Federer (-500) outduels Cuevas 6-4, 6-3 to advance to the next round of the tournament.
[sc:Other490banner ]
2,565 total views, 1 views today
Comments
comments