The momentum changed hands again in the series after the San Antonio Spurs stopped the streaking Oklahoma City Thunder at home, winning Game 5 to the tune of 117-89, to go up in the series 3-2. Gregg Popovich, who we listed as one of the key factors in our preview of this series, made an amazing adjustment that surprised the Thunder and took his Spurs to the verge of the Finals.
Elevate your enjoyment of sports to a championship level by creating a betting account now and get into the action with our Game 6 betting preview below.
[sc:NBAArticles ]
San Antonio Spurs vs. Oklahoma City Thunder Western Conference Finals, Game 6 Betting Preview
Series Scores & Schedule
Game 1 – May 19, Oklahoma City 105 at San Antonio 122
Game 2 – May 21, Oklahoma City 77 at San Antonio 112
Game 3 – May 25, San Antonio 97 at Oklahoma City 106
Game 4 – May 27, San Antonio 92 at Oklahoma City 105
Game 5 – May 29, Oklahoma City 89 at San Antonio 117
Game 6 – May 31, 8:30 PM ET, San Antonio (+3.5) at Oklahoma City (-3.5); total 207.0 – view all NBA lines
Game 7 (if necessary) – June 2, 9:00 PM ET, Oklahoma City at San Antonio
Betting on the San Antonio Spurs
The offense that was missing in the last two games was back for the San Antonio Spurs, who countered the scoring off Russell Westbrook and Kevin Durant with a total team effort.
San Antonio put together a seamless inside-outside attack, driven by a small tweak: replacing Tiago Splitter with Matt Bonner in the starting line up.
[sc:NBA240banner ]By doing so, the Spurs made Serge Ibaka a non-factor. Ibaka was forced to play defense farther from the post as Gregg Popovich elected to start Bonner, a power forward with a touch from the outside. One beneficiary of such move was Tim Duncan, who scored 14 of his 22 points in the paint after putting up four in Game 4. Looking at how it worked out in Game 5, Popovich may once again call on the Red Rocket to start in the next game.
The Spurs averaged just 94.5 PPG in their two losses in the series, primarily due to the dearth of offense coming from the Big Three. But in Game 5, everything was back to normal. Duncan bounced back from a nine-point, and Manu Ginobili and Tony Parker (19 points combined in Game 4) scored 31 points together.
The Spurs are 7-3 SU and ATS in their last 10 games overall.
Betting on the Oklahoma City Thunder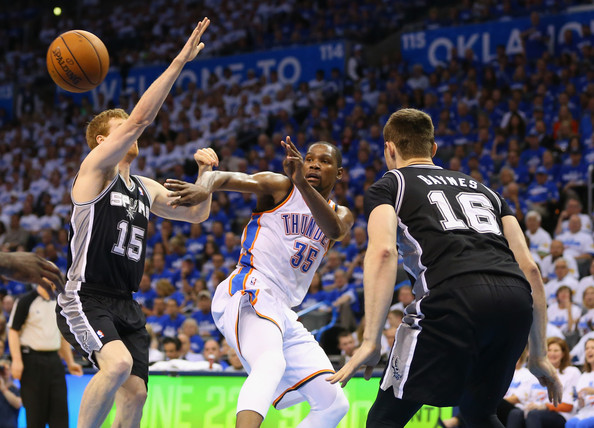 Although Ibaka was on the floor, the Oklahoma City Thunder felt like they were missing him again. They were outscored in the paint. They were outrebounded. And most of all, they were outsmarted by the Spurs. Now, Scott Brooks must find a way to beat San Antonio at home on Saturday where they are 9-0 SU and ATS in their last nine games against San Antonio there.
Aside from the Spurs solving the Ibaka puzzle, the ugly loss could also be charged to the inability of the other Thunder players to contribute on offense.
Westbrook and Durant can't score 71 points every game, which they did in Game 4 in the win. Back in Game 3, the two combined for only 51 points, but the other starters (Ibaka, Kendrick Perkins, and Jackson) chipped in 34 points. In Game 5, however, the same trio managed to add just 17 points, which wasn't enough to support Westbrook's 21 points and Durant's 25.
It's ironic that a team with two of the NBA's best scorers still lacks scoring. But it's true.
Back at home for Game 6, where the Thunder are averaging 107.7 PPG in these Playoffs, Oklahoma City may get the offense it wants from players other than the team's dynamic duo.
Writer's Prediction
There will be a Game 7. Take the Thunder to win straight up. However, for the first time in the series, this game will be a close one so take the Spurs to cover +3.5.
[sc:NBA490banner ]
2,040 total views, 1 views today
Comments
comments