Football is days (ok, weeks) away, and there's never a bad time to start boning up on the offseason moves and Super Bowl picks for the 2014 eason. Read on for everything you need to know about the San Diego Chargers and while you're at it check out previews of the defending Super Bowl champion Seattle Seahawks and fellow AFC West contenders the Kansas City Chiefs.
Confidence is high in San Diego that the Chargers, led by head coach Mike McCoy, will build on their impressive performance last season where they qualified for the playoffs for the first time in four years. With a couple of key acquisitions in free agency and in the 2014 NFL Draft, expectations are high that the Chargers can a mount a serious challenge in the AFC.
[sc:"Football Articles" ]
San Diego Chargers Team Preview for the 2014/2015 NFL Season
Offseason Updates (8/22/2014)
The Chargers's defensive line has been plagued by injuries in the lead up to the regular season. Starting defensive tackle Sean Lissemore suffered an ankle injury in the opening drive in San Diego's preseason game against Seattle, while defensive end Lawrence Guy is nursing his own shoulder injury.
To bolster their D-line, the Chargers signed free agent defensive lineman Doug Worthington on August 18. However, the recently-signed DL spent the entire 2013 season on the sidelines due to a torn bicep tendon. In his limited NFL experience, he totaled three tackles in six games for Washington in 2012.
Overview
2013 Regular Season Record: 9-7 SU/9-6-1 ATS
The Chargers surpassed expectations last year when they finished 9-7 in a tough AFC West Division and made the playoffs after a three-year hiatus. They then surprised even further when they stunned the Bengals 27-10 in Cincinnati in the postseason before falling to the eventual AFC champion Denver Broncos.
[sc:NFL240banner ]Head coach Mike McCoy worked immediate wonders with starting quarterback Philip Rivers last season. After Rivers' numbers had dipped in his previous two seasons, McCoy helped Rivers set career highs in completions (378), completion percentage (69.5%) and QB rating (105.5) to earn himself Comeback Player of the Year honors in their very first season together.
With this partnership entering its second season, there is more room for improvement as the Chargers try to keep in step with their AFC South rivals. They are the second best bet to win the AFC South at +500 while they are at +3,000 to capture their first Vince Lombardi trophy.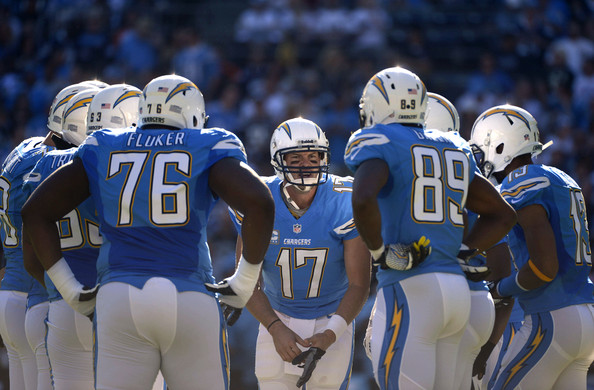 Offseason Highlights
Chargers fans will be delighted with the signing of cornerback Brandon Flowers who will provide the needed boost to San Diego's secondary. Though he struggled with Kansas City last season with Bob Sutton's press-man scheme, he will fit in nicely with the Chargers which will play him at the outside which is the defensive position he prefers.
This also allows the Chargers to move their first round draft pick, Jason Verrett into the slot position. Verrett, who was a first team All Big-12 selection in 2012, is still recovering from surgery on his torn labrum. Defensive coach John Pagano is hoping that he and Flowers will wreak havoc in the Chargers secondary, which was fourth worst last season in the NFL with 4,139 passing yards allowed.
The Chargers also signed free agent running back Donald Brown to a three-year $10.5 million deal. Brown will compete with Ryan Mathews and Danny Woodhead for snaps from the Charger backfield.
Mathews had a fantastic season last year rushing for 1,255 yards on 285 carries. Brown, on the other hand, only had 537 rushing yards but his 5.3 average per carry was higher than Mathews' 4.4 clip and the Chargers expect him to be more productive if given more touches.
Key Betting Matchups of 2014 NFL Season
The Chargers have not posted double-digits in victories in the regular season since 2009 which is why their season win totals is set at over/under 8.0. It will not help matters that the Chargers has the fourth toughest schedule in the league this season, in part because of these two games.
September 14 – vs. Seattle Seahawks
The Chargers face an early test in Week 2 as they host the reigning Super Bowl champs Seattle Seahawks. This is the first meeting between the two teams since 2002 so expect an intriguing contest with the Chargers hell bent on proving that they can keep in step with the elite teams in the league.
December 14 – vs. Denver Broncos
After being denied by Peyton Manning and the Broncos in last year's AFC conference semifinals, the Chargers will hope to exact some revenge in this Week 15 matchup. Expect a high-scoring affair as two of the league's best quarterbacks in Philip Rivers and Peyton Manning go toe-to-toe in this AFC West showdown.
Writer's Prediction
The Chargers will go from strength to strength and notch a 10-6 slate and go over their season win totals of 8.0. Create a betting account now and see if you can predict where the Chargers will finish in the AFC West.
[sc:NFL490Banner ]
1,936 total views, 3 views today
Comments
comments