Well, that was quite a scare. No. 1 Kentucky improved to 24-0 but not without a stern test from LSU on Tuesday night as it escaped with a slim two-point win. The Wildcats may be unbeaten, but they have not inspired much confidence against less than stellar opposition in the SEC. Come Saturday, South Carolina will be given a second chance to test the country's best team. Will the Gamecocks have something up their sleeves this time around?
Give college basketball some loving on Valentine's Day. Read on as we break down this intriguing conference showdown. You can also check out our complete preview of a big game in the Big 12 when Baylor meets Kansas.
[sc:MarchMadness ]
South Carolina Gamecocks vs. Kentucky Wildcats NCAA Basketball Betting Preview
Where: Rupp Arena, Kentucky
When: Saturday, February 14, 2:00 PM ET
Line: South Carolina Gamecocks at Kentucky Wildcats – view all NCAA Basketball lines
Betting on the South Carolina Gamecocks
The South Carolina Gamecocks notched just their second win in eight conference games after beating Missouri, 65-60, on Tuesday. They travel to Kentucky on Saturday, where they've lost four straight (1-3 ATS) since 2010.
[sc:NCAAB240banner ]While South Carolina shot a season-low 22.6 percent from the field in the first matchup of these two teams, the Gamecocks managed to limit Kentucky to just 58 points, tying the Wildcats' season-low. The Gamecocks have one of the best defenses in the league this season, limiting opponents to 61.3 points per game.
South Carolina should also be able to keep Kentucky from dominating the boards. The Gamecocks out-rebounded the Wildcats 40-28. They also limited Kentucky to a season-low three offensive rebounds. Forward Michael Carrera had a great day on the boards in that game, finishing with a game-high nine rebounds.
Kentucky's defense has slipped of late as they've allowed 62.7 points over their past three games, about 10 more than their season average of 52.2. To exploit their opponents' sliding defense, the Gamecocks need their backcourt duo of Sindarius Thornwell and Duane Notice to lead the offensive charge.
Thornwell has been firing on all cylinders over his last eight games, including the loss against Kentucky. He's averaged 13.4 points per game over that span, and was the only Gamecock to score in double-digits against the Wildcats. Notice failed to make a field goal against Kentucky, but has averaged 9.4 points since that game.
Can the Gamecocks take out the giants of college basketball? Create a betting account now and pick a side in this SEC showdown.
Betting on the Kentucky Wildcats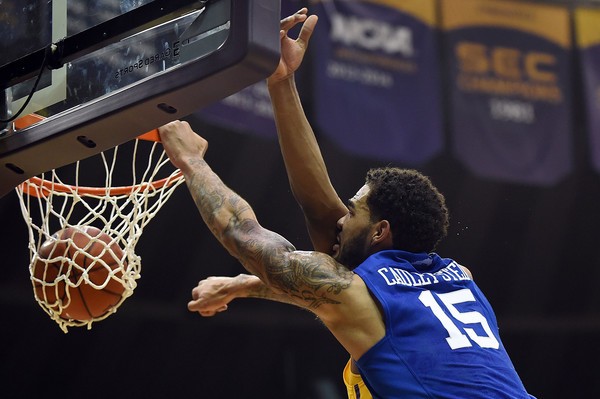 A frustrated John Calipari hoped the Wildcats would lose considering how badly they played against LSU. The Wildcats trailed 54 percent of the time against LSU. They trailed a little more than 13 percent in their prior games. Kentucky also failed to limit its much smaller opponents in the paint as it allowed a season-high 40 points, almost twice as much as its season average of 21.
Still, Kentucky found a way to win on a go-ahead jump hook from Karl-Anthony Towns. The 6'11" freshman finished with 12 points and 13 rebounds, his second double-double over the past four games. Seven-foot junior, Willie Cauley-Stein should also be able to provide Kentucky another big man to attack the basket. Cauley-Stein has 28 points on 65 percent shooting over the past two games.
Kentucky's twin towers should be able use their length for some thunderous dunks on the much smaller lineup of South Carolina, much like how Cauley-Stein did against LSU and Florida.
While Towns and Cauley-Stein terrorize the paint, guards Andrew Harrison and Devin Booker may be left open in the perimeter. Harrison has been hot-and-cold in the past three games. He scored just one point against Florida sandwiched between double-digit performances against Georgia and LSU. Booker has been more solid with 11.5 points per game over the last four.  Booker had 18 points on 6-of-9 shooting against LSU.
Harrison's twin brother, Aaron, should also be able to contribute from the backcourt if he gets out of his shooting funk. Aaron leads the Wildcats with 11.5 points per game but has shot 29 percent over the past three games (including going 0-for-4 against Georgia on February 3). He shot 36 percent against South Carolina.
The Wildcats are 3-8 ATS in conference play this season, one of those wins came against South Carolina.
Writer's Prediction
The close calls wake Kentucky up. Take the Wildcats to dominate for a win and cover.
[sc:NCAAB490Banner ]
1,758 total views, 1 views today
Comments
comments