Baseball takes the sports spotlight again as the Rangers continue their search for a win while the Indians and Royals resume their crucial series.
Top Stories in Sports Today
Football: Bengals Hand Pittsburgh Second Straight Defeat
After a tied game at halftime, the Bengals held Pittsburgh scoreless in the second half while scoring 10 points to carve out a 20-10 victory. Cincinnati's win spelled the first 0-2 start for the Steelers since 2002.
Baseball: Rangers Suffer Seventh Straight Loss
The Rays have successfully overtaken Texas to nab the first AL wild card spot. Tampa Bay rookie Wil Myers was terrific in the ballgame hitting a home run and driving in three runs in the Rays' 6-2 win.
Baseball: Royals Win in Crucial Series' Opener Against Cleveland
The Indians could have tied the Rangers for the second AL wild card spot but Kansas City prevented that. James Shields struck out 10 while Chris Perez had three hits and an RBI to propel the Royals to a rousing 7-1 win.
Top Bet Games to Bet On
MLB
Texas Rangers vs. Tampa Bay Rays (7:10 PM ET)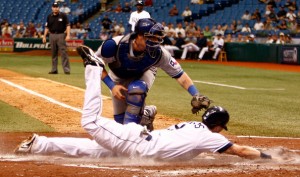 Pitching Match-up: Rangers Alexi Ogando RH (6-4, 3.23 ERA) vs. Jeremy Hellickson RH (11-8, 5.04 ERA)
For the past few days, the Rangers have been starving for a win. Their hunger continued last night as Tampa Bay handed them their seventh straight loss. Another loss tonight could throw Texas out of the AL wild card picture.
The Rangers now lead Cleveland for the last wild card by half-a-game. Meanwhile, the Rays are determined to strengthen their hold on the AL's first wild card spot. They have won six of their last seven games at home when Jeremy Hellickson starts.
Odds: Texas (+116) vs. Tampa Bay (-126), O/U: 7.5
Texas is 5-1 in Ogando's last 6 road starts. As for the Rays, they are 3-1 in their last 4 home games against Texas.
Cleveland Indians vs. Kansas City Royals (8:10 PM ET)
Pitching Match-up: Indians Corey Kluber RH (9-5, 3.55 ERA) vs. Royals Yordano Ventura RH (NR)
Resting on the shoulder of starting pitcher Corey Kluber are the wildcard hopes of the Indians. Right now, they are half-a-game behind Texas and need the Rangers to lose.
In the middle of a gut-wrenching chase for a wild card in the AL, the Royals have decided to test out top pitching prospect Yordano Ventura. Ventura makes his MLB debut tonight against the Indians. The Royals are coming off a 7-1 victory in Game 1 of the series.
Odds: Cleveland (-108) vs. Kansas City (-102), O/U 8.0
Kluber knows how it feels to beat Kansas City. The Indians are 3-0 in Kluber's last three starts against the Royals. However, the Royals are 3-1 in their last 4 home games.
Check out our comprehensive list of MLB lines and odds at the sportsbook and make your MLB picks for tonight's games.
1,964 total views, 1 views today
Comments
comments