The Los Angeles Dodgers look to tie the NLCS series against the St. Louis Cardinals, while the Detroit Tigers and Boston Red Sox meet head on in Game 1 of the ALCS.
Sports Betting Preview for October 12
Top Stories in Sports Today
Baseball: Carlos Beltran Leads Cardinals to NLCS Game 1 Win
Beltran continued his postseason brilliance, hitting a game-tying two-run double in the third inning before breaking the tie in 13th with a walk-off RBI single to give St. Louis a 3-2 win.
College Football:
South Carolina's Jadeveon Clowney to Start Saturday If Healthy
Clowney is reportedly going to start in the Gamecocks' next game against Arkansas, if he feels healthy. The star defensive end pulled himself in South Carolina's last game against Kentucky due to pain near his ribcage.
Hockey:
Panthers Deal Pittsburgh's First Loss
Florida gifted their fans with a win in their home opener by taking down Eastern Conference powerhouse Penguins, 6-3. Eight-year veteran Tomas Fleischmann seized the game's first star with a one-goal, three-assist performance for the Panthers.
Top Bet Games to Bet On
MLB
Los Angeles Dodgers vs. St. Louis Cardinals (4:00 PM ET)
Less than 15 hours after their thrilling NLCS opener that took almost five hours to decide, the Dodgers and the Cardinals are back at it again to dispute the second game of the series.
For Game 2, the Dodgers will start former Cy Young award winner Clayton Kershaw. The NL's regular season ERA king made his first postseason appearance this year in Game 1 of the NLDS against the Braves where he fanned 12 batters over seven innings of work in the Dodgers' 6-1 victory. Kershaw has struck out 18 batters in the offseason, second best in the MLB, only behind Detroit's Justin Verlander's 21.
Odds: LA Dodgers (-129) vs. St. Louis (+119), O/U: 6.0
PITCHING MATCH-UP:
Dodgers LH Clayton Kershaw (1-0, 0.69 ERA) vs. RH Michael Wacha (1-0, 1.23 ERA)
Dueling off with Kershaw is Cardinals rookie Michael Wacha who has been showing the kind of poise characteristic to a veteran. Wacha has flirted with a no-hitter twice; the latest was in Game 4 of the NLDS against the Pirates when he only gave up only a hit in over seven innings of pitching duty to star in St. Louis' 2-1 victory. It's a plus for the Cards also that Don Mattingly's batting lineup hasn't faced Wacha yet as this is only the rookie's 11th start of his career.
Wacha is one player for the Dodgers to be prepared for. The other one they really need to figure out is Carlos Beltran who placed Los Angeles on the wrong end of a memorable NLCS Game 1 with this game-tying, two-run double in the third inning and hitting the game's walk-off RBI single winner in the bottom of the 13th .
The Tigers are 10-0 UNDER in their last 10 road games. Also, they are
Detroit Tigers vs. Boston Red Sox (8:07 PM ET)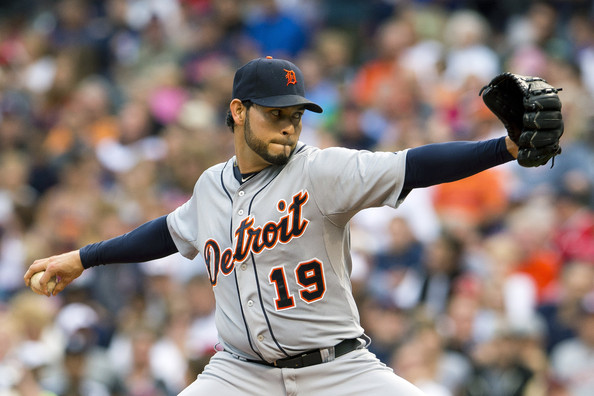 The Tigers are returning to the ALCS for the third time in a row and for their first game back, they'll start the AL's regular season ERA king, Anibal Sanchez. Though either Justin Verlander or Max Scherzer is the favorable Game 1 starter, both pitchers needed some rest after both needed to pitch in Games 4 and 5 of the ALDS against the A's, respectively.
Odds: Detroit Tigers (+128) vs. Boston Red Sox (-138), O/U: 7.5
PITCHING MATCH-UP:
Tigers RH Anibal Sanchez (0-1, 10.38 ERA) vs. Red Sox LH Jon Lester (1-0, 2.35 ERA)
As for the Red Sox, Jon Lester takes the starting role in Game 1 at Fenway Park, a place where he's been very reliable. In his last four home starts, he pitched no less than seven innings and gave up no more than two runs in each of those games. Boston won in all those games, including one against Detroit last September, 2-1.
Boston will rely on their explosive offense, which produced an AL leading 26 runs in the postseason. David Ortiz and Shane Victorino stand out among the Red Sox's hitters when examining their numbers against the Tigers this season. Ortiz went 5-of-10, hit four homers, and drove seven runs while Victorino had six RBIs in six hits all in seven games against the Tigers this season.
The Red Sox are 7-3 in their last 10 home games against Detroit.
For the most comprehensive list of NFL, NCAAF, MLB, and NHL game odds and betting lines, plus other sports, visit Top Bet's sportsbook.
1,585 total views, 1 views today
Comments
comments