The World Series resumes tonight with the series shifting to St. Louis for Game 3. Meanwhile, college football features a Pac-12 showdown between two top-25 ranked teams on primetime.
Sports Betting Preview for October 26
Top Stories in Sports Today
College Football: Manziel Questionable vs. Vandy
Texas A&M quarterback and Heisman-candidate Johnny Manziel is still nursing his injured shoulder and is questionable for today's game against Vanderbilt.
Basketball: Bill Sherman Passes Away at 87
Hall-of-Fame head coach and player Bill Sharman died Friday at his home in Redondo Beach, the Lakers announced. He was 87.
MMA: Muñoz and Machida Ready to Go in London
Longtime middleweight Mark Muñoz battles his friend, Lyoto Machida in London. Machida will make his middleweight debut.
Top Bet Games to Bet On
Boston Red Sox vs. St. Louis Cardinals (8 PM ET)
PITCHING MATCHUP: Red Sox RH Jake Peavy (0-1, 8.31 ERA) vs. Cardinals RH Joe Kelly (0-1, 4.41)
The Boston Red Sox even up the World Series thanks in large part to the combination of David Ortiz and Mike Napoli. However, when the St. Louis Cardinals host the Red Sox in Game 3, one of those two will have to sit on the bench because of the National League park rules forbidding the designated hitter.
Ortiz batted a home run in each of the first two games while Napoli had a three-run double in Boston's 8-1 victory in Game 1. While in their 4-2 victory, the Cardinals bullpen was the key in maintaining their lead up to the end.
Odds: Boston (-105) vs. St. Louis (-105), O/U: (7.0)
Going back to their last World Series, the Red sox are 4-0 in their last 4 World Series road games. However, Joe Kelly plans to break the trend as the Cardinals are 7-1 in Kelly's last 8 home starts.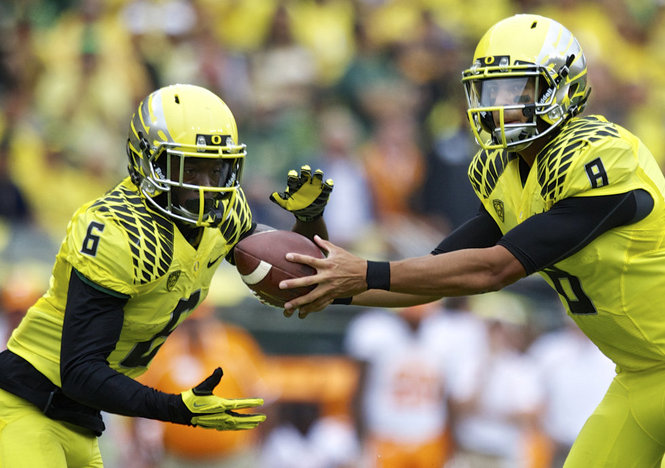 UCLA Bruins vs. Oregon Ducks (7 PM ET)
Marcus Mariota hasn't thrown an interception all season, which soars his Heisman Trophy stocks as the second-ranked Oregon Ducks host No. 11 UCLA Bruins. The Ducks have been basically unstoppable on offense thanks to Mariota's passing (2,051 yards, 19 touchdowns) and rushing (493 yards, nine scores). The Bruins seek to rebound from a loss to Stanford that knocked them out of first place in the Pac-12 South.
Odds: UCLA (+24) vs. Oregon (-24), O/U: 73.0
The Bruins are 5-1 ATS in their last 6 games. The Ducks are 9-2 ATS in their last 11 conference games.
For the most comprehensive list of NFL, NCAAF, MLB, and NHL game odds and betting lines, visit Top Bet's Sportsbook.
1,764 total views, 1 views today
Comments
comments