The Rangers continue their late charge for an AL wild card spot while the Rays look to spoil Mariano Rivera's final home game.
Sports Betting Preview for September 26
Top Stories in Sports Today
Baseball: Yankees Eliminated, Rays Maintain AL Wild Card Lead
Cleveland won against the White Sox, 7-2, while the Yankees were in the middle of a game against Tampa Bay, to seal the Bronx Bombers hopes of another postseason appearance. The Rays ended up winning the game, 8-3.
Baseball: Detroit Wins Third Straight AL Central Title
Max Scherzer pitched seven superb innings, giving up two hits and striking out 10, to lead the Tigers to a 1-0 win over Minnesota. The win clinched Detroit their third consecutive division title.
Baseball: St. Louis Sweep Nationals, Keeps NL Central Title Hopes Alive
The Cardinals leaned on the arm of rookie Shelby Miller to beat Washington, 4-1. Miller earned his 15th win of the season and helped the Cards remain in the hunt for the NL Central pennant.
[sc:MLB490banner ]
Top Bet Games to Bet On
MLB
LA Angels vs. Texas Rangers (7:10 PM ET)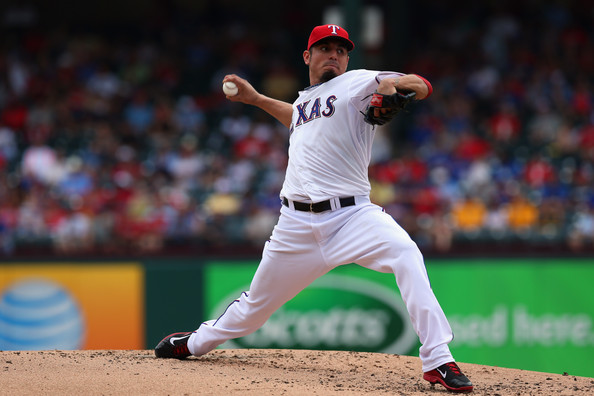 Pitching Match-up: Angels RH Jerome Williams (9-10, 4.55 ERA) vs. Rangers RH Matt Garza (10-6, 3.90 ERA)
Scheduled to play the last series of their otherwise disappointing season, the Angels want nothing less than a four-game set win against Texas. The Angels spent big bucks in the offseason but were quick to betray high expectations with a very poor start. [sc:MLB240banner ]
The same could not be said about the way the Angels are closing this season. A month ago, Mike Scioscia had a 58-71 record but a 20-9 tear propelled them to 77-80 mark. Winning three games in Arlington would ease them into a .500 finish.
Odds: LA Angels (+160) vs. Texas (-180), O/U: 9.0
Down to their last four games, the Rangers are still in the thick of a hunt for a wild card ticket. They are only a game behind off Cleveland, which plays Minnesota tonight. A win by Texas and a loss by the Indians would tie the two teams in the second AL wild card spot, still within striking distance of the Rays.
The Angels are 5-0 in Jerome Williams' last 5 starts. Meanwhile, Texas is 4-0 in their last 4 home games against Los Angeles.
Tampa Bay Rays vs. New York Yankees (7:05 PM ET)
Pitching Match-up: Rays RH Alex Cobb (10-3, 2.90 ERA) vs. Yankees RH Ivan Nova (9-5, 3.13 ERA)
Despite a six-game winning streak, the Rays cannot afford to lose this game with the Indians and Rangers still giving chase. A one-game lead over Cleveland is no reason to celebrate for the Rays, whose magic number is set at three to clinch a postseason berth.
Odds: Tampa Bay (-130) vs. New York Yankees (+120), O/U: 7.5
As big of a game as this is for Tampa Bay, the Yankees too have their own reason to treat this game as more than just a regular one. Future Hall-of-Famer Mariano Rivera is set to pitch in front of Yankees fans for the last time in his career and the Bronx Bombers would find it befitting for their great closer to walk off the mound with one final save.
The Rays are 4-1 in their last 5 road games while the Yankees are 5-1 in Ivan Nova's last 6 home starts.
For the most comprehensive list of NFL, NCAAF, and MLB game odds and betting lines, plus other sports, visit Top Bet's sportsbook.
2,013 total views, 2 views today
Comments
comments