[sc:NHL250 ]You'd think that playing at home is a privilege for every team in professional sports. Sadly, the Detroit Red Wings have not enjoyed much success at home recently. They're currently on a season-worst three-game home losing streak. But if there's one game the Red Wings can get themselves up for, then it's going to be against former Central Division rivals, the St. Louis Blues.
The Blues are as hot as ever, winning four of their last five. They'll be looking to bring their recent success to the road where they've struggled recently. Can the Blues take Joe Louis Arena by storm? Or will the Red Wings finally play some good hockey on home ice? Keep reading as we take a look at this classic matchup.
Hockey is fun and all. But there's another fast-paced, action-packed sport to give you as much action. Check out two of the NBA's spectacular matchups Wednesday night with our complete preview for the Warriors vs. Bulls and Celtics vs. Raptors.
[sc:NHLArticles ]
St. Louis Blues vs. Detroit Red Wings Preview
Where: Joe Louis Arena, Detroit
When: Wednesday, January 20, 8:00 PM ET
Line: St. Louis Blues at Detroit Red Wings – view all NHL lines
Betting on the St. Louis Blues
The St. Louis Blues are hoping that a recent 4-1 stretch can fuel them to a successful outing on the road. They haven't had a regulation win in their last five road games, going 1-2-2. If their latest outing was of any indication, then the Blues could come out firing on all cylinders when they take the ice over at Detroit.
[sc:NHL240 ]The Blues blew out Pittsburgh 5-2 on Monday. Paul Stastny could not be stopped with a goal and three assists, while his linemates Alexander Steen and Troy Brouwer each had a goal and an assist. A solid second line with the trio of Stastny, Steen and Brouwer should work wonders against a Detroit defense which has allowed 11 goals in a three-game home slide.
While the trio could certainly be a nightmare in their own right, the Blues will likely feed off the play of Vladimir Tarasenko. His last seven goals have either tied the game, or given the Blues a one-goal lead. Tarasenko last scored against the Penguins on Monday night. He's scored seven points in eight career games against the Red Wings.
The Blues have had a solid one-two punch at goalie with Brian Elliott and Jake Allen both putting in work. But Allen went down with a lower body injury on January 8. Elliott will make his sixth straight start Wednesday night. He's 4-1 with a 2.2 GAA in his last five starts.
Betting on the Detroit Red Wings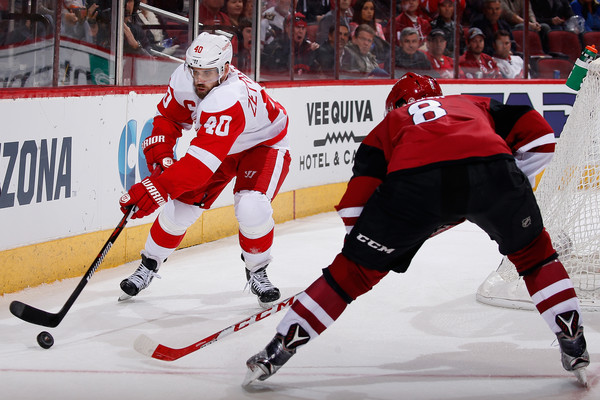 The Detroit Red Wings have had some success on the road, going 5-1-1 in 2016. But they're just 1-3-2 in their last five games in Detroit, including a 2-1 shootout loss to Philadelphia on Sunday. The Red Wings will need plenty of fire power if they are to get themselves past St. Louis Blues, while inching closer and closer to the top of the Atlantic Division.
It all starts with Detroit's aging stars. Henrik Zetterberg will need to heat up after being limited to an assist in his last six games. He only has five points in his last 11 games at home. Zetterberg has been limited to 0.67 points per game this season, his lowest mark since his rookie year. Pavel Datsyuk hasn't been much better with 0.73 points per game. But Datsyuk has been solid recently with a goal and five assists in his last three.
Zetterberg could break out of his slump against St. Louis. He's been unstoppable against the Blues in his career, collecting 67 points (25 goals and 42 assists) and a plus/minus of 26 in 62 head-to-head matchups. Datsyuk has scored in the last two games against the Blues. Having two solid playmakers in the front line should help get the Red Wings into the net against St. Louis.
Detroit can be very confident with the play of young goalie Petr Mrazek, who has gone 5-0-1 with a 1.31 GAA and .957 save percentage in 2016. Mrazek has been splendid against St. Louis, owning a 3-0 mark with a 0.97 GAA and .961 save percentage in three career matchups.
Writer's Prediction
The Red Wings snap their home losing streak with a solid overall performance. Zetterberg and Datsyuk team up for a handful of points, while Mrazek gets the shutout 3-0.
Create a betting account now and enjoy some big-time hockey action.
[sc:NHL620 ]
2,606 total views, 1 views today
Comments
comments