Just a few short weeks ago, Texas A&M vs. Alabama was shaping up to be a battle of undefeated teams and possible national championship contenders. Fast forward to today and the Aggies and Crimson Tide have both been beaten and are struggling to hold onto their postseason hopes. Which team ends its recent slump to earn a much-needed victory?
For a true battle of undefeated, potential national championship teams, you can read our preview of Notre Dame vs. Florida State shortly after getting right up to speed with this all-important SEC West clash.
[sc:NCAAFArticles ]
Texas A&M Aggies at Alabama Crimson Tide Preview
Where: Bryant-Denny Stadium, Tuscaloosa
When: Saturday, October 18, 3:30 PM ET
Line: Texas A&M Aggies (+12) at Alabama Crimson Tide (-12) – view all NCAA Football lines
Betting on the Texas A&M Aggies
The last two games have dealt a major blow to Texas A&M's SEC championship aspirations. After a heavy 48-31 road loss at Mississippi State, the Aggies also fell to the other Mississippi team, Ole Miss, 35-20, last Saturday in College Station, dropping the previously 5-0 Aggies to 2-2 in the conference. So what do those two games make Texas A&M: an overrated flash in the pan or a team that just had the misfortune of running into two of the three best teams in the country?
[sc:NCAA240banner ]The true Aggies may lie somewhere in between, but it would be foolish to dismiss them outright just because of the last two games. This is still an incredibly potent offense, as quarterback Kenny Hill continues to flash some terrific numbers. After passing for 365 yards and four touchdowns against Mississippi State, the sophomore completed 79 percent of his passes for 401 yards and two touchdowns against an Ole Miss defense that's arguably the best in the nation.
The one knock on him is that his interceptions are also growing at an alarming rate, with five coming in the last two games alone. It hasn't helped that he's needed to throw over 80 times more than any other quarterback in the country because of a nonexistent running game. Few running games would stand a chance against Alabama, which means Hill will need to let a lot more balls fly.
That particular strategy might not be the worst one to have against a very sketchy Alabama secondary. The Tide had all sorts of trouble back in Week 1 against West Virginia and allowed a very pass-averse Arkansas team that averaged 150 passing yards per game over 246 yards last Saturday. The Aggies' army of tall and talented receivers is capable of doing much more damage.
Texas A&M has failed to cover in five of their last six SEC road games.
Create a betting account now and get caught up in college football's most competitive division.
Betting on the Alabama Crimson Tide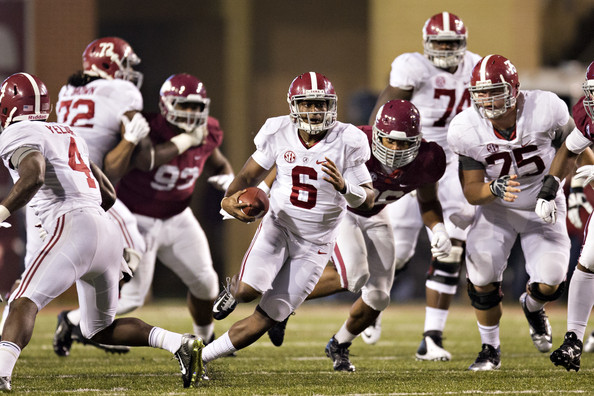 So much for offensive coordinator Lane Kiffin turning boring ol' Alabama into an offensive juggernaut. After averaging 42 points per game in its first four games, the Crimson Tide's offense has suddenly turned back into its old, low-scoring self in its last two contests, scoring just 31 total points.
It was understandable for the offense to stall against a very good Ole Miss defense. Quarterback Blake Sims was held to just 228 yards and no touchdowns in Bama's 23-17 defeat. But it somehow got worse against Arkansas.
Sims threw for only 161 yards with the leading receiver in the country, Amari Cooper, catching a season-low two balls in their very narrow 14-13 win over the Razorbacks. Even the normally reliable Alabama rushing game completely stalled as it averaged just 2.1 yards per carry.
The Crimson Tide offense should get a reprieve against Texas A&M since a) they'll be back at home after playing the last two games on the road and b) the Aggies are pretty poor on defense, especially against the run. The Aggies are allowing over 177 rushing yards per game, second-to-last in the SEC.
Meanwhile, Bama's defensive line remains resolute as ever. That line shut down Arkansas' SEC-leading running game and created decent pressure on quarterback Brandon Allen. With a questionable secondary behind them, the D-line should be required to keep that pressure on the dangerous Kenny Hill as much as possible.
Alabama has won its last six home games against SEC opponents, with their last loss coming in 2012 to the Johnny Manziel-led Aggies.
Writer's Prediction
The Aggies' aerial assault keeps them within striking distance of Alabama all game long. Take Texas A&M (+12) to cover on the road.
[sc:NCAA490banner ]
2,103 total views, 1 views today
Comments
comments