Seventh-seeded Texas kept its Big 12 Championship, as well as its NCAA tournament, hopes alive with a 65-53 win over Texas Tech on Wednesday night. Standing in the Longhorns path to the semifinal are No. 2-seeded Iowa State Cyclones. Can Texas keep its season alive? Read on as we break down this crucial Big 12 Quarterfinal game.
For more Big 12 Championship action, check out our complete preview for the West Virginia vs. Baylor game.
[sc:MarchMadness ]
Texas Longhorns vs. Iowa State Cyclones Preview
Where: Sprint Center, Kansas City, Missouri
When: Thursday, March 12, 6:00 PM ET
Line: Texas Longhorns vs. Iowa State Cyclones – view all NCAA Basketball lines
Betting on the Texas Longhorns
A total team effort from the Texas Longhorns resulted in a comfortable win in their Big 12 tournament opener against Texas Tech. Cameron Ridley had 14 points and eight rebounds, while Kendal Yancy and Isaiah Taylor chipped in 13 and 12 points respectively to lead the Longhorns in scoring.
[sc:NCAAB240banner ]The Longhorns need another excellent performance from their backcourt if they are to finally upend Iowa State. They suffered two single-digit losses – 89-86 on the road and 85-77 at home – against the Cyclones during the regular season.
Yancy and Taylor put up big scoring games against the Cyclones in those games, but have not received much support from the rest of the team. Yancy has averaged 16.5 points, while Taylor has averaged 20 points.
Texas wasn't too shabby on the boards either with its starting frontcourt of Ridley, Jonathan Holmes and Connor Lammert combining for 25 rebounds. Rebounds will be key heading into this quarterfinal game against Iowa State. The Longhorns hold an 82-61 rebound edge across their two-game regular season series.
Owning the rebound advantage has allowed the Longhorns to take significantly more field goal attempts (142-109) than Iowa State. Another solid effort on the boards should allow them to outshoot the Cyclones again. The Cyclones have shot 43 percent from the field playing at neutral locations, a full six percentage points lower than their 49 percent shooting this season.
The Longhorns are 3-1 ATS in their last four games.
Betting on the Iowa State Cyclones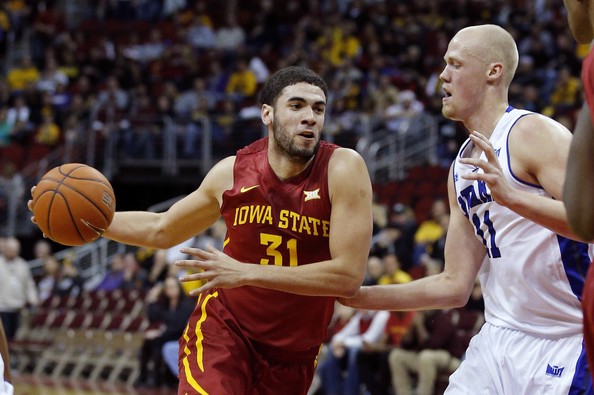 The Iowa State Cyclones won five of their last seven games to enter the Big 12 tournament as the second seed. The Cyclones stand an excellent chance of advancing to the semifinals considering they've already bested Texas two times in the regular season.
The combination of Georges Niang and Bryce Dejean-Jones has been effective in turning back the Longhorns. Niang is averaging 18 points in the two games against Texas this season, while Dejean-Jones has averaged 17 points.
Niang has made 5-of-8 three-pointers against Texas this season, while Dejean-Jones has excelled at attacking the basket. The difference in their approach gives Iowa State a solid one-two punch of excellent long range shooting and offense inside the paint.
Strong offense inside the shaded area has allowed Iowa State to draw at least 25 fouls per game from Texas. That's about nine more than Texas' season average for fouls per game. Drawing fouls is crucial for the Cyclones as they're one of the better teams in the nation at capitalizing from the line (15.4 free throws made per game, 77th in the country).
Iowa State has won four of its last six against Texas, going 3-3 against the spread.
Writer's Prediction
Texas upsets Iowa State.
Create a betting account now and cash in on college basketball's hottest underdogs.
[sc:NCAAB490Banner ]
1,724 total views, 2 views today
Comments
comments