---
Whether you're a truly dedicated football fan or just really broke to actually pay for tickets to the gridiron show, you simply can't help but take part in one of the NFL's greatest off-field traditions: tailgating.
There's nothing like gathering around the stadium parking lot with like-minded football enthusiasts, all the while sharing some fantastic grub and crate-loads of beer before kick off. Heck, some fans even choose to spend their entire afternoon on said parking lot instead of actually watching the game live altogether!
Just about every city has its unique charm and vibe when it comes to tailgating, but some do it better than others. Here's our top 10 list of the best tailgating places to get you even more excited for exciting conclusion to the NFL season at Super Bowl LI this Sunday. And who knows? Maybe you'll find yourself inspired to hold a little tailgate party of sorts from your own front lawn or backyard after this!
---
NFL News and Previews
---
Top 10 Best Places to Tailgate in the NFL
*view all Super Bowl LI lines HERE

10. NRG Stadium (Houston Texans)
The setting of this year's Super Bowl made our cut, and rightfully so.
There's an old saying about how "everything is bigger in Texas", and Houston's fans certainly know how to live up to that billing. Only one other city also found on this list can match the quality of barbecued meat at tailgate parties (sorry, Memphis and Titans fans!). From beef briskets to ribs, Texans fans know how to cook up a storm indeed.
In addition, folks outside NRG Stadium also have a chance to win the Tailgater of the Game award for having the best grub and all-around fun experience for the day. You'll have a lot of competition, though, as powerhouse fan clubs like the Raging Bull Tailgaters and the Texans Liberty Tailgaters take their tailgating expertise seriously.
Eat your heart out, Jerry Jones; your massive Cowboys fanbase doesn't know how to tailgate like these guys from H-Town!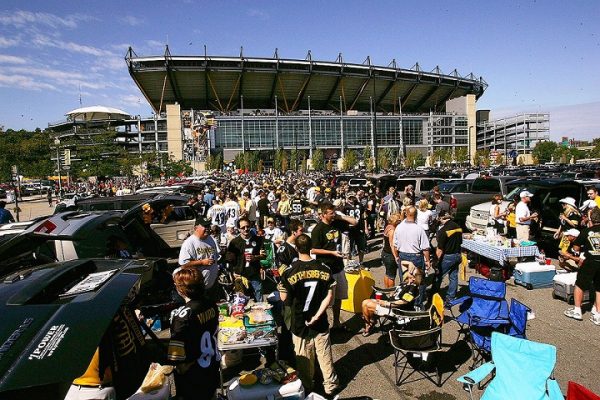 9. Heinz Field (Pittsburgh Steelers)
With about 20 parking lots in the vicinity, the perimeter of Heinz Field is never short on Terrible Towel-waving Steelers fans ready to offer you some of that Steel City hospitality.
Make sure to head on over to Stage AE if you want to be in the thick of the official Steelers Tailgate Zone, where you'll be swimming in choices between your choice of beer, pizza and potato skins. Be sure to be on the lookout for the Mobile Tailgating Unit (MTU) as well – a repurposed ambulance filled with a clean bathroom inside!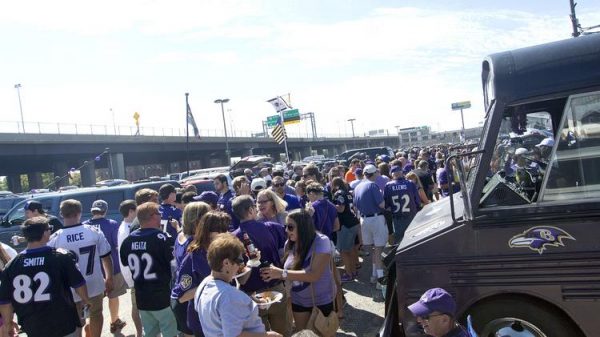 8. M&T Bank Stadium (Baltimore Ravens)
Sometimes you need a break from all the protein-heavy servings at tailgate parties. Having said that, the Ravens' turf is an amazing spot for those looking to chow down on some top-notch seafood instead. Among the many fresh catches from the sea, Baltimore is more commonly known for having the best crab cakes this side of the Atlantic, and you'll be sorry if you missed out on this local specialty.
You can also throw your name into the hat for some fun and games with Ravens fans, most notably by having a competition on who does Ray Lewis' beloved pre-game dance the best!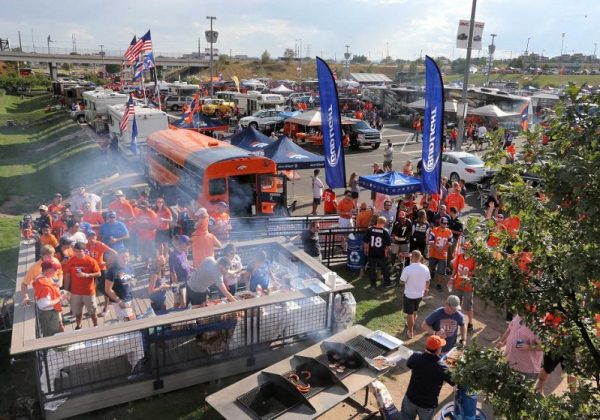 7. Sports Authority Field (Denver Broncos)
Apart from arguably having the friendliest fans in football, Denver also has the popular claim of being the craft beer capital of America. Hence, you might as well get ready to reach new highs of drunkenness in Mile High!
The only downside is that there's no particular dish that you're inclined to associate Broncos fans with, not unless you're daring (or better yet, ballsy) enough to try some of those Rocky Mountain Oysters that everybody's raving about. Trust us: it's not as bad as it appears on paper!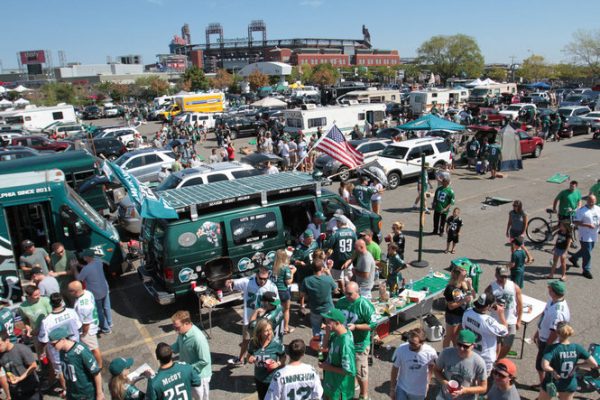 6. Lincoln Financial Field (Philadelphia Eagles)
When you come to an Eagles tailgate party, don't expect a lot of the usual Philly cheesesteaks on the menu. Instead, indulge yourself with a fine selection of Italian sausages and other meaty links before stepping inside Lincoln Financial Field.
Eagles fans are also some of the craziest in the country, so you'll never find yourself bored in the City of Brotherly Love. Make sure to give their notorious "shotgun shotgun" relay drinking game a crack, as well wait for the The Football Shuttle to roll into the lot before getting on a real bus back to your hometown.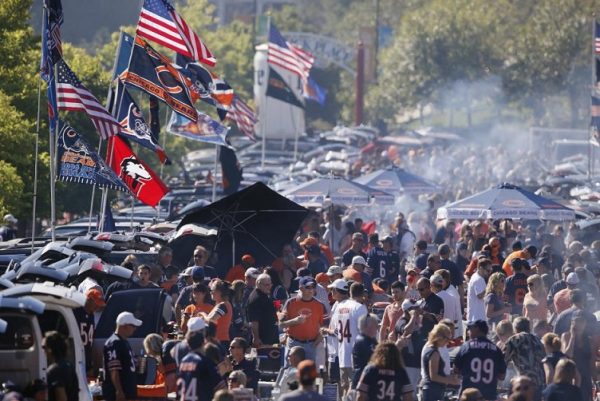 5. Soldier Field (Chicago Bears)
Battle-tested Bears fans definitely know a thing or two on how to survive Soldier Field's harsh climates come football's winter season. They're always duly equipped with all the steaks, Chicago dogs and Krispy Kreme donuts that you can handle, with the tailgating arena outside of the stadium split into a no-restrictions zone (yay!) and a more family-friendly one.
And if you're lucky, you might even be able to witness local tailgate legend Fiesta Bob deliver one of his pre-game speeches that he's been dishing out for over two decades at every Bears home game.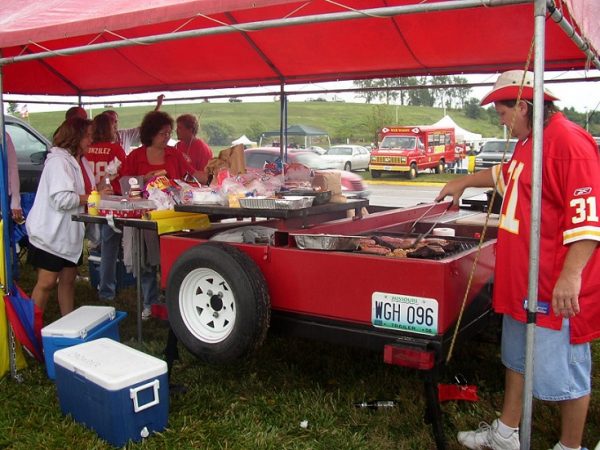 4. Arrowhead Stadium (Kansas City Chiefs)
The Steelers may boast of having the Killer Bs in Ben, Bell and Brown, but the folks in KC have another set of three Bs that every football fan can agree upon as god-given goods: barbecue, bacon and beer.
The Chiefs and the MLB's Royals share the same parking lot, which can hold up to as many as 25,000 cars. Can you just imagine how many makeshift grills this lot will have for your carnivorous cravings?
Yup, our mouths are already salivating at the mere thought of that classic Kansas City BBQ, and the people behind these smoke pits are a very nice bunch to boot.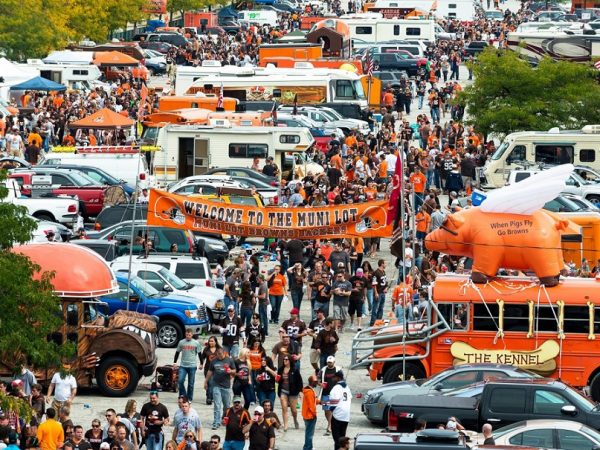 3. FirstEnergy Stadium (Cleveland Browns)
How could you not want to marvel at the irony of die-hard Browns fans having the time of their lives at a tailgate party, only to witness their team suffer yet another horrible loss?
Still, you can't deny just how invested the Cleveland faithful are with their long-struggling football franchise. Just look at those decked-out fan-made buses the Tailgate Dawg and The Kennel (pictured above).
Heck, these same Browns fans made a culinary atrocity in the beer-can chicken famous. But hey, at least they found a great way to drown and eat their sorrows away simultaneously!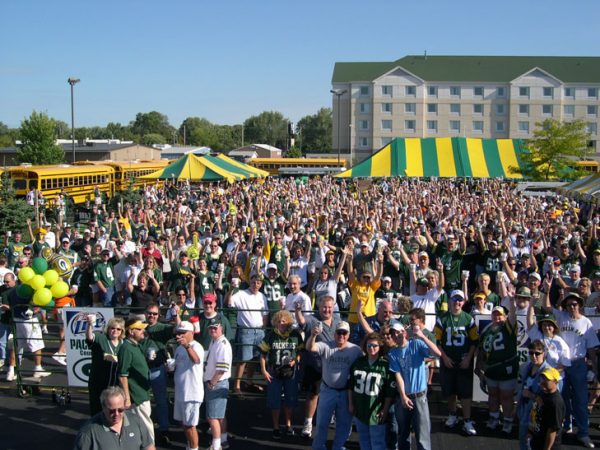 2. Lambeau Field (Green Bay Packers)
Given that the Packers franchise is wholly owned by the people of Green Bay, it's safe to say that their fans know more about tailgating at football games the right way than most other fanbases. This devoted Wisconsin community even suggests that it was they who started the whole tailgating fad way back in the 1920s, simply as a way to keep warm with bonfires in parking lots before heading into frigid Lambeau Field for the actual game.
Basically, tailgating in Green Bay is a football fan's paradise. After you've braved your way into the Tundra Tailgate Zone – the east side of Lambeau's parking lot – help yourself to the wide array of brats, locally-crafted beer and some of those good ol' dairy delicasees that these Cheeseheads are known for. There'll be live music, warm tents and former NFL players willing to sign autographs at The Tundra as well to round out your unforgettable trip to the North.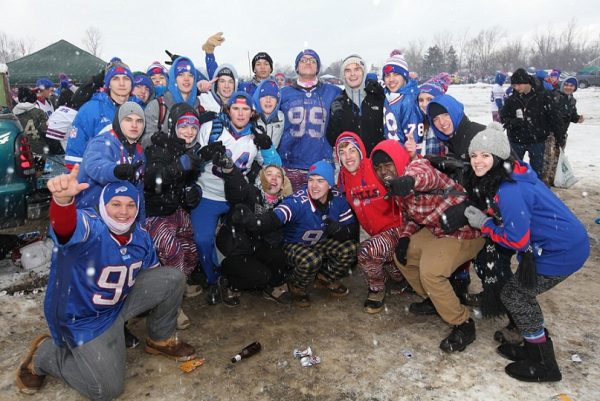 1. Ralph Wilson Stadium (Buffalo Bills)
What else can we say? Buffalo, hands down, has the rowdiest, most passionate football fans in all of America. Their winters are just as harsh if not worse compared to other cities, and yet they know how to throw the biggest of bashes even when the weather and their Bills aren't living up to expectations.
As such, the pre-game area surrounding Ralph Wilson Stadium on Sundays turns into a wild jungle made up of intoxicated frat bros and Buffalo natives of all ages just looking for a great time. Not far from the stadium is the ADPRO Sports Training Center, which is the largest indoor tailgating facility in the country where kids and families can have just as much fun as the actual festivities happening outside.
But let's be honest: you really have to experience a Bills tailgate the right way, which is to be truly part of all the madness going down at Orchard Park's parking lot.
They have the authentic Buffalo wings. They have the meanest beef on weck sandwiches. They hold more hardcore wrestling matches on any given Sunday than the WWE does in an entire year. And effin' A, they even have the occasional live sex show.
Never change, #BillsMafia… never change.
Create a betting account now to get your bets in for Super Bowl LI before it's too late!

9,035 total views, 2 views today
Comments
comments