Known as the fastest man in the Ultimate Fighting Championship, flyweight champion Demetrious "Mighty Mouse" Johnson will once again dazzle fight fans with his blinding speed when he meets the heavy-handed Ali "Puncher" Bagautinov in the main event of UFC 174 on June 14, 2014.
It will be a busy night at the Rogers Arena,Vancouver, BC as the fight card will also feature a pivotal welterweight matchup when Tyron Woodley meets Canada's own Rory MacDonald.
But before the UFC Flyweight Championship is put on the line, UFC Fight Night 42 will feature 10 MMA bouts in Albuquerque, New Mexico; including one between former UFC Lightweight Champion Benson Henderson and Russian suplex machine Rustam Khabilov.
Check out the UFC 142 odds and lines here.
Fists will fly when these two world-class flyweights square off in the Octagon. The stakes are high when a world championship is on the line. Create a betting account now and join in on the thrill.
[sc:MultiSportArticles ]
UFC 174 Johnson vs. Bagautinov Betting Preview and Prediction
Flyweight Championship – Demetrious "Migthy Mouse" Johnson (19-2-1) vs. Ali "Puncher" Bagautinov (13-2)
Line: Demetrious Johnson (-550) vs. Ali Bagautinov (+425) – view all UFC lines here
Demetrious Johnson comes into his third title defense having shown the world he can win a variety of ways with a variety of skills.
The man known as "Mighty Mouse" utilized his quickness in picking up closely-contested decisions in acquiring his belt. However, Johnson turned over a new leaf in his past two championship defenses, securing a fifth-round armbar against John Moraga, and knocking out Joseph Benavidez in the first round of their championship rematch.
Aside from being the undisputed champion in the UFC flyweight division, he is also ranked No. 4 in the organization's pound-for-pound rankings.
[sc:UFC240banner ]Johnson routinely uses his footwork to control the distance to his opponent in order to land a quick succession of strikes or move to defense. He lands 3.32 significant strikes per minute while only absorbing 1.9. Not only is he adept in stringing together striking combinations, he is also successful in transitioning to quick takedowns, landing 56% of his attempts. He also makes sure that he isn't on the wrong side of a takedown defending 61.73% of attempts.
Although Johnson gets his takedowns more than half the time, the champion struggles to keep wrestling-based opponents down. This will play to the advantage of the challenger, Ali Bagautinov. The Dagestani native has a strong chance of keeping the fight standing as he is the World Sambo Champion in 2012, yet he was stripped of his title due to testing positive for a prohibited substance.  In UFC competition, Bagautinov has defended 50% of his attempted takedowns.
Bagautinov also displayed a well-rounded skillset in his run to the title fight. He used powerful strikes in a unanimous decision win against Tim Elliot, while mixing in takedowns and grappling exchanges against top-10 flyweight John Lineker. However, he is yet to face a fighter with footwork as dynamic as the champion's.
Writer's Prediction: Bagautinov will be swinging at air for most of the championship contest, but is durable in taking punishment. "Mighty Mouse" wears him down en route to a one-sided decision or late TKO.
Welterweight – Rory "Ares" MacDonald (16-2) vs. Tyron "The Chosen One" Woodley (13-2)
Line: Rory MacDonald (+115) vs. Tyron Woodley (-135) – view all UFC lines here
No. 2-ranked welterweight Rory MacDonald will appear in a co-main event contest with title implications. Fresh off a unanimous decision against fellow contender Demian Maia, "Ares" will stake a claim to challenge for the welterweight championship. MacDonald has steadily risen up the ranks but has failed to put up a dominant finish against a top fighter.
Standing across the cage is Tyron Woodley, who is coming off a TKO victory against former interim champion Carlos Condit. An aggressive wrestler with knockout power, Woodley took the UFC welterweight division by storm, winning by KO or TKO in three of his last four appearances. His only setback was a contentious split-decision loss to former title challenger Jake Shields.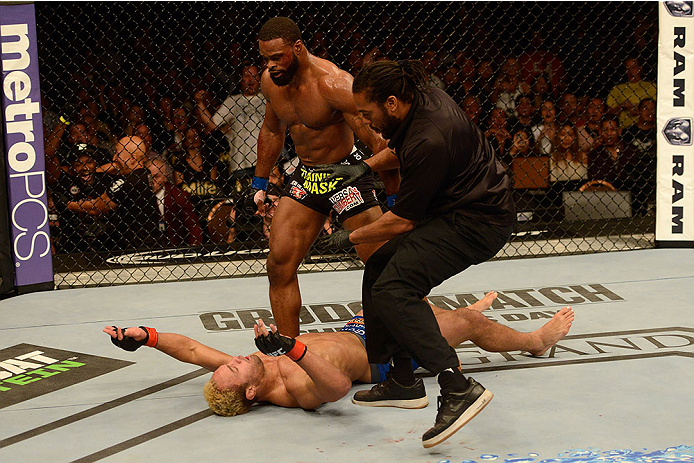 Writer's Prediction: MacDonald became tentative in his last fight against a fighter with knockout power. Expect Woodley to be "The Chosen One" in a unanimous decision.
Light Heavyweight – Ryan "Darth" Bader (17-4) vs. Rafael "Feijao" Cavalcante (12-4)
Line: Ryan Bader (-135) vs. Rafael Cavalcante (+115) – view all UFC lines here
Ryan "Darth" Bader's last fight was a mauling. He left no space for his opponent to mount any sort of offense while battering the latter in his most dominant decision victory to date. Aside from packing power in his fists, Bader is also a two-time Division 1 All-American wrestler. Standing across from him is former Strikeforce champion Rafael "Feijao" Cavalcante, who has two UFC fights under his belt. "Feijao" battered UFC veteran Igor Pokrajac into a TKO win after being knocked out by Thiago Silva.
Writer's Prediction: This fight has fireworks written all over it, but when Bader finds himself in a predicament, he'll resort to his wrestling. Bader wins by decision.
Heavyweight – Andre "Pitbull" Arlovski (21-10, 1 NC) vs. Brendan "The Hybrid" Schaub (11-3)
Line: Brendan Schaub (-135) vs. Andre Arlovski (+115) – view all UFC lines here
Andre "Pitbull" Arlovski is a former UFC Heavyweight Champion, but that was almost nine years ago. He is a shadow of his former self, as evidenced by the way Anthony Johnson, who used to be a welterweight, took him apart a year ago. However, Arlovski's strung together back-to-back wins, one by TKO, to win a ticket back to the UFC.
The former champion will be welcomed back by No. 13-ranked heavyweight Brendan Schaub. Schaub backed up a lackluster win with a first round submission in his last two fights.
Writer's Prediction: Both fighters have been sent to "la-la" land in the past, but Arlovski is the better boxer among the two. Expect him to keep the fight standing and win by knockout in the second round.
Lightheavyweight – Ovince St. Preux (15-5) vs. Ryan Jimmo (19-3)
Line: Ovince St. Preux (-135) vs. Ryan Jimmo (+115) – view all UFC lines here
Ovince St. Preux is steadily climbing the light heavyweight division's ladder. Having won three-straight fights in the UFC, St. Preux will try to extend his UFC win streak to four when he faces Ryan Jimmo to open the main card. Jimmo has failed to record consecutive wins in his five UFC contests, but memorably registered a seven second knockout in his promotional debut.
Writer's Prediction: Jimmo's bid in recording back-to-back wins in the promotion will be spoiled. St. Preux wins by decision.
[sc:UFC490banner ]
2,156 total views, 1 views today
Comments
comments