On 4th of July weekend, fireworks will erupt inside the Mandalay Bay Events Center as UFC Middleweight Champion Chris Weidman will defend his title against former UFC Light Heavyweight Champion Lyoto Machida. Also on the card, UFC Women's Bantamweight Champion Ronda Rousey will defend her title for the fourth time against Women's MMA veteran and top-contender Alexis Davis.
If you can't wait to get your hands on MMA, check out our lines for UFC Fight Night 43 and 44. If you're more into the soccer craze currently happening, check out our World Cup previews.
[sc:MultiSportArticles ]
UFC 175 Weidman vs. Machida & Rousey vs. Davis Betting Preview and Prediction
Middleweight Championship – Chris "All-American" Weidman (11-0) vs. Lyoto "The Dragon" Machida (21-4)
Line: Chris Weidman (-200) vs. Lyoto Machida (+160) – view all UFC lines
Chris "All-American" Weidman proved all doubters wrong when he defeated former pound-for-pound king Anderson Silva in back-to-back championship fights. The "All-American" did so by utilizing his well-rounded skillset. Weidman is a dangerous grappler possessing one of the best positional grappling in the middleweight division. When the opportunity presents itself, he dives for daring submission owning back-to-back submissions over Jesse Bongfeldt and Tom Lawlor in the UFC.
[sc:UFC240banner ]What made Weidman so threatening is his ability to adapt to his opponent's style and the speed at which he develops his stand-up game. His evolving stand-up game was in full-display taking the championship from Silva. He backed up his win by adding strike defense to break Silva's shin in half after an errant kick. Nevertheless, he has shown frustration against elusive counter-strikers like Silva.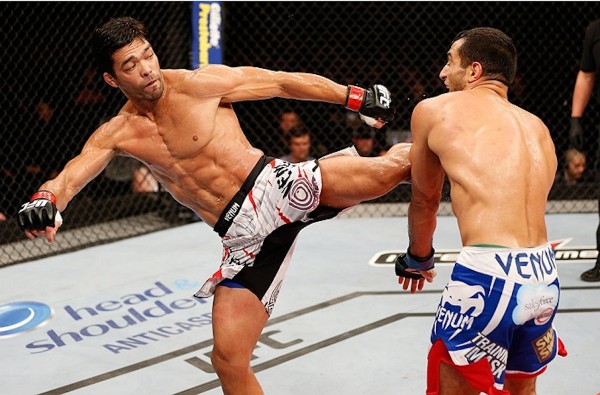 Enter "The Dragon." Machida is one of the most elusive and highly accurate strikers in the UFC. He lands as much as half the strikes he attempts. Not one to rush blindly in range of his opponent's strikes, Machida is a talented counter-striker who waits for the perfect opportunity to strike. His counter striking approach has led to highlight-reel knockouts of light heavyweight contenders Ryan Bader and Thiago Silva. His own brand of Machida Karate utilizes hip pivots, broken steps and repeated feints to bait his opponents into a devastating strike.
The challenger's karate also utilizes various techniques (like sumo and Judo) from different martial arts that allow him to stymie bigger and physically stronger wrestlers. He defends 80.28% of the takedowns attempted against him and punishes failed attempts with well-placed strikes.
Writer's Prediction: Machida is a whole different animal compared to Anderson Silva. He will bait Weidman into a devastating strike to wrest the championship by KO in the third round.
Women's Bantamweight Championship – Ronda "Rowdy" Rousey (9-0) vs. Alexis Davis (16-5)
Line: Ronda Rousey (-1500) vs. Alexis Davis (+800) – view all UFC lines
Women's Bantamweight Champion Ronda "Rowdy" Rousey is one of the UFC's biggest stars today. Despite that, she hasn't received any special favors going through tough and capable challengers like Miesha Tate and Liz Carmouche, in her short UFC career. Outside of the UFC, Rousey faced a who's who of the Women's MMA world including Brazilian Jiu-Jitsu (BJJ) black belt Ediane Gomes, kickboxing champion Charmaine Tweet, and veteran fighter Sarah Kaufman, beating them all combined in just 2:08 by armbar.
Nevertheless, Rousey knows how to adapt and has employed a varying array of skills in her most recent fights. Not only does she use her vaunted Judo up close, she has also added knees and punches in the clinch. Perhaps the most telling showcase of her evolving skillset is her recent, first round TKO win over Olympic wrestling silver-medalist Sara McMann after a well-placed knee to the liver.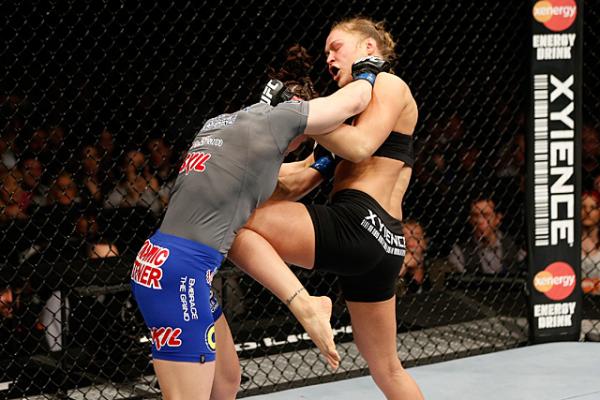 The champion's next challenge, Alexis Davis isn't someone to be overlooked. She possesses a wide collection of skills unlike most of Rousey's past challengers. Davis is a black belt in both Japanese Ju Jitsu and BJJ, displaying her sharp grappling by submitting cagey veterans Shayna Baszler and Hitomi Akano. Not one to shy away from development, the challenger has also been honing her Muay Thai skills to get the better of striking exchanges.
Davis' developed striking was most evident in dismantling former challenger Carmouche with leg kicks for a dominant unanimous decision win. She followed up her win in a hard-fought contest against the up-and-coming Jessica Eye. However, Davis is still looking to add to her already dangerous skillset by sharpening her wrestling by training with some of the best lighter weight wrestlers in Team Alpha Male.
Writer's Prediction: Davis will hang on much longer than most of Rousey's challengers. In the end, Rousey will find an opening to clinch her praise-worthy armbar in the fourth round.
This double headliner cannot be missed. A bet on Rousey alone won't amount to much as she's a heavy favorite. A parlay with Rousey and Machida, on the other hand, will provide a fistful of cash. Create a betting account now and take the only punch you surely don't want to miss.
Heavyweight – Stefan "Skyscraper" Struve (25-6) vs. Matt Mitrione (7-3)
Line: Stefan Struve (-155) vs. Matt Mitrione (+125) – view all UFC lines
The tallest fighter in the UFC roster standing at seven-feet tall, Stefan "Skyscraper" Struve is returning to the Octagon after mending a broken jaw. Struve has shown decent ability in his standup despite an inability to control the distance. Aside from striking, Struve also has dangerous submissions due to his long limbs. On the other hand, Matt Mitrione possesses high-pace and great movement for a heavyweight. Mitrione backs up his attributes with KO power and decent counter striking.
Writer's Prediction: Mitrione's athleticism and high output will have him finding Struve's chin for a KO in the first round.
Middleweight – Uriah "Pimetime" Hall (8-4) vs. Thiago Santos (9-2)
Line: Uriah Hall (-450) vs. Thiago Santos (+325) – view all UFC lines
Uriah "Primetime" Hall is one of the most talented strikers in the UFC middleweight division. He won the KO of the season in The Ultimate Fighter (TUF) 17, and is one of only four fighters to have stopped UFC veteran Chris Leben by strikes. However, Hall mentally checks out when pressured during fights. Standing across the Octagon, is TUF Brazil contestant Thiago Santos. Santos, also a talented striker, has a background in capoeira. His experience with the art gave him five knockouts to his name.
Writer's Prediction: Hall is the more talented striker, and will win by TKO in the second round.
Bantamweight – Marcus Brimage (6-2) vs. Russel Doane (13-3)
Line: Marcus Brimmage (EVEN) vs. Russel Doane (-130) – view all UFC lines
Opening up the PPV card of UFC 175 are bantamweights Marcus Brimage and Russel Doane. Brimage was a contestant in TUF 14, in which he showed tremendous striking power. However, he has an inclination to lose key positional battles on the ground that lead to tricky predicaments. Doane, on the other hand, is a scrappy, well-rounded fighter from Hawaii. He impressed in his UFC debut submitting BJJ World Champion Leandro Issa in the second round.
Writer's Prediction: Doane exploits Brimage's weakness on the ground winning by rear-naked choke in the first round.
[sc:UFC490banner ]
2,241 total views, 1 views today
Comments
comments