"The Notorious" Conor McGregor will not be facing Jose Aldo for the UFC Featherweight Championship in UFC 189 after the champion withdrew due to a rib injury. But McGregor still gets a chance to hoist championship gold as he takes on top featherweight contender Chad "Money" Mendes for the Interim UFC Featherweight Championship.
Just when you've thought this card couldn't get any better, the UFC Welterweight Championship will also be on the line in the co-main event of the evening. The champ, "Ruthless" Robbie Lawler, defends his title against rising Canadian contender Rory "The Red King" MacDonald in what should be an all-out war.
Read on for a breakdown of the jam-packed UFC 189 card from top-to-bottom. Also a fan of team sports? Check out the busy offseason through our free agency recaps for the NHL and NBA.
[sc:MultiSportArticles ]
UFC 189: Mendes vs. McGregor Preview
UFC Interim Featherweight Championship: Chad Mendes vs. Conor McGregor
Line: Chad Mendes (+160) vs. Conor McGregor (-200) – view all UFC 189 lines
"Nobody moves like I move or thinks like I think." Those were some bold words from "The Notorious" Conor McGregor (17-2); bold words that he's backed up more than once in the Octagon. McGregor is undefeated in five professional fights in the UFC, knocking out Marcus Brimage, Diego Brandao, Dustin Poirier and Dennis Siver. The only man to have escaped with his consciousness still intact is budding star Max Holloway.
[sc:UFC240banner ]McGregor is one of the best — if not the best — boxer in all of mixed martial arts. His left straight is lethal when on its mark. He also happens to possess a slick lead right hook that he uses to either touch his opponents' faces or let rip to the body. Despite having just five fights in the UFC, McGregor already owns the third-most knockdowns in the featherweight division with four.
The Notorious one sets up his amazing hands with a variety of kicks; from textbook roundhouses to wild spinning kicks. McGregor's kicks aren't thrown to do damage per se but they still hurt if landed cleanly. The kicks are thrown to keep the Irishman's opponents in range. It is in that range that McGregor boxes his opponents up en route to stoppage victories. McGregor lands at an astounding rate of 5.72 significant strikes per minute.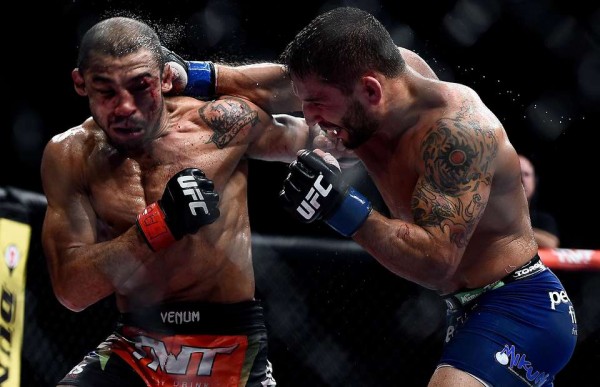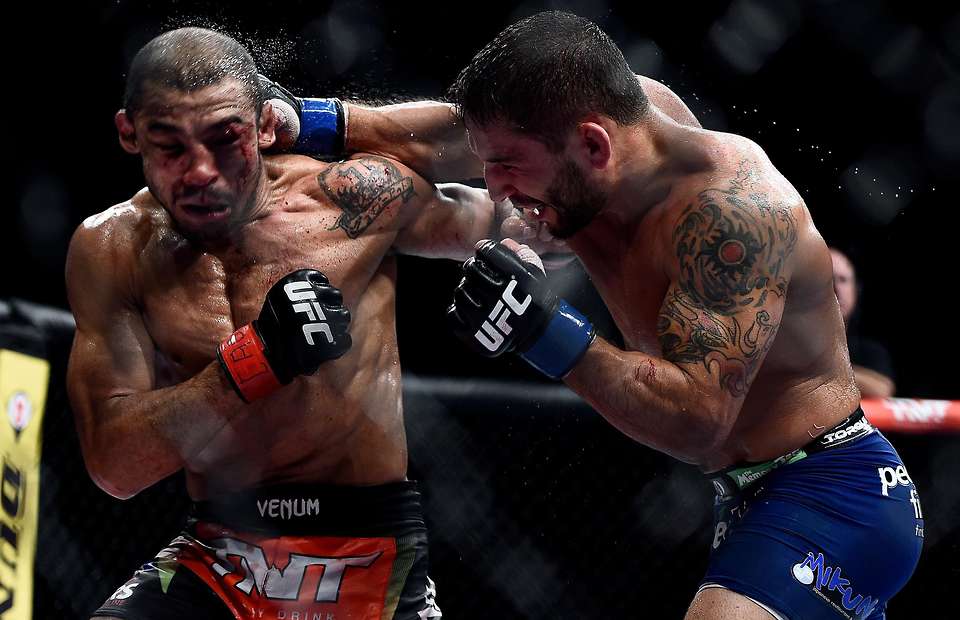 McGregor is an amazing striker and all, but he's yet to be tested on the ground. Enter Chad "Money" Mendes (17-2). The Team Alpha Male export may be the most explosive wrestler in the featherweight division, averaging 4.1 takedowns per bout. But he struggles to keep his opponents down on the canvas.
Mendes has recently fallen in love with his striking, though. It's hard to blame him for his incredible knockout power. Money already has the most knockdowns landed (six) in the history of the featherweight division. He needed less than three minutes to knockout Ricardo Lamas, who took champion Jose Aldo to decision, in April.
But Mendes could be quite chinny if his championship bout against Aldo is any evidence. He was repeatedly tagged with a counter left hook, also one of McGregor's best punches, throughout the bout. He was knocked down once and was repeatedly rattled throughout his five-round unanimous decision loss to Aldo in October 2014.
Writer's prediction: McGregor (-200) fakes a kick, then launches a devastating uppercut on a ducking Mendes for the second round TKO.
UFC Welterweight Championship: Robbie Lawler vs. Rory MacDonald
Line: Robbie Lawler (+140) vs. Rory MacDonald (-180) – view all UFC 189 lines
It's old school vs. new breed when UFC Welterweight Champion "Ruthless" Robbie Lawler (25-10) takes on rising Canadian hotshot Rory "The Red King" MacDonald (18-2) in the co-main event of UFC 189. The two already met before in a tightly contested bout in the undercard of UFC 167 in November 2013, a bout Lawler won by split decision.
Lawler was the aggressor for most of the fight, repeatedly walking MacDonald down the Octagon, threatening with a steady stream of powerful punches. Ruthless outlanded MacDonald 44-37 in significant strikes and 65-41 in total strikes. MacDonald had more success on the ground, though. Formerly called "Ares," MacDonald landed four of six takedown attempts and utilized effective ground-and-pound.
A third-round knockdown sealed the deal for Lawler, and the two now find themselves fighting for UFC gold. But these two may be completely different fighters by the time the Octagon doors shut.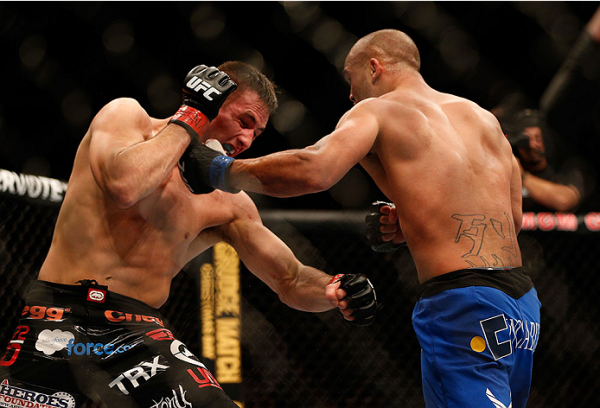 Since their first meeting, Lawler has won three of his last four fights; he knocked out top contender Jake Ellenberger, beat the highly-regarded Matt Brown and split his two championship fights with Johny Hendricks.
What stands out the most for Ruthless is how he's sharpened his takedown defense. He stuffed 20 of 27 takedown attempts from Hendricks, who's an NCAA Division I All-American and champion, in their two matches. Their latest match was a split decision which handed Lawler the UFC Welterweight Championship.
MacDonald also looks like a much different fighter this time around. He's racked up three straight wins against highly-regarded opponents Demian Maia and Tyron Woodley by unanimous decision and Tarec Saffiedine by third round knockout. He outstruck the three with a combined 171-119 significant strikes.
But the Red King's striking heavily relies on the jab, which will be pretty much negated against the southpaw stance of Lawler. Using the jab also opens up MacDonald for a counter right hook; he was repeatedly tagged and rocked by that punch in the first bout against the current champ. If MacDonald was to have a chance at beating Lawler, it's going to come on the ground. Look for a takedown heavy approach from the challenger in this bout.
Writer's prediction: And still! Lawler (+140) forces a brawl and ruthlessly drops MacDonald in the latter rounds. Lawler wins by unanimous decision but a late TKO wouldn't be surprising.
Get the most of the biggest fight card of the year. Create a betting account now and score big money on each kick, punch and submission in UFC 189.
Featherweight: Dennis Bermudez vs. Jeremy Stephens
Line: Dennis Bermudez (-210) vs. Jeremy Stephens (+165) – view all UFC 189 lines
Dennis "The Menace" Bermudez (14-4) has a very apt nickname for his style. He's very menacing with power in both hands and a slick submission game that can catch opponents off guard. Bermudez is one of the fastest and most explosive wrestle-boxers in the featherweight division. But he's facing what you'd call a gritty, old school veteran in Jeremy "Lil Heathen" Stephens (23-11).
Stephens loves an old-fashioned phone booth brawl to win him fights. 15 of his 23 victories have come by knockout or technical knockout. But he's a plodding fighter who struggles to get his hands on mobile and athletic opponents. There's also a couple of question marks surrounding Lil Heathen's mental state, regularly checking out of fights despite having some success. So take his "I'm going to decimate Dennis Bermudez" quote with a grain of salt.
Writer's prediction: Bermudez (-210) grinds out Stephens to a unanimous decision.
Welterweight: Gunnar Nelson vs. Brandon Thatch
Line: Gunnar Nelson (+150) vs. Brandon Thatch (-190) – view all UFC 189 lines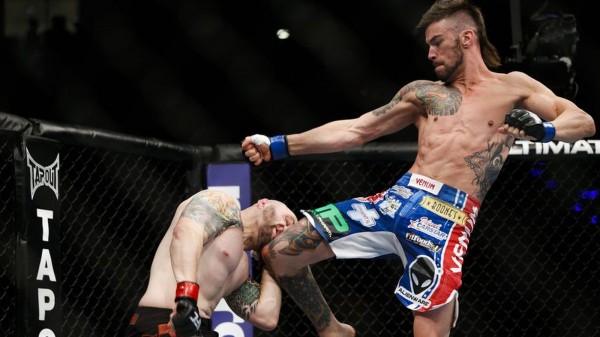 Brandon "Rukus" Thatch (11-2) is one big, scary dude in the Octagon. He has destroyed almost anyone who's stood in front of him. Eight of Thatch's 11 victories have come by knockout or technical knockout; the other three were won by submission. But Thatch may have his work cut out for him in grappling ace Gunnar "Gunni" Nelson (13-1-1).
The Icelander has finished nine of his 13 wins by submission, though he struggles to get bigger opponents down on the mat. Nelson loves to utilize clinch trips and takedowns, which may be inadvisable considering Thatch's devastating knees and elbows from the clinch.
Writer's prediction: Thatch (-190) dusts Nelson in the first round by TKO.
Bantamweight: Brad Pickett vs. Thomas Almeida
Line: Brad Pickett (+550) vs. Thomas Almeida (-900) – view all UFC 189 lines
Thomas Almeida (18-0) is a bantamweight monster looking for a big-time win to propel him to the next level. He's coming off a brutal first round TKO of Yves Jabouin in April 2015. Almeida has finished 14 of his 18 opponents by knockout or TKO. The promising prospect has a tough test ahead of him in gritty contender Brad "One Punch" Pickett (24-10).
Pickett loves peppering opponents with punches while mixing in a steady dose of takedowns. But he's struggled against fighters with slick hands with notable losses to Eddie Wineland, Michael McDonald, Ian McCall and Chicao Camus. Age may also be catching up to the 36 year old Pickett, who has dropped three of his last four fights.
Writer's prediction: Almeida (-900) defeats Pickett by second round TKO.
Preliminary Quick Picks
Tim Means (+160) def. Matt Brown by unanimous decision.
Alex Garcia (-400) annihilates Mike Swick in the first round.
Cathal Pendred (-115) def. John Howard by unanimous decision.
Cody Garbrandt (-700) destroys Henry Briones in the first round.
Louis Smolka (-115) def. Neil Seery by unanimous decision.
Yosdenis Cedeno (-210) def. Cody Pfister by unanimous decision.
[sc:UFC490banner ]
2,247 total views, 1 views today
Comments
comments