Brazilian legends have long dreamt of fighting in one of their own soccer stadiums. They get that wish when Fabricio Werdum defends his UFC Heavyweight Chamionship in Arena da Baixada, Curitiba, Brazil for UFC 198. He takes on the talented Stipe Miocic, who's coming into this fight on back-to-back knockout victories.
Before Werdum and Miocic grace the main event, plenty of Brazilian stars will fight to sizzle up the night. There's Vitor Belfort taking on Ronaldo Souza, Mauricio Rua taking on up-and-comer Corey Anderson and Demian Maia going head-to-head against Matt Brown. It's a stacked, fun-filled card that you simply cannot miss.
Whie you're busy keeping an eye on some grand MMA action, don't get caught out of the loop in the Stanley Cup Playoffs. Check out our Stanley Cup Odds update as well as out Western Conference Final Preview.
Sports News and Predictions
UFC 198: Werdum vs. Miocic Preview
UFC Heavyweight Championship: Fabricio Werdum vs. Stipe Miocic
Line: Fabricio Werdum (-160) vs. Stipe Miocic (+130) – view all UFC 198 lines
It's a dream come true for UFC Heavyweight Champion Fabricio "Vai Cavalo" Werdum. He's set to defend his title for the first time in front of 45,000 screaming Brazilian fans inside a soccer stadium in Curitiba, Brazil. Werdum cemented himself as the baddest man on the planet last June, beating then-champion Cain Velasquez in Mexico.
Werdum was stellar against the former champ. He outstruck and bloodied Velasquez for three rounds before ending the fight with a guillotine choke. It was a testament to Werdum's set of tricks. He can strike using his vicious muay Thai and end fights in an instant with his excellent Brazilian Jiu Jitsu pedigree.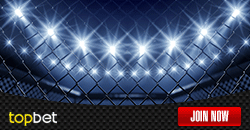 Vai Cavalo has 10 wins by submission. He's dangerous both on his back and on top. He was the first to submit former Pride and Interim UFC Heavyweight Champion Antonio Rodrigo Nogueira in 2013. While his submission skills are very impressive, Werdum's striking skills should also be mentioned. He's been a complete animal since training with Rafael Cordeiro. He even knocked out former K-1 Champion Mark Hunt with a flying knee to win the interim title in 2014.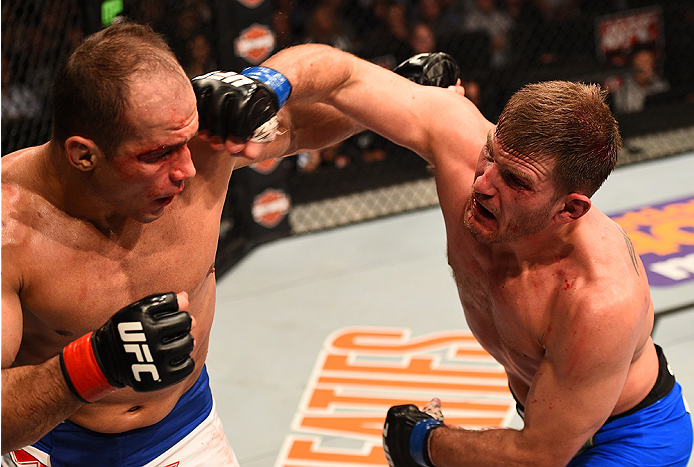 Alas, Werdum is aging. At 38 years old, he doesn't have the benefit of youthful energy. Here comes Stipe Miocic, one of the best up-and-comers in the heavyweight division, trying to wrest Werdum's belt away. Miocic has been on a path of destruction with back-to-back knockout victories over Andrei Arlovski and Mark Hunt.
Miocic has gone on a stellar 5-1 run since 2013. His lone loss was a decision against former champion Junior Dos Santos, which could have even been scored for him. Miocic brings excellent boxing skills and an elite wrestling base to the table. He'll most likely want to keep this fight standing in order to escape Werdum's tricky ground game.
Miocic is also one of the more athletic heavyweights on the roster. He'll have the athleticism and gas tank that can give him the edge in this matchup.
Writer's prediction: Miocic (+130) takes a conservative approach, unloading on crisp boxing combinations at a distance. He takes the crown via unanimous decision after five hard rounds of action.
Middleweight: Ronaldo Souza vs. Vitor Belfort
Line: Ronaldo Souza (-320) vs. Vitor Belfort (+240) – view all UFC 198 lines
Ronaldo "Jacare" Souza could have been the next one in line for the middleweight championship. But a loss to Yoel Romero, who tested positive for PEDs due to a tainted supplement, has him scrambling to get back on top. Souza has the perfect dance partner in former UFC Light Heavyweight Champion and two-time middleweight championship contender Vitor Belfort.
Belfort has crazy speed and knockout power. He can knock anyone out with his hands or legs. But Souza is no slouch on the feet. He has a crippling right hand, but figures to want this fight on the ground. Souza is one of the best Brazilian Jiu Jitsu black belts in the entire sport with 16 career submission victories.
Writer's prediction: Souza (-320) snatches an arm for a second round submission.
Catchweight: Cris Cyborg vs. Leslie Smith
Line: Cris Cyborg (-1,500) vs. Leslie Smith (+800) – view all UFC 198 lines
Very few can compare to Cris "Cyborg" Justino. She's one of the women's mixed martial arts pioneers, fighting way before the rise of Ronda Rousey, Holly Holm and Miesha Tate. Cyborg brings forth some wicked muay Thai with vicious power. She gets what many call a gimme fight—bantamweight division gatekeeper Leslie Smith.
Smith won't be all helpless. She's a relentless swarmer, much like Cyborg but with a never-ending gas tank. This will be Cyborg's first fight under 145 pounds in years, which could have a negative effect on her gas tank. Her style isn't very economical as she expends plenty of energy to finish her opponents in the first round.
Writer's prediction: Cyborg should get the win early. But if the fight drags down, then Smith (+800) might have a chance to put a beating on a tiring Cyborg.
Light Heavyweight: Mauricio Rua vs. Corey Anderson
Line: Mauricio Rua (+200) vs. Corey Anderson (-260) – view all UFC 198 lines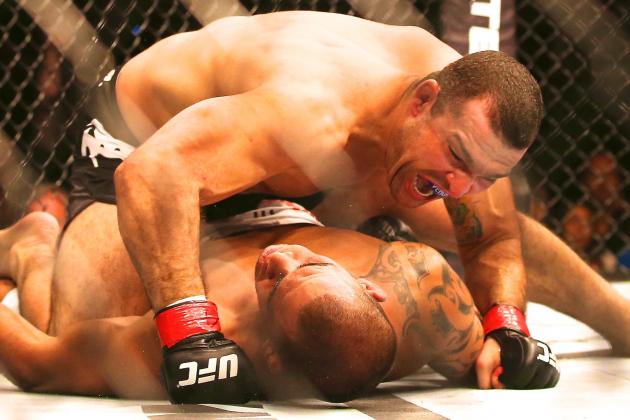 Former UFC Light Heavyweight Champion Mauricio "Shogun" Rua has suffered a fall from grace. Once seen as one of the best pound-for-pound talents in the world, Shogun has suffered four losses in his last six fights. He's basically seen as a stepping stone against the division's up-and-comers. Corey "Beasting 25/8" Anderson could set himself up nicely in the top 10 with a victory over Shogun.
Anderson is coming off three straight victories. He has the wrestling chops and relentlessness to put Rua on the defensive for most of the fight.
Writer's prediction: Anderson (-260) grins out Shogun en route to a lopsided unanimous decision victory.
Welterweight: Warlley Alves vs. Bryan Barberena
Line: Warlley Alves (-600) vs. Bryan Barberena (+400) – view all UFC 198 lines
Super Brazilian prospect Warlley Alves opens up the main card. He takes on prospect killer Bryan "Bam Bam" Barberena, who is coming off a scintillating upset of 19-year-old wunderkind Sage Northcutt in January. Alves is no Northcutt, however. He's big, strong and has a nasty guillotine to decapitate opponents.
Writer's prediction: Alves (-600) finishes Barberena in devastating fashion in the first round.
Fox Sports 1 Prelims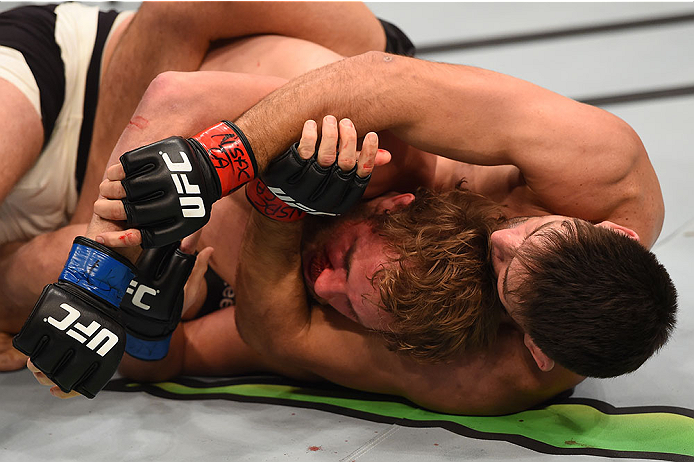 Matt Brown pushes an insane pace against Demian Maia. The Immortal (+220) gets the late third-round finish after dropping the first and half of the second round.
Thiago "de Lima Marreta" Santos (-400) knocks out Nate Marquadt in the first round.
Yancy Medeiros (+180) uses his relentlessness to put a beating on Francisco Trinaldo. Medeiros takes a clear-cut decision.
Rob Font (+125) won't be sucked into a slugfest against John Lineker. He uses his wrestling and mixes in some takedowns to upset the talented Brazilian.
UFC Fight Pass Prelims
Patrick Cummins (-260) blankets Antonio Rogerio Noegueira for a decision victory.
Sergio Moraes (-400) takes a clear decision against Luan Chagas.
Zubaira Tukhugov (-155) knocks out Renato Moicano in the second round.
Create a betting account now and take part in the historic UFC 198 in Curitiba, Brazil.

Comments
comments