---
The UFC is finally coming to NYC. Madison Square Garden will play host to the historic UFC 205, which will see not one, not two, but three championship fights. The main event will see controversial UFC featherweight champion Conor McGregor once again going up a weight class to challenge lightweight champ Eddie Alvarez.
Tyron Woodley will make his first welterweight title defense against Stephen "Wonderboy" Thompson, while women's strawweight champion Joanna Jedrzejczyk takes on fellow Pole Karolina Kowalkiewicz.
UFC 205 will feature a stacked card from top to bottom. Read on below for our picks and predictions for the entire main card, as well as select preliminary bouts.
---
Cash In on the Best Online Sportsbook Offers Now at TopBet!
---
UFC 205 Main Card Preview
The Main Event – UFC Lightweight Championship
Eddie Alvarez (+140) vs. Conor McGregor (-170)
This fight will come down to whether Alvarez (28-4) can take McGregor (20-3) down. Alvarez has gotten 10 takedowns in his last three fights, and used them to effectively neuter the dangerous striking of former champ Anthony Pettis.
Meanwhile, McGregor has struggled the most when he's been down on the mat. He needed to withstand some punishment from wrestler Chad Mendes before Mendes eventually wore down in their fight, and was famously choked out shortly after getting dropped by Nate Diaz in their first fight.
If this fight remains standing, you've got to favor McGregor, with his terrific power and striking skills, to gain the advantage and even pull off a stoppage. But the well-rounded Alvarez will likely be able to take McGregor down, and that should allow him to eventually grind away at McGregor.
Writer's Prediction: Alvarez (+140) upsets McGregor with a unanimous decision win.
Co-Main Event – UFC Welterweight Championship
Tyron Woodley (+160) vs. Stephen Thompson (-200)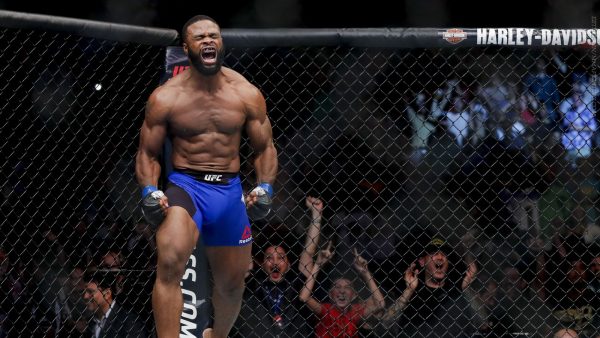 This welterweight title fight is a classic wrestler-vs-striker matchup. Woodley (16-3), the champion, possesses some powerful wrestling which will test Thompson's takedown defense. He also has a lot of power in his hands, which has seen him get the stoppage through punches in four of his six career UFC wins.
However, Thompson (13-1) with his karate base has proven to be very difficult to take down. Jonny Hendricks – another top wrestler with heavy hands like Woodley – couldn't come close to taking him down. As a result, Thompson picked him apart en route to a TKO victory.
As long as Thompson avoids one of Woodley's lottery ticket haymakers, he should be able to effectively get the better of Woodley on the feet with his diverse striking attack.
Writer's Prediction: Thompson (-200) wins the welterweight strap with a fourth round TKO of Woodley.
UFC Women's Strawweight Championship
Karolina Kowalkiewicz (+325) vs. Joanna Jedrzejczyk (-450)
You can make a case that Joanna Jedrzejczyk (12-0) is the most dominant UFC champion today. To date, only Claudia Gadelha has even come close to giving strawweight champ Joanna Jedrzejczyk a fight in her career. And even then, Gadelha fell short on both occasions. Karolina Kowalkiewicz had her shot at Joanna Champion as amateurs in 2012, and Jedrzejckyk won via rear-naked choke.
Kowalkiewicz (10-0) remains undefeated as a pro and pulled off a good win over Rose Namajunas to earn this title shot. However, she doesn't have the ability to produce stoppages – her last five fights have gone to a decision – and the longer she stays in the cage with Joanna Champion, the higher Jedrzejczyk's chances of stopping the fight herself.
Writer's Prediction: Jedrzejczyk (-450) successfully defends her title with a third-round TKO.
Middleweight: Yoel Romero (+140) vs. Chris Weidman (-170)
Weidman's TKO loss to Luke Rockhold was a bit of an eye-opener. The former champ simply couldn't cope with Rockhold's superior athleticism and power. Now, he's set to face Yoel Romero (11-1), a physical specimen who also has the potential to pose Weidman similar problems. Ten of Romero's 12 career wins have come via KO/TKO.
Weidman (13-1) is the more technically adept fighter, and will have a five-inch reach advantage. However, his wrestling likely won't be quite as effective against Romero, who is an Olympic silver medalist wrestler.
Writer's Prediction: Romero (+140) roughs Weidman up and wins by second-round TKO.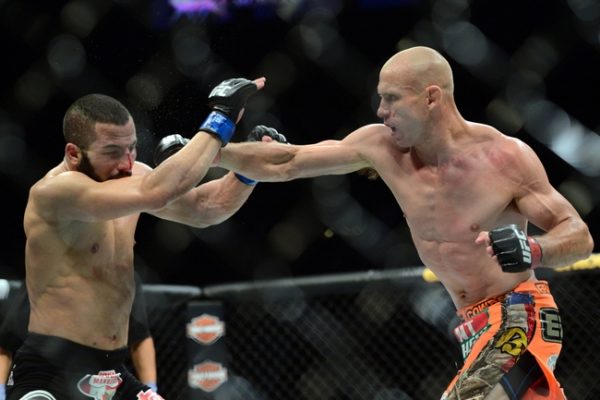 Welterweight: Kelvin Gastelum (+135) vs. Donald Cerrone (-165)
Donald Cerrone (31-7, 1 NC) is feeling right at home at welterweight. Since jumping up a weight class, Cowboy has strung together three-straight wins – all via stoppage. Even against Kelvin Gastelum (13-2) – who has competed at middleweight – Cerrone will have the slight height and reach advantage.
Cerrone's excellent kickboxing will give him the edge on the feet. Gastelum will likely look to take his opponent down to neutralize that threat, but Cowboy is also pretty nifty on his back. Over half of Cerrone's 31 career wins have come via submission.
Writer's Prediction: Cerrone (-165) remains undefeated at welterweight as he gets the unanimous decision win.
Women's Bantamweight: Miesha Tate (-175) vs. Raquel Pennington (+145)
Despite suffering a heavy beatdown at the hands of Amanda Nunes in her first and only title defense, Tate (18-6) is still the superior fighter over Raquel Pennington (8-6). Tate's got that knack for battling through adversity, and her grappling skills are also among the best in women's MMA. She has only lost back-to-back fights in her MMA career, and that second loss was to Ronda Rousey.
Writer's Prediction: Tate (-175) comes out on top as she wins by split decision.
---
Select Prelim Fights
Featherweight: Frankie Edgar (-320) vs. Jeremy Stephens (+240)
Edgar (19-5-1) seems like he's now in the Urijah Faber zone of falling short in title fights but winning just about everything else. He's won his last five non-title bouts, three by stoppage. Despite his advancing age, he's still got very good movement and footwork, which will help him avoid Stephens' heavy hands. And if Stephens (25-12) can't land one of his big knockout punches on Edgar, it's tough to see him taking this fight.
Writer's Prediction: Edgar (-320) rolls to a unanimous decision win.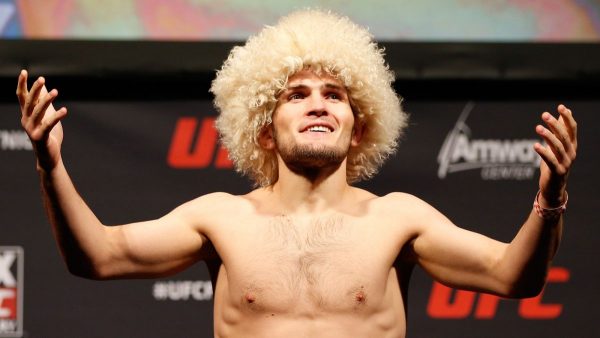 Lightweight: Khabib Nurmagomedov (-320) vs. Michael Johnson (+240)
Nurmagomedov has fought just twice over the past three years due to an assortment of injuries, but he looked decent enough in his return last April as he recorded a TKO win over Darrell Horcher. Nurmy's still a perfect 23-0 in his professional career for a reason, and that's because he is simply suffocating when he can get his wrestling on.
Johnson (18-10) is a tough dude to take down; he's defended 81 percent of his opponents' takedown attempts. But he hasn't faced anyone with the type of elite wrestling skills that Nurmagomedov has, and will struggle to keep The Eagle off him.
Writer's Prediction: Nurmagomedov (-320) stops Johnson with a third-round TKO.
Lightweight: Jim Miller (+125) vs. Thiago Alves (-155)
After enduring a rough 1-4 stretch, Miller (27-8, 1 NC) has now won two fights in a row. Miller is a technically sound fighter who likes to mix it up on the feet and can grapple with the best of them if needed. It remains to be seen how Alves (26-10) copes with dropping down to 155. Alves' weight cut could give Miller the advantage in cardio, and allow him to outlast Alves if the fight goes the distance.
Writer's Prediction: Miller (+125) takes a split decision win.
Create a betting account now and cash in on all the awesome mixed martial arts action on display in UFC 203.

2,181 total views, 1 views today
Comments
comments