Smoothie King Center better be ready for a night of knockouts. UFC Fight Night 68 comes into town with six main card bouts with the potential for plenty of violence. A living legend in Dan "Hendo" Henderson goes toe-to-toe with the always dangerous Tim "The Barbarian" Boetsch in the main event of the evening.
If that weren't enough, someone's going to sleep in the co-main event when powerful heavyweights Matt Mitrione and Ben Rothwell take the Octagon. There's plenty more action coming to New Orleans. Read on as we breakdown the main card for UFC Fight Night 68.
One week later, the UFC goes to Mexico City with the heavyweight championship on the line. Check out our complete preview for UFC 188: Velasquez vs. Werdum.
[sc:MultiSportArticles ]
UFC Fight Night 68 Predictions and Preview
Middleweight: Tim "The Barbarian" Boetsch vs. Dan "Hendo" Henderson
Line: Tim Boetsch (-200) vs. Dan Henderson (+160) – view all UFC lines
Dan Henderson (30-13) has seen it all in his storied career. He became the first and only mixed martial artist to simultaneously hold multiple Pride championships (welterweight and middleweight) in the late 2000s. Hendo also became the oldest combatant to win a Strikeforce championship (light heavyweight) in 2011. He did all that with his famous H-Bomb, a winging overhand right that will put anyone to sleep.
[sc:UFC240banner ]But Henderson isn't as durable as he was earlier in his career. He lost by knockout (twice) and submission in three of his last four fights. An aging Henderson may have a hard time facing a powerful fighter such as Tim Boetsch (18-8).
As his nickname suggests, Boetsch is simply a "Barbarian." He puts on a furious pace, standing in the pocket to land 2.72 significant strikes per minute. Boetsch ranks third for most knockdowns (5) in the UFC Middleweight Division. His body lock takedowns and slams are also quite dangerous.
Henderson is a very experienced wrestler, though. He should do just fine in avoiding Boetsch's preferred clinch takedowns. The Barbarian is also very hittable, suffering 2.66 significant strikes per minute, and it only takes one big swing from Henderson to end fights.
Writer's prediction: Henderson (+160) lands his H-Bomb to put Boetsch to sleep.
Middleweight: Matt "Meathead" Mitrione vs. "Big" Ben Rothwell
Line: Matt Mitrione (-200) vs. Ben Rothwell (+160) – view all UFC lines
After going 2-3 in his first five fights in the UFC, Ben Rothwell (34-9) seems to be on a career resurgence of sorts. He has now won back-to-back fights by knockout, one against No. 8 heavyweight Alistair Overeem. But Rothwell is a slow, plodding fighter who absorbs way too many strikes for a heavyweight. Opponents land about half of their attempted strikes against Big Ben.
Rothwell also doesn't have a big gas tank in him to get through long fights, which should have him struggle against a superior athlete in Matt Mitrione (9-3). A former defensive tackle for the New York Giants in 2002, Mitrione had an excellent transition into mixed martial arts. He's fought all of 12 of his professional fights in the UFC, winning eight by knockout.
Mitrione is one of the best volume punchers in the UFC Heavyweight Division, landing at an incredible rate of 3.86 significant strikes per minute. His footwork is superb, allowing him to find angles and land bombs on his opponents.
Writer's prediction: Mitrione (-200) by first round knockout.
Lightweight: Dustin "The Diamond" Poirier vs. Yancy Medeiros
Line: Dustin Poirier (-190) vs. Yancy Medeiros (+150) – view all UFC lines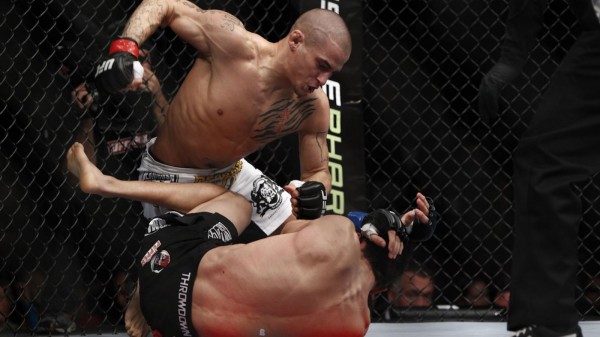 Dustin Poirier (17-4) was an elite contender as a featherweight. But the weight cut was taking its toll on his body, thus forcing him to move up a division. The Diamond sparkled in his lightweight debut on April 4 by knocking out highly-regarded up-and-comer Diego Ferreira in the first round.
Poirier takes on the big and dangerous Yancy Medeiros (11-2, 1 NC) in his second foray in lightweight division. Medeiros has slick hands that have allowed him to outland each of his past four opponents. But what makes him even more dangerous is his propensity to jump for submissions on hurt opponents. Medeiros outstruck his last two opponents 54-35 before sinking in fight-ending chokes.
Writer's prediction: Poirier's (-190) the more polished boxer of the two. His forward pressure should give him a unanimous decision victory.
Don't miss out on these hard-hitting fights. Create a betting account now and get on the UFC's world class MMA action.
Featherweight: Thiago Tavares vs. Brian "T-City" Ortega
Line: Thiago Tavares (-180) vs. Brian Ortega (+140) – view all UFC lines
Thiago Tavares (23-5-1) was once a promising prospect rising up the ranks of the UFC Lightweight Division. He didn't quite reach the top after he was derailed by journeymen Tyson Griffin, Matt Wiman and Kurt Pellegrino from 2007-2008. Now down a weight class at featherweight, Griffin will get his own chance to derail a young up-and-comer in Brian Ortega (9-0, 1 NC).
Ortega is an excellent Brazilian Jiu Jitsu practitioner with four submission victories under his belt (three by triangle choke, one by rear-naked). A black belt in BJJ, Ortega will want to get this fight to go down on the canvas. But Tavares is no joke on the ground either; being a black belt himself with 13 submission victories. He also has the wrestling chops to either drag Ortega down or avoid takedowns against him.
Writer's prediction: Tavares (-180) controls Ortega on the ground to cruise to a unanimous decision win.
Bantamweight: Joe "One Bad Mofo" Soto vs. Anthony "El Toro" Birchak
Line: Joe Soto (-175) vs. Anthony Birchak (+135) – view all UFC lines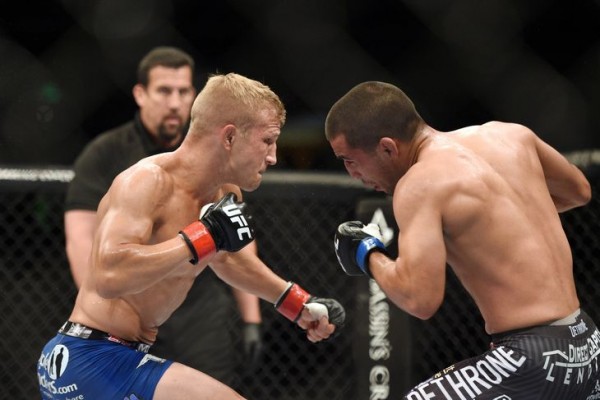 It was a roller coaster UFC debut for Joe Soto (15-3). He was supposed to face off against Anthony Birchak (11-2) in the undercard for UFC 177. But an injury to title challenger and main event fighter Renan Barao gave Soto a short-notice shot at UFC gold. He showed that he truly was One Bad Mofo by going toe-to-toe with bantamweight kingpin TJ Dillashaw before getting knocked out in the fifth round.
Now Soto and Birchak finally meet each other in the Octagon after their respective debuts. Birchak is a wrestler who loves to grind opponents out until opportunities for submissions or ground and pound present themselves. He has won six fights by submission and three by knockout. Soto is also an excellent grappler with eight submission victories, but also has slick hands on the feet.
Writer's prediction: It'll be a tight scrap, but Soto (-175) should walk away the victor by unanimous decision.
Bantamweight:  Francisco "Cisco" Rivera vs. Alex "Bruce Leeroy" Caceres
Line: Francisco Rivera (-120) vs. Alex Caceres (-110) – view all UFC lines
Opening the main card is an exciting matchup between Francisco Rivera (10-4, 1 NC) and Alex Caceres (10-7, 1 NC). Rivera is coming off an excellent performance against Urijah Faber in December 2014. He was lighting up the top contender with crisp combinations before an inadvertent eye poke against him slipped under the referee's watch. Faber capitalized with a fight-ending rear-naked choke.
Caceres, in the meantime, is a talented striker. But his calm and relaxed demeanor in the cage plays right into Rivera's aggressive, in-your-face style. Expect Cisco to walk Caceres down toward the cage, where he can either work the head or body with slick boxing combinations.
Writer's prediction: Rivera (-120) puts Caceres away by second round TKO.
[sc:UFC490banner ]
2,026 total views, 2 views today
Comments
comments