Dominick Cruz is frustrated. He didn't lose his UFC Bantamweight Championship to anyone. Rather he vacated it after two ACL injuries and a torn groin. He also lost an earlier shot to regain his championship with a third ACL injury. But if he is to be believed, then the man they call "the Dominator" is back and better than ever heading into this championship fight on Fox Sports 1.
Cruz will have his hands full, though. He faces a young and talented champion, T.J. Dillashaw, who has improved leaps and bounds since Cruz was still dominating the division. Will Dillashaw defend his title and show that he's here to stay? Or will Cruz be once again crowned as the bantamweight kingpin?
Dillashaw and Cruz will face off right after the NFL Divisional Round games. Check out Sunday's games with our complete previews for the Seahawks vs. Panthers and Steelers vs. Chiefs.
[sc:MultiSportArticles ]
UFC Fight Night 81: Dillashaw vs. Cruz Preview
UFC Bantamweight Championship: T.J. Dillashaw vs. Dominick Cruz
Line: T.J. Dillashaw (-145) vs. Dominick Cruz (+115) – view all UFN 81 lines
It's going to be the most technical UFC Bantamweight Championship fight in the history of the sport when current title holder T.J. Dillashaw (12-2) defends the title against former kingpin Dominick "The Dominator" Cruz (20-1).
[sc:UFC240banner ]Dillashaw has revolutionized striking in mixed martial arts through the guidance of head coach Duane Ludwig. Using Ludwig's Bang Muay Thai, Dillashaw has incorporated quick stance and line changes to find angles on his opponents. Dillashaw has been highly-effective in the southpaw stance. He lands quick and precise right jabs and left head kicks.
When assessing Dillashaw's performance, look no further than his demolition of former champion Renan Barao. Once thought to be the fiercest striker in the 135-pound division, Barao was held helpless against Dillashaw's technical brilliance.
Dillashaw outlanded Barao 140-64 in the first matchup in May 2014, including two knockdowns; he finished the fight with a head kick and follow up punches. He defended his title against Barao a year later, finishing Barao with unanswered punches in the fourth round in July 2015. While Barao is powerful and strong, he was highly-immobile.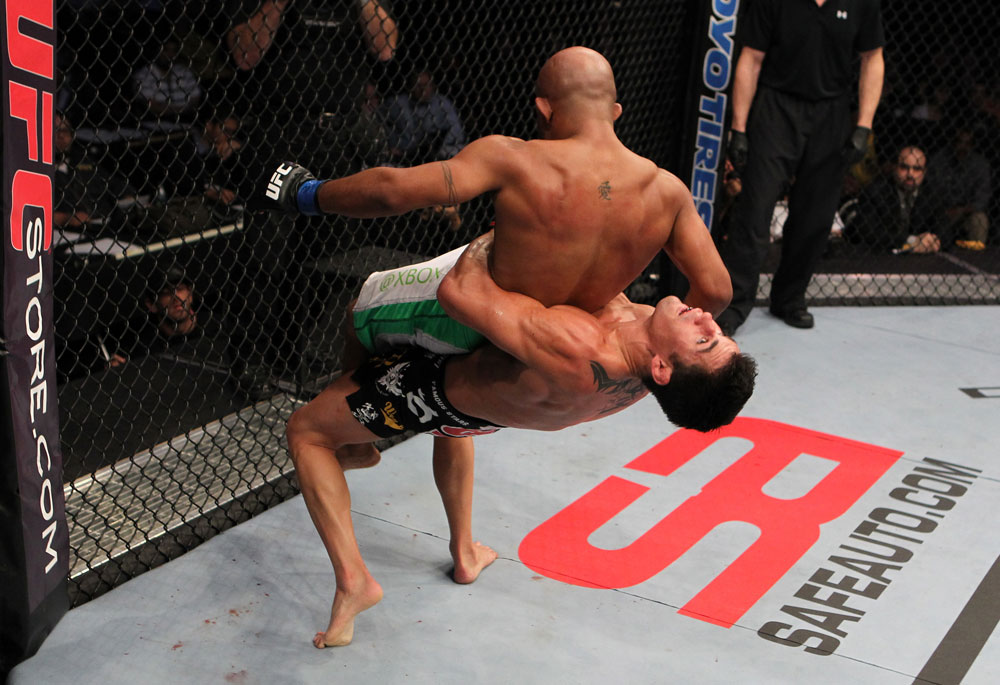 Cruz is the complete opposite of Barao. While he certainly lacks a pop in his punches, Cruz has the footwork to keep him out of trouble. Cruz loves to dart in with looping right hands to keep his opponents off-balance. He's also a very good wrestler, landing close to four takedowns per fight.
Cruz is an excellent fighter and a possible pound-for-pound talent. But he's had plenty of injuries that could steal his thunder. Cruz is coming into this fight off three separate ACL surgeries (twice on the left, and once on the right) and a torn groin. A couple of surgically-repaired knees could take some pop away from Cruz' once-excellent footwork.
Writer's prediction: The two give everything they have in a back-and-forth battle. But Dillashaw will be the fresher man in the deep waters after all of Cruz' injury woes. Dillashaw (-145) defends the title by decision.
Lightweight: Anthony Pettis vs. Eddie Alvarez
Line: Anthony Pettis (-320) vs. Eddie Alvarez (+240) – view all UFN 81 lines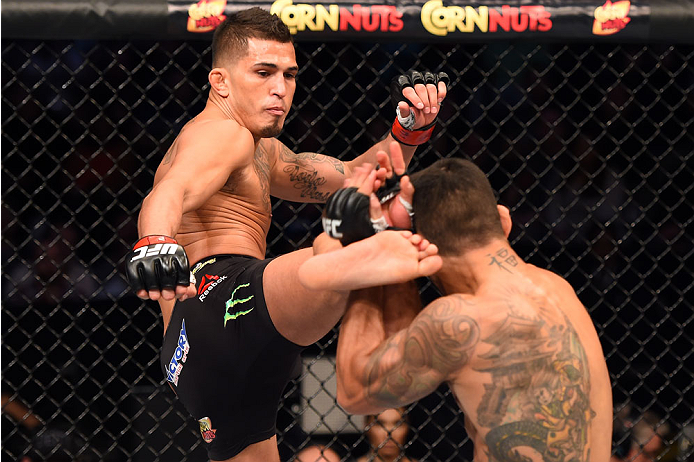 Anthony "Showtime" Pettis (18-3) begins his climb back up the division he once ruled by facing one of the toughest lightweights on the roster, Eddie Alvarez (26-4). Pettis has repeatedly showcased a thrilling arsenal of kicks, which has helped him collect seven knockout victories. But he remains vulnerable against pressure fighters.
Alvarez is an excellent wrestle-boxer who loves pouring in the pressure on his opponents. While he loves to keep fights on the feet where he can utilize an excellent darting right straight, Alvarez will take fights to the ground if he feels he has a grappling advantage over his opponent.
Writer's prediction: Pettis (-320) puts Alvarez away with a well-placed head kick.
Heavyweight: Travis Browne vs. Matt Mitrione
Line: Travis Browne (-155) vs. Matt Mitriote (+125) – view all UFN 81 lines
It's going to be all action when heavyweight fighters Travis Browne (17-3-1) and Matt Mitrione (9-4) collide in the middle of the Octagon. Browne is an explosive striker with a serviceable submission game. Meanwhile, Mitrione prefers to keep fights standing due to his disdain for the ground game.
Writer's prediction: Browne (-155) hurts Mitrione with a big right hand, and polishes the fight off by submission.
Lightweight: Ross Pearson vs. Francisco Trinaldo
Line: Ross Pearson (-155) vs. Francisco Trinaldo (+125) – view all UFN 81 lines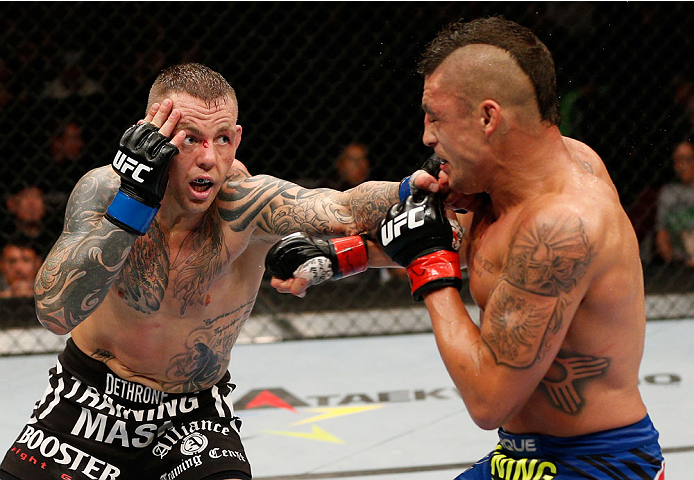 Ross "The Real Deal" Pearson (20-9, 1NC) is a hit-or-miss talent in the UFC Lightweight Division. He has a very good boxing game with incredible head movement. He can tag basically anyone in the division. But he's also had problems with inactivity, coasting when he thinks he's done enough to win around or the fight.
Brazil's Francisco "Massaranduba" Trinaldo (18-4) doesn't have the volume Pearson has, but packs quite a punch. Trinaldo loves to use a winging left hand to hurt his opponents. Despite plenty of power, Trinaldo is still a grappler at heart. He uses his size advantage to dominate opponents on the ground, while pounding away with heavy ground-and-pound.
Writer's prediction: Pearson (–155) dances circles around Trinaldo, while firing off an array of punches. Pearson cruises to a unanimous decision victory.
Fox Sports 1 Prelims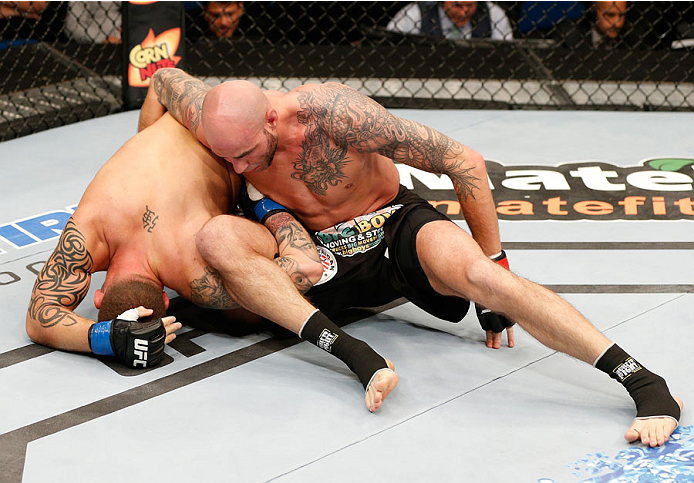 Ben Saunders (-125) uses his high-pressure style to take a unanimous decision over an aging Patrick Cote.
Tim Boetsch(-240) knocks Ed Herman out in the second round.
Chris Wade (-330) clinches a submission in the third round against a fading short-notice replacement, Mehdi "The Sultan" Baghdad.
Luke Sanders (-105) makes the most of his short-notice UFC debut, blasting Maximo Blanco for a knockout victory.
Fight Pass Prelims
Paul Felder (-260) batters Daron Cruickshank for a second round TKO.
Ilir Latifi (-260) bulldozes Sean O'Connell in the second round for a TKO victory.
Augusto Mendes submits Charles Rosa in the second round.
Joe Gomez (+165) outstrikes Rob Font en route to a unanimous decision victory.
Elvis Mutacpic (-160) knocks out Francimar Barroso in the second round.
Create a betting account now and make the most out of this and plenty more amazing fights coming this year.
[sc:UFC490banner ]
2,030 total views, 3 views today
Comments
comments