After a wild, chippy and highly-entertaining Wild Card game, the Pittsburgh Steelers are now set to meet the Denver Broncos in the second round of the postseason after defeating the bungling Cincinnati Bengals, 18-16, on Saturday.
[sc:NFL250 ]Cincy pretty much bone-headedly gave away that contest in the final minutes, so the Steelers need to prove next Sunday that that victory wasn't a fluke at all by upending the Broncos in Mile High. However, Denver's first-round bye gave the team enough time to recuperate, and the same cannot be said of now ailing Pittsburgh.
Join us as we break down this utterly compelling playoff matchup below. Afterwards, check out our preview for Kansas City vs. New England to be on top of the other crucial AFC Divisional Round showdown this coming weekend.
[sc:Football ]
Pittsburgh Steelers vs. Denver Broncos Preview
Where: Sports Authority Field at Mile High, Denver
When: Sunday, January 17, 4:40 PM ET
Line: Pittsburgh Steelers (+7) at Denver Broncos (-7) – view all NFL lines
TV Broadcast: CBS
Betting on the Pittsburgh Steelers
Common sense has it that rainfall can end any and all droughts. But in the case of the Cincinnati Bengals, the downpour from Saturday night's 18-16 defeat to bitter rivals the Pittsburgh Steelers did little to prevent the team from losing its seventh-consecutive playoff game under head coach Marvin Lewis.
[sc:NFL240banner ]Back-to-back 15-yard unsportsmanlike penalties bit the Bengals' own tails, which ultimately led to Pittsburgh kicker Chris Boswell's game-winning field goal, just when Cincy looked to be on the verge of its first playoff win under Lewis with a one-point lead less than two minutes left in the game.
However, the Steelers were far from perfect themselves during that game. Ben Roethlisberger completed 18 of his 31 passes for 229 yards, but only mustered up one touchdown for Pittsburgh, who's been known to light up scoreboards during the regular season. Big Ben also suffered a stinger on his shoulder after a hard sack by Cincinnati's Vontaze Burfict, and had to sit out most of the fourth quarter.
Roethlisberger's health entering Sunday's match against the Broncos is ever so critical and worth monitoring, but at least the Steelers can still take comfort in the knowledge that their running game didn't lose a step even without Le'Veon Bell and DeAngelo Williams taking snaps. The team had a combined 167 yards on the ground on 29 carries, including a huge 44-yard run by wideout Martavis Bryant (who also made a surreal touchdown catch to give the Steelers a 15-0 lead in the third quarter).
All things considered, Pittsburgh has got to find ways to score in Denver this time around, and play much more disciplined football as well. The Steelers committed 10 costly penalties for 142 huge yards, but that was mainly because of all the extra attrition being drawn out by their archenemies from Ohio.
As long as the team keeps a level head and generates actual TDs on offense, the Steelers can very well find themselves in the AFC Championship Game in about two weeks.
Betting on the Denver Broncos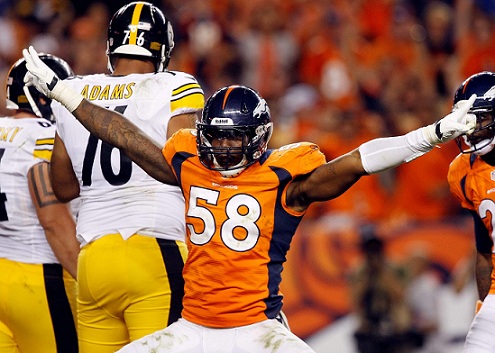 The Denver Broncos have got to be thrilled with how the Steelers had to narrowly prevail from Sunday's wild card game, because they themselves could use all the help given that their QB situation still in quite a flux.
As it stands, it seems as if future Hall-of-Famer Peyton Manning will be taking the field on Sunday against Pittsburgh after a dismal showing by his backup, Brock Osweiler, in the final game of the regular season. Then again, the legendary 39-year-old only had nine pass attempts and completed five of them for 69 yards in the 27-20 Week 17 win over the San Diego Chargers to basically just keep his own team from imploding.
We're not entirely confident that Manning's elite form will be in full effect come Sunday's match with the Steelers, but it's a good thing that the running game has his back nonetheless. The backfield tandem of Ronnie Hillman and C.J. Anderson ran amok against the Chargers for a combined 212 rushing yards in the season finale, with each of them finding the end zone once as well.
And more importantly, Denver's intimidating defense appears to be healthy and ready to go for its date against the high-flying Steelers. The Broncos D finished with the best overall defense in the NFL during the regular season, and was also tops in the league in most of the major pass defense statistical categories (yards allowed per play and total sacks just to name a couple), which will go a long way towards containing Pittsburgh's aerial attack that didn't even really show up this past Saturday.
It's seems that next Sunday's clash will be a grind-it-out kind of contest, and the Broncos better hope that the age-old adage of "defense wins championships" holds true against Pittsburgh. As we speak, the team has lost three of their last four divisional round playoff matches to three different AFC teams, with the Steelers looking to become the fourth on that list.
Writer's Prediction
The Steelers win another nail-biter on the road, 28-24, to advance to the AFC Championship Game for the first time since the 2010 season.
Create a betting account now to get your predictions in for the all of the thrilling NFL postseason matches to come.
[sc:NFL620 ]
2,853 total views, 1 views today
Comments
comments