International Fight Week starts off with plenty of big matchups on UFC Fight Pass. UFC Lightweight Champion Rafael Dos Anjos returns for his second title defense, taking on gritty veteran Eddie Alvarez for the main event of the evening. Earlier that the night, rising contender Derrick Lewis attempts to crack the top 10 of the heavyweight division as he meets fan favorite Roy Nelson.
There's plenty more action to get yourself ready for a stunning week of fights. Read on to get everything you need to know heading into Ultimate Fight Night 90. For more on this week's blockbuster fights, check out our complete International Fight Week preview highlighting the week's championship fights.
Cash In on the Best Online Sportsbook Offers Now at TopBet!
UFC Fight Night 90: Dos Anjos vs. Alvarez Preview
UFC Lightweight Championship: Rafael Dos Anjos vs. Eddie Alvarez
Line: Rafael Dos Anjos (-450) vs. Eddie Alvarez (+325) – view all UFN 90 lines
Rafael Dos Anjos makes his second title defense to start off International Fight Week. He faces Eddie Alvarez on the heels of back-to-back dominant performances. The Brazilian champ dominated Anthony Pettis last March, and then beat perennial contender Donald Cerrone in December by first-round technical knockout. It's hard to imagine how Dos Anjos can be beaten considering his tear through the talent-rich lightweight division.
Dos Anjos first announced himself among the upper echelon of the lightweight division when he knocked out former champion Benson Henderson in the first round of their 2014 clash. A flying knee and follow-up punches put Henderson's lights out. The Brazilian also destroyed Nate Diaz before his blowout victory over Pettis.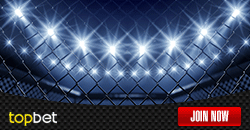 The Rio de Janeiro native is a Brazilian jiu jitsu black belt with a punishing top game and nifty submission skills. He has eight career wins by submission, but his striking has been his bread and butter recently. Under the instruction of legendary trainer Rafael Cordeiro, Dos Anjos has won three of his last five fights by knockout or technical knockout.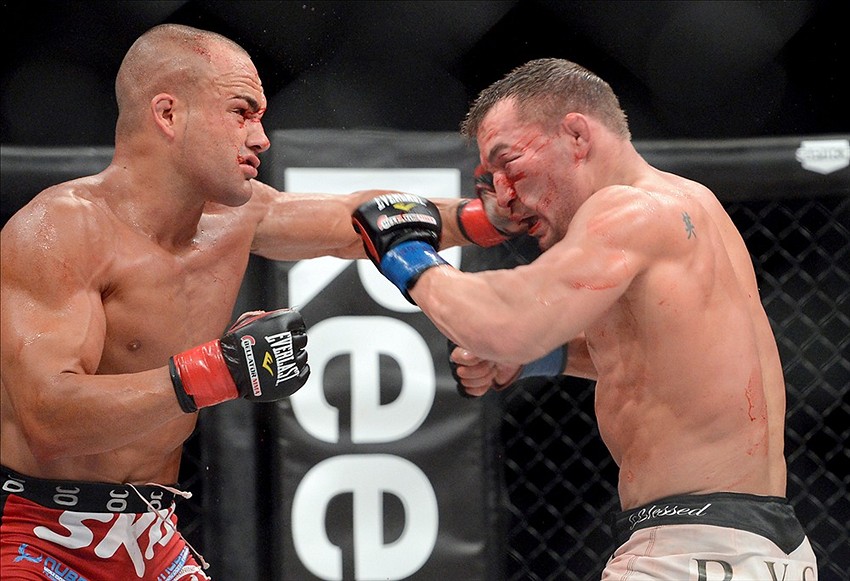 Nevertheless, the champion has one glaring weakness: he seemingly can't beat wrestling-centered fighters. He's lost to the likes of Khabib Nurmagomedov and Gleison Tibau, both excellent grapplers. Here's where challenger Eddie Alvarez comes in. The former Bellator Lightweight Champion, Alvarez has the grit to grind out victories.
Alvarez has grinded out the aforementioned Pettis and another top contender in Gilbert Melendez to get a shot at the lightweight title. However, he's not just a wrestler; he also possesses excellent boxing. Alvarez has a good lead right hand, lunging in for straight rights or uppercuts to start off combinations. If there's one thing a southpaw like Dos Anjos is vulnerable to, it's a good lead right hand.
Writer's prediction: Alvarez picks his spots with his boxing, and gets some opportunistic takedowns to get the upset as a +325 underdog.
Heavyweight: Roy Nelson vs. Derrick Lewis
Line: Roy Nelson (-135) vs. Derrick Lewis (+105) – view all UFN 90 lines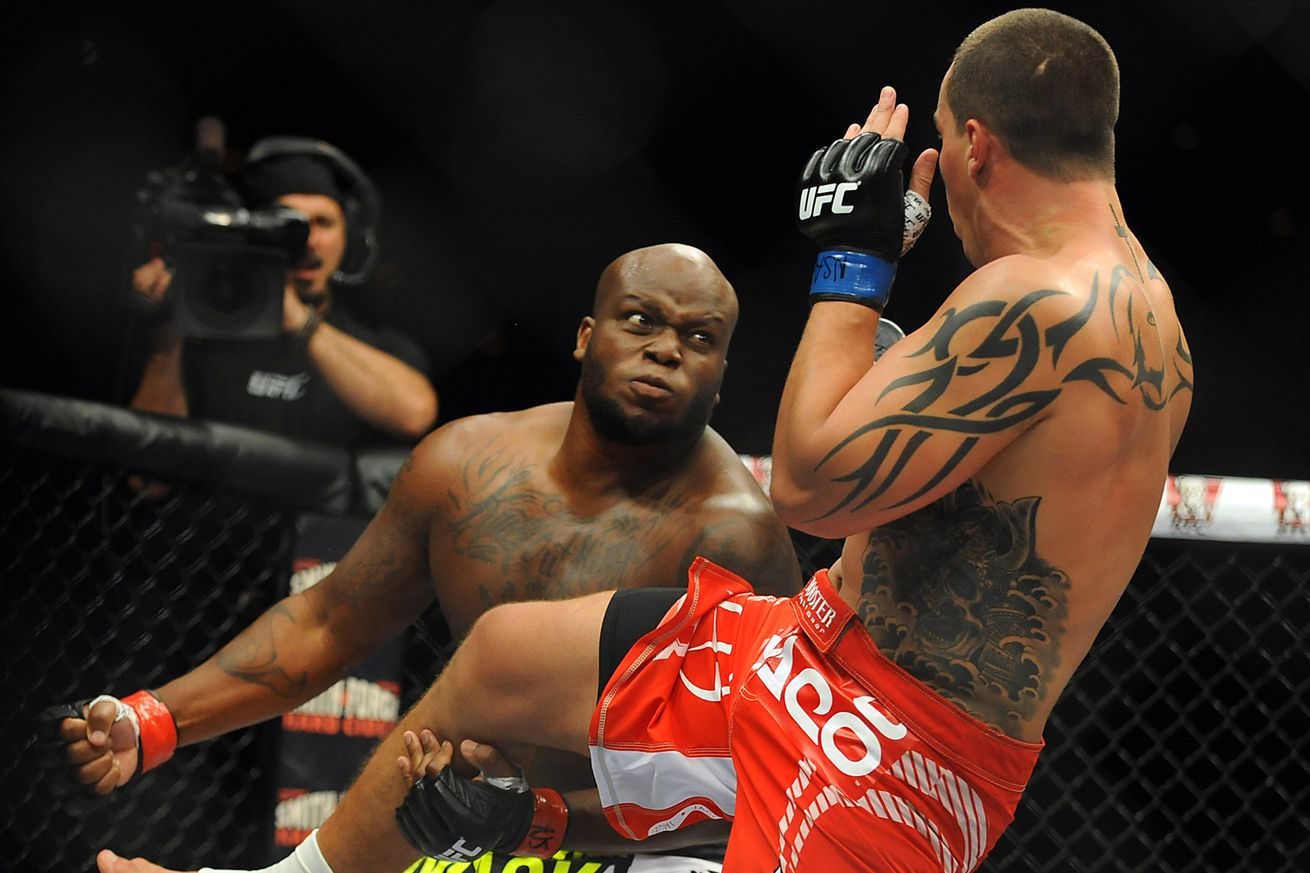 Derrick "The Black Beast" Lewis wants to get his spot among the upper echelon of the UFC Heavyweight Division just as well after knocking out Gabriel Gonzaga in the first round of their April 2016 clash. With a string of three-straight knockout finishes, the Black Beast is a new breed of heavyweight with his crushing right hand indeed.
Lewis gets his chance to crack the top 10 when he meets Roy "Big Country" Nelson in the co-main event of Ultimate Fight Night 90. Big Country is a perennial contender with a booming right hand. A low base and a big belly also happen to make him very difficult to take down. He did show that he could be stopped, though, when he was knocked out by a Mark Hunt uppercut in September 2014.
Writer's prediction: The fighter who connects first should win this matchup, and Lewis is the quicker and more explosive of the two. The Black Beast (+105) wins by knockout in the second round.
Welterweight: Alan Jouban vs. Belal Muhammad
Alan "Brahma" Jouban traded the runway for the mixed martial arts cage, and it has certainly paid off given his 13-4 record with a spot in the premier MMA promotion. Jouban has knockout power, which he showcased in his first-round knockout victory over Brendan O'Reily in March.
Belal "Remember the Name" Muhammad wants to make an explosive entry into the UFC with a sparkling 9-0 record. Muhammad is an excellent prospect and could have a bright future in the sport.
Writer's prediction: Muhammad is a bright prospect, one who edges out Jouban in a total slugfest.
Lightweight: Joe Duffy vs. Mitch Clarke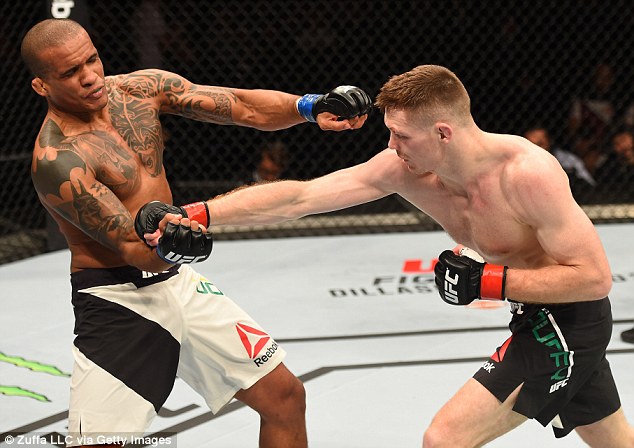 "Irish" Joe Duffy was supposed to be the next big thing from Ireland after Conor McGregor. He had a serving of humble pie in his last outing, dropping a clear-cut unanimous decision against Dustin Poirier in January. Duffy still has excellent boxing and a good submission game, which should be dangerous against anyone not in the top 10. Mitch "Danger Zone" Clarke is big and strong, and will be better served to follow Poirier's takedown-heavy game plan.
Writer's prediction: Duffy rebounds with a resounding second-round submission over Clarke.
Welterweight: Mike Pyle vs. Alberto Mina
Alberto "Soldier of God" Mina looked lackluster in beating Yoshihiro Akiyama—not exactly a very good fighter—in November. But he did showcase new tools in the striking department after training with the renowned Rafael Cordeiro. Mina's next big test next is Mike "Quicksand" Pyle, who's been around the game for so long having faced the who's who of MMA.
Writer's prediction: Mina is preparing with the best, including Rafael Dos Anjos heading into this fight. Meanwhile, Pyle is set in his ways, already being 40 years old. Mina gets a tight victory to announce his status as a potential future contender.
Preliminary Card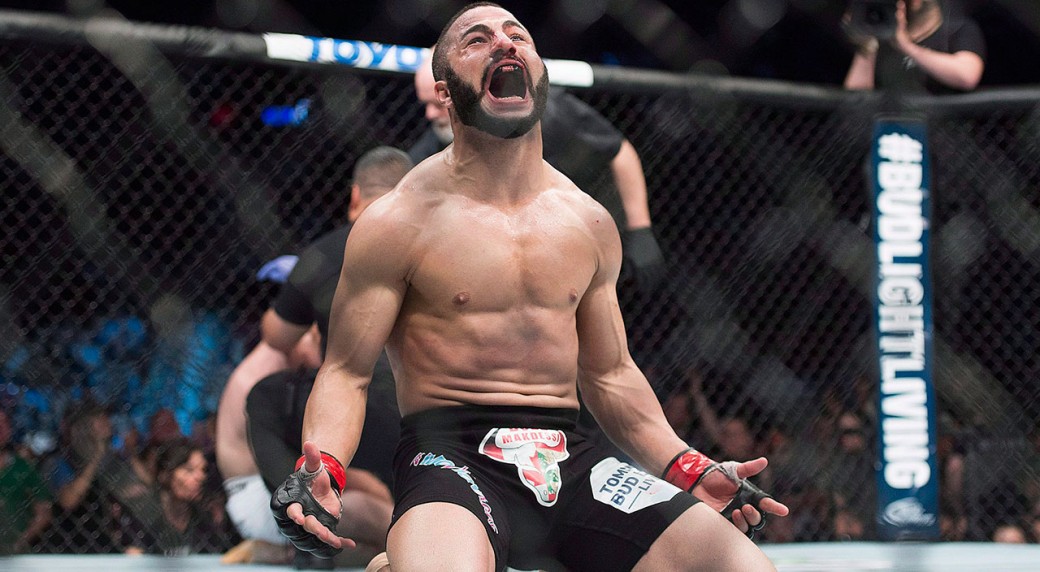 John "The Bull" Makdessi and Mehdi "The Sultan" Baghdad are coming in to do one thing—engage in an all-out brawl. Makdessi is a Canadian and US kickboxing champion, while Baghdad has won world titles in Muay Thai. Considering the Canadian just broke his jaw in May 2015, Baghdad should have what it takes to finish the fight.
Anthony "El Toro" Birchak is an excellent wrestler with a pop in his punches, as evidenced by his first-round stoppage of Joe Sotto for his only Octagon victory. He'll want to avoid the ground game against submission specialist Dileno Lopes. Birchak should have the tools to keep the fight standing, where he has the advantage.
Pedro "The Young Punisher" Munhoz has a very strong top game, which gives him an advantage over Russell Doane. The Hawaiian is a well-rounded fighter, but struggles against good grapplers. Munhoz gets the decision.
Jerrod Sanders is a beast in the bantamweight division, preferring to get on top and use his wrestling base to grind out victories. Felipe Arantes is a striker first and foremost, using his strength and physicality to force stoppages. However, Sanders is big and strong and could grind out a decision.
Gilbert Burns is one of the best Brazilian jiu jitsu artists in the lightweight division. He's also added a good striking form after becoming a member of the Blackzillians team. He should have what it takes to dominate Pole Lukasz Sajewski.
Reginaldo Vieira should get the job done against Mexican Marco Beltran by submission.
Vicente Luque is a good grappler, but struggles to get opponents down on the mat. Alvaro Herrera has the striking advantage, and has finished over half of his fights by knockout or technical knockout. Luque should be able to get a takedown, which he uses to snatch the win by submission.
Create a betting account now and get your fix of mixed martial arts action.

Comments
comments