---
Long Island, New York plays host to the UFC for the first time in history, and the timing couldn't be any better, as one of their best products and hometown boys, Chris Weidman, is main eventing.
Let's now take a closer look at the whole card. Read on!
---
Most Recent Articles
---
UFC on Fox: Weidman vs. Gastelum Preview
Chris Weidman (+150) vs. Kelvin Gastelum (-180)
Lightweight
Weidman (13-3) is back on the octagon after just three months, as he is attempting to break free from his ugly three-fight losing streak, all of which are via TKO/KO. He was punished by Luke Rockhold at UFC 194, walked right into Yoel Romero's wrecking ball of a knee at UFC 205, and then got controversially ruled with a TKO loss to Gegard Mousassi at UFC 210.
Despite the skid, though, "The All-American" can still be expected to provide a wide range of skills. His game involves wrestling and precision striking, and he's in a position to operate comfortably since he has a size and reach advantage.
Gastelum (13-2), a former Ultimate Fighter winner, will be boasting his super balanced style – maybe one of the most balanced in the sport. The agility, efficient striking, and ability to manage distance will come in handy with the disadvantages he'll be encountering in the fight.
WRITER'S PREDICTION: Weidman (+150) wins a three-round brawl. This may win Fight of the Night.
Dennis Bermudez (+150) vs. Darren Elkins (-180)
Featherweight
Elkins (22-5), who just entered a new decade in his pro career, is on a roll. He's entering the match with a four-fight winning streak, with the last one being the most impressive, as he knocked out Mirsad Bektic and won Performance of the Night. Along with his signature athleticism and wrestling, he has showcased great striking and ground-and-pound over those couple of wins.
Bermudez (16-6) is coming off a KO loss to "Korean Zombie," Chang Sung Jung. It was his third defeat in his last five fights. Considering his faulty defensive techniques and Elkins's well-roundedness as of late, he may be facing another L come Saturday. Bermudez's best bet is to not get too cute and just stick with building or setting up his punch and kick combinations, something he's very comfortable with.
WRITER'S PREDICTION: Elkins (+150) will dominate and win via stoppage.
Patrick Cummins (+150) vs. Gian Villante (-180)
Light Heavyweight
There are considerable strengths on the two sides – Cummins (9-4) is still a pretty good wrestler and his conditioning is commendable for a 36-year-old, while Villante (15-8) has knockout power along with plenty of other weapons (10 KO wins). HOWEVER, both have their good share of KO losses that are fresh from our memory – they combine for five just in the last two years.
Villante should have the upper hand in this clash. He can hang wrestling-wise, and although his defense has huge holes, his dangerous offense could be enough to overpower Cummins, who has little to no striking.
WRITER'S PREDICTION: Villante (-180) wins via TKO.
Jimmie Rivera (-220) vs. Thomas Almeida (+170)
Bantamweight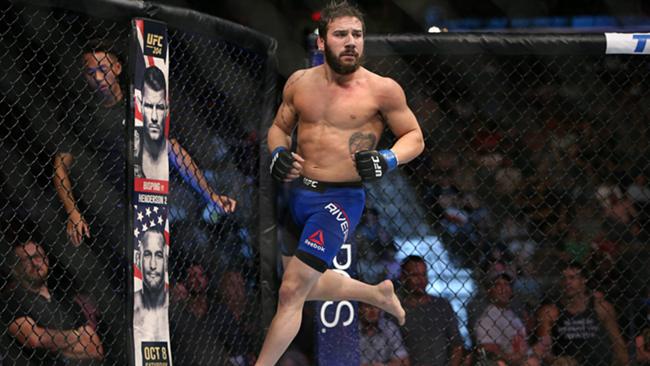 This appears to provide an entertaining clash. Like the Weidman-Gastelum bout, this one has good potential to get a "Fight of the Night" bonus.
Rivera (20-1) will be coming off a notable performance over division legend Urijah Faber, where he showcased his skill set well. The 28-year-old Rivera is sure to continue fighting with the right patience, distance management, counter punching, and timing in applying combinations and pressure.
Almeida (22-1) bounced back well from his devastating first-round KO loss to Cody Garbrandt, as he stopped Albert Morales using a flurry of punches after a sluggish start. His offensive aggression and demand to control the pace should be there, and it will be a perfect match to Rivera's style.
WRITER'S PREDICTION: Rivera (-180) wins via unanimous decision, with Almeida's poor defense proving to be costly… again.
Create a betting account now and cash in on all the awesome mixed martial arts action on display!

1,839 total views, 2 views today
Comments
comments