In the midst of a five-game road trip, the Washington Capitals travel to TD Garden in Boston in search of a win to break their two-game skid. The Boston Bruins, on the other hand, look to pick up the pieces following an embarrassing loss to the Montreal Canadiens in front of 68,000 hockey fans in the recent Winter Classic.
Read on for more about this matchup. You can also check out our preview of Blackhawks vs. Penguins.
[sc:NHLArticles ]
Washington Capitals vs. Boston Bruins Betting Preview
Where: TD Garden, Boston
When: Tuesday, January 5, 7:00 PM ET
Line: Washington Capitals at Boston Bruins – view all NHL lines
TV Broadcast: CSNB (Local: WAS)/NESN (Local: BOS)
Betting on the Washington Capitals (28-7-3, 59 pts)
[sc:NHL240 ]The Caps are cooling off a bit following a scorching nine-game win streak, as they have dropped their last two assignments, the latest being a 5-4 shootout road loss to Columbus on Saturday. Perhaps a couple days' of rest will get the Caps back on track, when they play in Boston later tonight. Washington is 7-3 in its last 10 games at TD Garden. In addition, the Caps are 13-4-2 on the road thus far this season.
Washington drew first blood in its regular season series with the Bruins, defeating Boston 4-1 at home on November 5. As the score suggests, the Caps had total control of Boston in that game with John Carlson (six goals, 21 assists) earning first star honors, as he finished the game with a goal and an assist.
Carlson, however, is uncertain to play later tonight, as he's currently nursing an undisclosed injury that has already caused him to miss the past four Washington contests. Should Carlson remain absent, goalie Braden Holtby will have to do with a thinner blueline in front of him in dealing with Boston's offense that is currently third in the league with 3.08 GF/G.
Building on a breakout 2014-2015 campaign, Holtby has it going again this season, leading the NHL in wins with a 24-4-2 record. He's also second in GAA (1.92) and fourth in SV% (.932). He made 28 saves in the November win over Boston. All told, Washington's defense allows just 2.16 goals per game.
While Carlson's potential absence could set back the team's defense, Washington's offense should not be that much affected given its enviable depth led by the top line of Alex Ovechkin, Nicklas Backstrom, and T.J. Oshie, who've all combined for 46 goals this season. Washington is second in the NHL with 3.13 GF/G.
Create a betting account now and see if you're prediction will be right on target.
Betting on the Boston Bruins (20-13-4, 44 pts)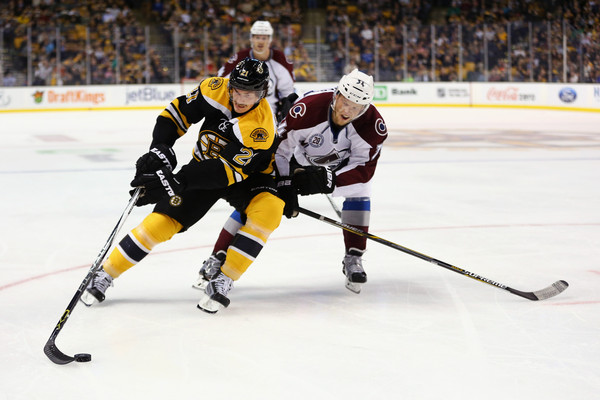 After getting owned 5-1 by rival Montreal in last Friday's Winter Classic, the Bruins look to bounce back big as they try to even their regular season with Eastern Conference heavyweight Washington. They will have to do it, however, without two of the team's best players in David Krecji and Brad Marchand.
Krejci, who is the tied for second on the team with 33 points, is currently spending time on the injured reserve list, while Marchand (leads team with 15 goals) is in the midst of serving a three-game suspension for a dirty hit on Senators defenseman Mark Borowiecki last week.
Playing minus Krejci and Marchand, the Bruins were understandably pathetic on the attack against the Habs, highlighted by a 0-for-3 line on the man advantage.
Boston is still first in the league in power play percentage (28.6), but will likely have a rough night against Washington's penalty kill, especially without two of their top six forwards. That said, the Bruins' offense could still bite with Patrice Bergeron and Louis Eriksson anchoring the team. Bergeron was held silent in the Montreal game, but still leads the team with 35 points, while Eriksson has 13 goals and 20 assists on the season. Eriksson and Bergeron are tied for the team lead in power play goals with seven apiece.
The Bruins' personnel issues on offense definitely place a big load on the shoulders of goalie Tuukka Rask, who has to play well in order to keep Boston in step with the Caps. Rask (.914 SV%, 2.51 GAA) was a ghost against Montreal, allowing five goals on 30 shots faced. He'll enter tonight's game carrying a 14-10-3 record.
The over is 3-0 in Boston's last three home games.
Writer's Prediction
Washington wins, 4-2.
Create a betting account now and build a winning NHL parlay.
[sc:NHL620 ]
1,798 total views, 1 views today
Comments
comments