It didn't take long for the Washington Capitals to recover from a win streak-busting setback on Saturday against the Winnipeg Jets, as Barry Trotz's crew found their way back to the win column with a victory over the Detroit Red Wings Tuesday. The Caps now look to build another streak, when they travel south to face the struggling Florida Panthers. Will the Caps make it two in a row? Or will the Panthers end their skid before taking on a four-game road trip?
For more NHL previews, you can check out our breakdowns of Flyers vs. Blues and Blackhawks vs. Predators.
[sc:NHLArticles ]
Washington Capitals vs. Florida Panthers Preview
Where: BB&T Center, Sunrise
When: Thursday, December 10, 2015, 7:30 PM ET
Line:  Washington Capitals vs. Florida Panthers – view all NHL lines
TV Broadcast: CSNB (Local: WAS)/FSFL (Local: FLA)
Betting on the Washington Capitals (19-5-2)
[sc:NHL240 ]Anyone who thought that the Caps would cool down after seeing their six-game win streak snapped by Winnipeg on Saturday was quickly proven wrong. The Capitals returned to their winning ways three days later, when they defeated the Detroit Red Wings in overtime, 3-2.
Washington now take the road for a three-game trip, beginning in Florida, where the Caps are 5-2 in their last seven games.
Washington was busy on the attack against the Red Wings, as the Caps outshot their opponents by a huge margin of 40-23. The Caps also found success on the man advantage, as they scored a power play goal, care of Alex Ovechkin, on five chances. Ovechkin now has a team-leading 13 goals on the season, and he'll look to add more against Florida later tonight.
Ovi and company, however, may find it harder to get off shots on goal against the Panthers' blue line that held Washington to only 27 shots in the Caps' 2-1 overtime win back in October 31.
Still, this is a potent Caps team that is fifth in the league in shots (31.3) and fourth in goals (3.1) per game on the season. In addition, the Caps have gone 7-for-19 on the power play over the past four games. Washington is converting 25.3 percent of its power play opportunities this season.
Braden Holtby, meanwhile, is having a terrific time between the pipes. With Holtby in front of the net, the Caps have allowed just 16 goals over their last eight games. Holtby is currently first among all goalies in goals against average (1.95) and sixth in save percentage (.928).
Create a betting account now and put your own prediction to the test.
Betting on the Florida Panthers (13-11-4)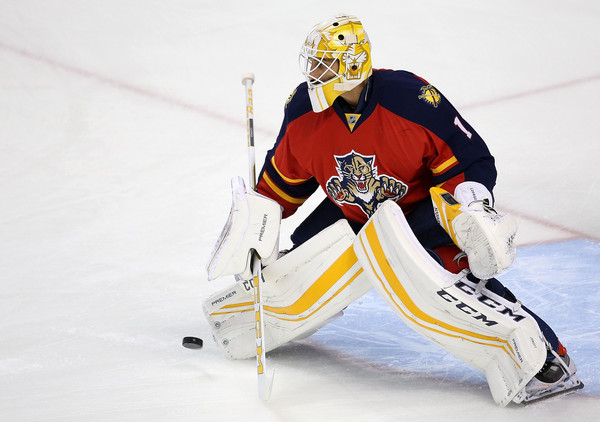 Florida is living and dying by its defense lately. After holding opponents to only two goals or fewer in a recent five-game win streak, the Panthers have now lost their last two outings, wherein they were outscored 8-4. That includes a 4-2 loss to Ottawa on Tuesday.
Roberto Luongo's play has dipped in those two losses, as he allowed seven goals on 40 shots faced in that span. Should Luongo be afforded of a rest later tonight, though, it'll be Al Montoya who's going to get the start in front of the net. Montoya was decent in the earlier meeting with Washington, making 25 saves on 27 shots, while helping the blue line shut down the Caps twice on the power play.
Speaking of the Caps' power play attack, it is something Florida will have to be ready for. But while the Caps are among the best scoring teams on the man advantage, the Panthers, on the other hand, have been excellent on the penalty kill of late. In fact, they've allowed just two power play goals over their last eight games.
Conversely, the Panthers' own power play has been underwhelming over their last seven games. During that span, the team went just 1-for-16 on the man advantage. Scoring one against Washington is going to be easier said than done for Florida, considering the Caps' league top two penalty kill.
In any case, Jaromir Jagr and Vincent Trocheck will look to carry the team's offense. The two pace the team with eight goals apiece. Jagr tops the team in points (20) and assists (12).
The under is 3-1 in the last four home games of Florida, which averages 2.4 goals per game.
Writer's Prediction
Washington wins, 3-2.
[sc:NHL490 ]
1,704 total views, 1 views today
Comments
comments