Just as in previous weeks, we have another Knicks representative to add to this list. But for what J.R. Smith's buffoonery is worth, it surely can't hold a candle to Dennis Rodman whose integrity disintegrated to bits after his CNN meltdown.
Weekly Sports GIF and Highlight Roundup
Colin Kaepernick TD celebration
We heard all that pre-game talk about the similarities of Colin Kaepernick and Cam Newton. Both are young QBs with excellent abilities to run the ball. But even on off-play actions, it seems like the two are cut from the same cloth. With that, here's Colin Kaepernick impersonating (and mocking) Cam Newton's touchdown celebration.
J.R. Smith Unties Shoes
The Knicks are beginning to turn things around, racking up four straight wins.  However, that amount of success  is no reason to think that James Dolan's team had completely gotten the monkey off its back because last time we checked, J.R. Smith is still playing for the Knicks.
Mississippi State Coach Busts Outs Twerking Move
The Bulldogs' coach, Rick Ray, did what any adult would do after steering his team to a win – dance like a teenage girl on a crazy Saturday night.
Dennis Rodman Meltdown
Logic hasn't been a forte of Dennis Rodman as evidence by his weird friendship with North Korean dictator Kim Jong Un, who always seems to be seconds away from ordering a nuclear strike. In a live interview with CNN, Rodman displayed his unwavering loyalty to his friend by going on an epic rant after being questioned by host Chris Cuomo.
Adam LaRoche, Hall of Fame Hunter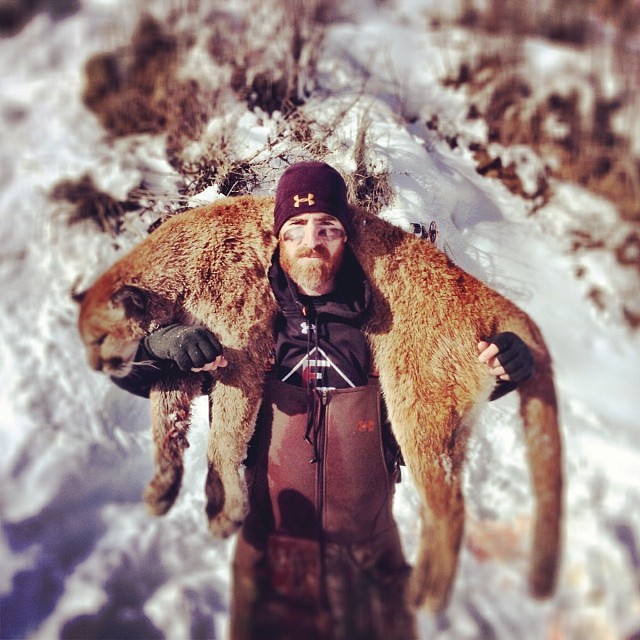 When he's not clubbing homers for a living, Adam LaRoche spends time roaming the countryside, looking for mountain lions to puncture with his bows. In fact, the Washington National has recently published a photo of him with a mountain lion he killed with his bow and arrow.
Dwyane Wade's Travelling
How many illegal steps does Dwyane Wade have to take before referees blow their whistle? More than eight steps apparently, if we're going to base our guess on the whack-job the zebras did for the Blazers-Heat game on December 28.
Andrew Luck's TD
In the wild card match against the Chiefs, Indianapolis rallied. Down 28-points, QB Andrew Luck pulled off a stunning playoff win with the game's  best moment when he recovered a fumble to score a crucial touchdown.
Blake Griffin Dunks All Over Kris Humphries
As if Kris Humphries' brief dalliance with a Kardashian isn't enough source of ridicule, Blake Griffin had the internet exploding when he  Mozgoved the poor Celtics big man. Stay strong Kris.
Wes Welker's Helmet
Here's a pic. RT @VicLombardi Wes Welker's helmet is bigger than he is. Thing looks like a tank on a neck. pic.twitter.com/W4Qo2SGqAu

— Joan Niesen (@JoanNiesen) January 12, 2014
Can someone please reach out to the Broncos' equipment manager and ask whether or not they're playing some kind of cruel trick on Wes Welker.
Kelvin Benjamin's Game Winning Touchdown Catch
We close out this list with Florida State wide receiver Kelvin Benjamin's game winning TD reception against Auburn in the BCS Championship game. Benjamin has reportedly made up his mind to join the 2014 NFL Draft. What a way to end one's college career.
3,277 total views, 2 views today
Comments
comments