[sc:Other240banner ]
If you're still pumped up after this weekend's clutch NFL action, then you might want to dump some of that nervous energy on Mike Ditka, who fell asleep on live TV. All is well though, as all he needed was a little shake up — but not in the same way Kyrie Irving shook off poor Jeff Teague after a nasty crossover.
Looking for your weekly dose of sports oddities? We've got 'em right here.
Weekly Sports Gif and Highlight Roundup
Jadeveon Clowney Goofs Around with Cops
We in here me and my boys lol pic.twitter.com/sKfDdvMoDo

— jadeveon clowney 7 (@clownejd) December 27, 2013
Last Thursday, the star defensive end for the South Carolina Gamecocks was caught going 84 MPH in a 55 MPH zone. The police officers promptly issued Clowney, who told officers that he was in a hurry at that time because he had to catch his team's flight to Florida for the Capital One Bowl, his second speeding ticket this month. Despite all that, Clowney managed to clown around with a couple of police officers, as seen in this image he tweeted after the incident.
Aaron Rodgers puts Green Bay in the Playoffs
Aaron Rodgers returned for his first game since being sidelined by a shoulder injury in early November, and provided the fireworks for the Packers. None were louder than his pass to wide receiver Randall Cobb, which led to a 48-yard touchdown late in the game, propelling the Packers ahead for good.
Tom Brady, Superstar QB, Punts the Ball against the Bills
In the third quarter of the Patriots-Bills Week 17 match-up, the Patriots decided to punt the ball on 3rd-and-32 and they had someone who they signed to a $57 million contract in February do the kicking chores. No word as of yet if Tom Brady got any high-fives after punting the ball.
John Wallace Throws Punches
Brady played out of his position, but at least he wasn't trying to play another sport. Louisville kicker John Wallace appeared to be practising his boxing skills on a Miami Hurricanes player in the above clip.
Johnny Manziel Misses Lay-up, is Human after all
If ever Johnny Manziel decides to be a two-sport star, we can count out basketball as his other endeavor.
Kyrie Irving Crosses Up Jeff Teague
At this point in the season, we're no longer strangers to the sight of Kyrie Irving crossing up defenders and leaving them with "broken ankles." In Irving's latest highlight, we see Jeff Teague crossed up by the Cavs guard so hard it appears someone has pulled a chair from beneath him.
Chris Bosh's Game Winner Reaction
Without Lebron James, who is suffering from a groin injury, Chris Bosh showed everyone that he has the balls to take a pressure-packed 3-pointer — against the Trail Blazers no less. Just like in any other Bosh-related Gifs, his reaction after making the shot was priceless.
Mike Ditka Isn't Excited for Week 17
For many of us, the last week of the NFL regular season issues boundless thrills, especially on the day of the action itself. But Chicago Bears legend Mike Ditka was apparently not entertained as he was caught dozing off on the set of ESPN's Sunday NFL Countdown. Luckily, Keyshawn Johnson was there to wake him up.
Anderson Silva vs. Chris Weidman
The highly anticipated rematch of Anderson Silva and Chris Weidman ended with a gruesome sight that's no doubt sent people reaching for their shins — and possibly a bucket or a brown paper bag. Silva went for a leg kick that was checked by Weidman, turning Silva's shin to rubber.
Steve Kerr's Photobomb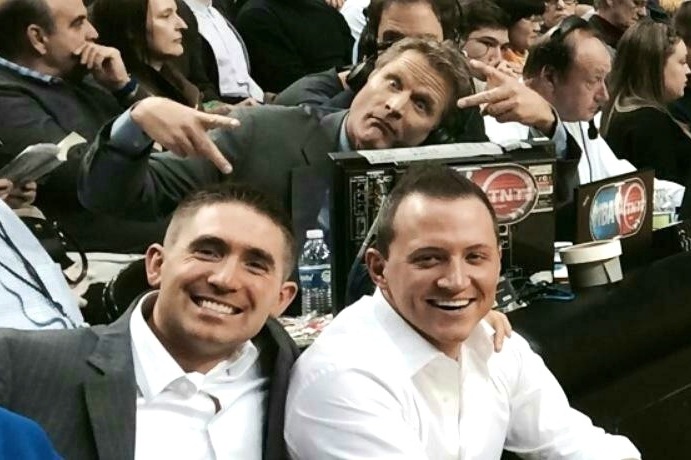 TNT NBA analyst Steve Kerr made a late entry to Photobomb of the year with this wacky shot during last Thursday's Clippers-Blazers game. Best one of the year? You be the judge.
Tune back next week for another edition of the roundup, and be sure to check out the sportsbook for lines and odds on all of this week's action.
2,597 total views, 1 views today
Comments
comments