Alright, after Isaiah Thomas' kids took over his press conference on Sunday night, we decided it's time to take a stand. Coming from a former media member, every single interview you see on television works well because there's a mutual respect between athlete and interviewer. Those days are long gone in the NBA it seems.
Every NBA Playoffs interview now involves each player's kids. Nobody knows why or where it came from, it's just what it is now. It's the new norm. Athletes can now ignore media questions and let their kids say random things. Albeit, it was cute at the start, but it has now become a pretty annoying frequent occurrence.
It's like being forced to watch a YouTube video of a kitten, puppy or baby and getting asked "Isn't that cute?"
I feel like Mugatu in Zoolander taking crazy pills. It's no longer cute and it's no longer funny.
Read on for the most annoying kid interviews yet (as chosen by a clearly bitter media man). Or if you're a little more interested in some NBA interviews that were actually entertaining, check our Top 10 Craig Sager Moments here.
NBA News & Predictions
Top 10 Worst NBA Player Kids in Press Conference Moments
#10 – Chris Paul and his son

There's just no reason for it. The kid doesn't want to be there. He's yelling for his Mom. Clearly the NBA is trying to emphasize their superstars are family men. Great. Point taken. Now stop.
#9 – Ron Artest and his entire family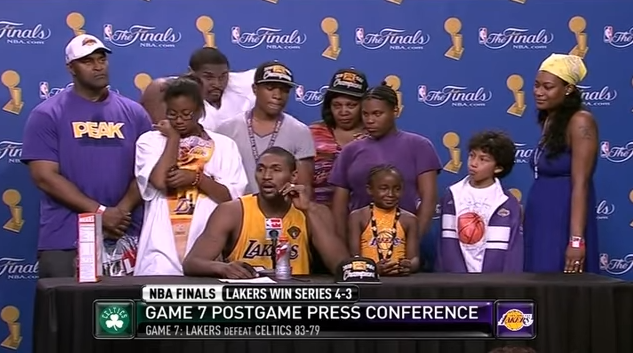 His family didn't say anything or interrupt. In fact, they were all very polite. For some reason, I'm still annoyed by this though. You'd think because there's only one microphone on the table, athletes would take a hint.
#8 – Kobe Bryant and his daughters
Kobe you're a legend. We get it. There's absolutely nothing wrong with this press conference. Well, except for the fact that there was no reason whatsoever for his daughters to be there. You can actually see his one daughter trying to crawl away at one point. I don't get it.
#7 – Small blonde boy takes over press conference
No wait, that's Steve Kerr. Never mind.
#6 – Demar Derozan and his mortified daughter
When your daughter is scared and is making panic noises, that typically means "get me out of here!"
#5 – Kyle Lowry learns from teammate Demar

Unlike Demar Derozan, Kyle Lowry listened to his child and set him free to roam about the room. So far, he's the top candidate for NBA Father of the Year.
#4 – DeAndre Jordan is a doosh

Fast forward to 2:18. "He's more interesting than you guys are." Speaking of being disrespectful to the media…
Good one DeAndre. Maybe you should go accept another contract, back out of it, pretend you're a badass by throwing the ball into the hoop (and calling it a dunk), and while you're at it, maybe air ball a few more free throws.
…doosh.
#3 – Steph Curry and his daughter

This was the first time we met Steph's daughter. She was crazy cute and this presser was hilarious. The NBA then tried to parlay this by telling every athlete to bring their kid. It backfired and the world is now irritated.
#2 – Chris Paul's son picks his nose and eats it
That's nice.
#1 – Isaiah Thomas' kids say stuff
Did his kid just say "Everyone is my #####"? I think I made my point. Enough's enough.
This has gotten dumb.
Create a betting account now, and don't forget to bet on today's best games.

Comments
comments