Johnny Manziel has been all over the news lately, making Texas A&M one of the most talked about schools in the country. But did you know that last year's Heisman Trophy winner was supposed to play for another program had it not for a little "interference" by a certain quarterback coach?
Learn about that story and more as you read our 10 facts that every Texas A&M fan should know.
10 Amazing Facts about Texas A&M
1. The Texas A&M Farmers?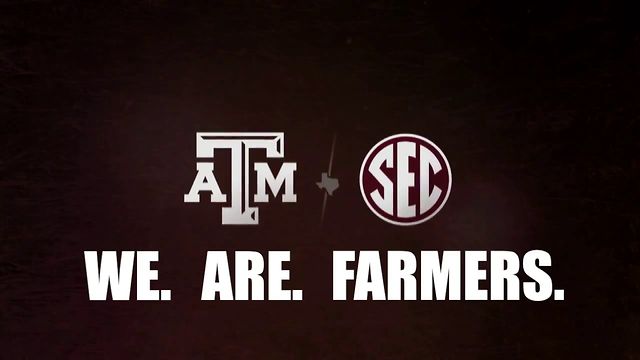 Before students and players at Texas A&M were called the Aggies, they were first referred to as "Farmers." That changed in the 1920's when the school changed the name of its yearbook to Aggieland.
2. Winning Tradition
As of 2012, Texas A&M's football team has a combined all-time record of 692-452-48 against 128 different schools. That's good for 24th on the all time list.
3. Johnny Manziel, Oregon Duck?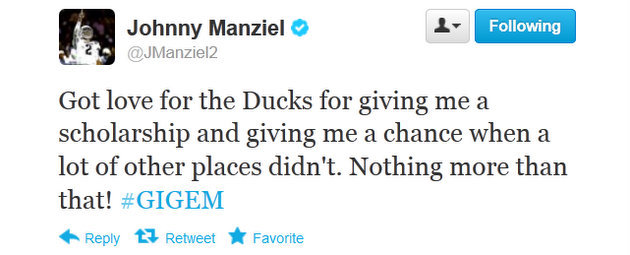 Johnny Manziel had originally committed to play college football at Oregon, but Aggies quarterbacks coach Tom Rossley intervened, successfully luring the freshman to Texas A&M.
4. Freshman First
Speaking of Manziel, he became the first ever freshman to win the Heisman Trophy in 2012. It's an incredible achievement—especially for a player with a 3-star prospect rating coming out of high school—and a cause for celebration for the Texas A&M athletics program.
5. John David Crow
The only other Aggie to win the Heisman Trophy was halfback John David Crow, who won the award 55 years before Johnny Manziel duplicated his achievement.
6. The 12th Man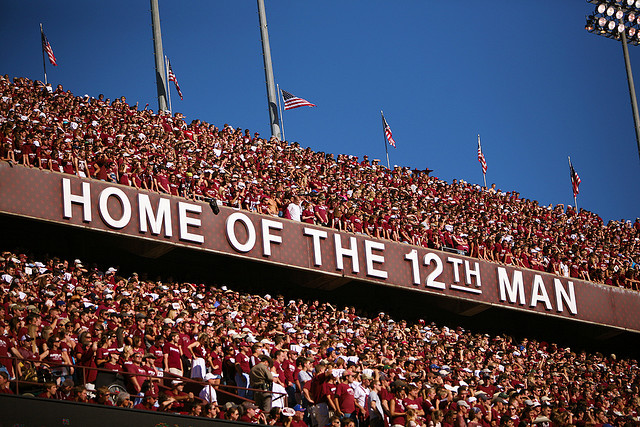 The Texas A&M Aggies football squad never has to worry of being short of players because of the tradition of the 12th man, which refers to the the entire crowd at Aggies home games. They're all ready to suit up for the team if called upon by their beloved alma mater.
7. The "Suicide Squad"
Adding to our previous point, then-head coach Jackie Sherrill once had a 12th man kick-off team composed entirely of student walk-ons. The group struck fear into the hearts of kick-return teams for their outright willingness to put their bodies on the line and make tackles, earning the above nickname. The 12th man kick-off team got so good that they eventually held kick returners to one of the lowest number of yards on average in NCAA Division I football.
8. The Birth of a Tradition
The tradition of the 12th man began in 1922 when Coach Dana X. Bible pulled someone from the stands to act as a backup in case the team ran out of able bodies. That player (E. King Gill) readily suited up for the team, and although he did not get to see action, his sheer willingness to play became legendary at the school.
9. The Fightin' Texas Aggies Band
Texas A&M has the nation's largest military marching band. It's called the Fightin' Texas Aggie Band.
10. Dat Nguyen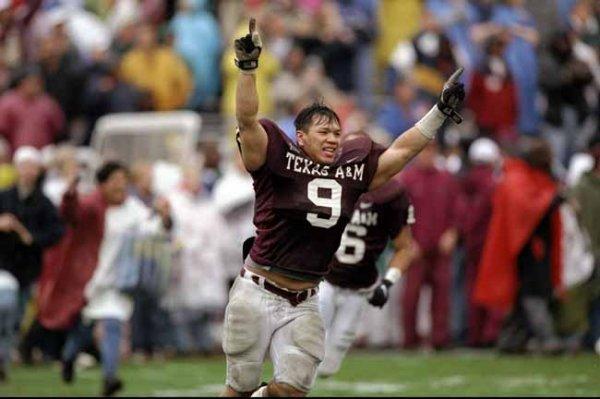 Dat Nguyen, regarded as one of the greatest Texas A&M football alumni, was born in a refugee center in Arkansas. Nguyen's family fled Vietnam right around the fall of Saigon.
Are there any other Texas A&M facts you know that should be on the list?  Share this article on Facebook, Twitter, and Google Plus and share your Texas A&M trivia.
Also, get in the game and bet on upcoming Texas A&M games in Top Bet's sportsbook.
[sc:TexasAMArticles ]
9,433 total views, 4 views today
Comments
comments