When you're good enough, you're old enough. That's certainly been the case in college hoops as sensational freshmen have popped up through the years, especially since the league (with substantial encouragement from the players association) changed its draft rules to allow players to be drafted as soon as they turn 19, regardless of whether they've completed college or not.
Today, we take a look back and remember some of the best seasons ever by college freshman in the NBA – the players that legendary commentator Dick Vitale famously refers to as the "diaper dandies."
This particular list of great freshman seasons places a slightly heavier emphasis on individual performance as opposed to team success, because this is about individual achievement. Having said that, a freshman that leads his team toward great success in the tournament gets an additional bump.
With all of that said, here's the list of the 10 best rookie seasons. If you're looking for the men who will define this list in the future, check out our list of the 10 best freshman playing in 2014-2015.
[sc:MarchMadness ]
Top 10 NCAA Basketball Freshman Seasons Ever
10. Kenny Anderson (Georgia Tech 1989-90)
Stat Line: 20.6 PPG, 8.1 APG, 5.5 RPG, 51% FG, 41% 3PFG
[sc:NCAAB240banner ]Kenny Anderson finished his prep career as the all-time leading high school scorer in New York state history, and he picked up right where he left off when he debuted in college with Georgia Tech. The sweet-stroking lefty was an instant hit in Atlanta and formed the "Lethal Weapon 3" with Dennis Scott and Brian Oliver. The freshman point guard's near-flawless first year helped take Tech to its first-ever Final Four.
9. Chris Webber (Michigan 1991-92)
Stat Line: 15.5 PPG, 10 RPG, 55% FG
With all due respect to the rest of the "Fab Five," Webber was no doubt the most talented of them all. With his combination of size, speed and skill, Webber gave the college game a glimpse of the next breed of power forward.
Webber's freshman year will always be remembered for one play—he called for timeout while in a half court trap (when his team had none remaining) and was charged for a technical foul with 11 seconds remaining while trailing 73-71. That's a shame because it overshadows what was a terrific season. Michigan was seconds away from a possible national championship, due in no small part to Webber's brilliance.
8. Michael Beasley (Kansas State 2007-08)
Stat Line: 26.2 PPG, 12.5 RPG
Beasley was absolutely beastly in his lone season in Manhattan. He put up some insane numbers on his way toward setting numerous records, which include the Big 12 single-season scoring record (26.2 points per game), the Big 12 record for most 30-point games (13) and the national freshman record for most double-doubles (28). However, his numbers rang hollow in the end as the Wildcats were bounced in the second round of the tournament.
7. Magic Johnson (Michigan State 1977-78)
Stat Line: 17 PPG, 7.9 RPG, 7.4 APG
Magic Johnson is famous for his 42-point, 15-rebound, seven-assist performance in the clinching Game 6 of the 1980 NBA Finals as a rookie. It then comes as little surprise that he was putting up near-triple-double numbers even as a freshman in Michigan State. Magic looked every bit the superstar back then by making those amazing lines look pretty ordinary. He couldn't quite lead the Spartans to the title as they fell in the Elite Eight, but he got there soon enough.
6. Pervis Ellison (Louisville 1985-86)
Stat Line: 13.1 PPG, 8.2 RPG, 2.4 BPG
On a team that wasn't exactly teeming with future NBA All-Stars, Ellison was undoubtedly the best player on his team even as a freshman. He raised his game with some big-time performances in the tournament to lead the Cardinals to the national championship. He earned the tournament's Most Outstanding Player award, as well as the very cool nickname "Never Nervous Pervis".
5. Anthony Davis (Kentucky 2011-12)
Stat Line: 14.1 PPG, 9.8 RPG, 4.7 BPG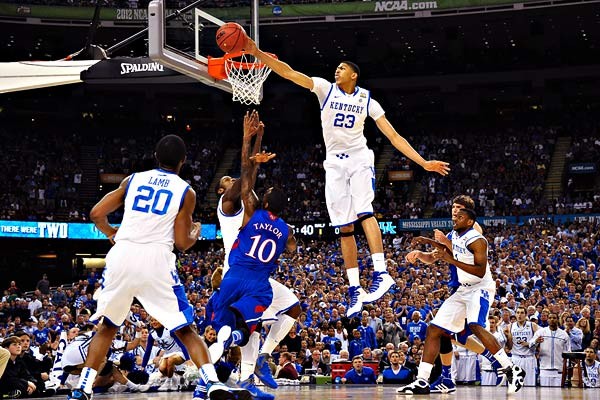 Davis is well on his way toward realizing his tremendous potential in the NBA, which he gave a glimpse of in his one year in Kentucky. In that lone year, he was the best player and undisputed leader of a national championship-winning team composed almost entirely of freshmen and sophomores. His game-changing defense and his silent, lead-by-example composure set the tone for the Wildcats to emerge victorious.
4. Wayman Tisdale (Oklahoma 1982-83)
Stat Line: 24.5 PPG, 10.3 RPG, 58% FG
You know someone's good when they name an award after him. And the award for the best freshman of the year just so happens to be the" "Wayman Tisdale Award." Tisdale was the Kevin Durant of his time in the Big 12, which was only the Big 8 back then. He tore it up as soon as he stepped onto the court with the Sooners. Tisdale was a first-team All-American, first-team All-Big 8 and was the Big 8 Player of the Year as a freshman.
3. Kevin Durant (Texas 2006-07)
Stat Line: 25.8 PPG, 11.1 RPG
Durant's college class was the first one directly affected by the one-and-done rule which required prospective NBA draftees to be one year removed from high school to be eligible. Durant proved in his first and only year in Austin that he was way too good to be stuck in college, but it was fun watching him toy with overmatched college kids trying in vain to defend him.
Durant was the consensus National Player of the Year, the first freshman ever to sweep the awards. The only thing missing in Durant's dream season in a Longhorns jersey was postseason success, as his Texas team was bounced by OJ Mayo's USC in the second round of the tourney.
2. Chris Jackson (LSU 1988-89)
Stat Line: 30.2 PPG, 4.1 APG, 49% FG
Superstar freshmen have come and gone since 1989, but none have yet come close to matching Jackson's scoring exploits in his first year at Baton Rouge. Jackson – now Mahmoud Abdul-Rauf – rewrote the record books with 30 points per game, which still stands as the Division I freshman record.
Apart from earning first-team All-SEC and first-team All-American honors in 1989, Jackson was also the first freshman to be named SEC Player of the Year. But even with all his scoring ability, LSU was bounced in the first round of the tournament.
1. Carmelo Anthony (Syracuse 2002-03)
Stat Line: 22.2 PPG, 10 RPG
Anthony played just one year of college ball, but he sure made it count. Melo led Jim Boeheim's Syracuse Orange to their first ever national title, and became the first freshman to do so since Louisville's Ellison in 1986.
Anthony was lights out during the tournament with big games in the national semifinal against Texas (33 points and 14 rebounds) and in the final against Kansas (20 points, 10 rebounds, seven assists), making him a lock as the tournament's Most Outstanding Player. For its combination of regular season scoring and excellence in the tournament, we can't help but tap Melo's as the best rookie season in college basketball history.
Will another fabulous freshman write his name in the history books during March Madness? Create a betting account now and be on the look out for a (diaper) dandy of a bet.
[sc:NCAAB490Banner ]
7,242 total views, 2 views today
Comments
comments