The Michigan International Speedway will be full of roaring, high-octane engines as NASCAR heads to the track for the Quicken Loans 400. The Speed Cup Series event will help determine which 16 drivers will qualify for the Sprint Cup Championship later this year.
Create a betting account now and read on to for everything you need to know to get your heart and bank roll revved up heading into the weekend that also happens to include a certain world-class soccer event (you can read our complete World Cup preview and predictions piece here).
[sc:MultiSportArticles ]
NASCAR Quicken Loans 400 Preview
Favorites: Dale Earnhardt Jr. and Jimmie Johnson
Dale Earnhardt Jr. is having one of the best years of his career, which is why he's priced at +1,000 to win the Quicken Loans 400. After winning the Daytona 500, he was in the top four for five separate races. He then clinched his first multi-win season since 2004 after winning the Pocono 400. The Pocono wasn't one of his best tracks, but Earnhardt Jr. conquered it nonetheless after passing a Brad Keselowski's debris-laden car in the final five laps to win. There is no hotter contender for the Quicken Loans 400 than Earnhardt.
[sc:NASCAR240banner ]That said, the Michigan International Speedway is one of just five venues Jimmie Johnson has never won at on the Sprint Cup tour. Last June, with nine laps to go, Johnson was moments from finishing second. However, he suffered a flat tire with three laps to go and eventually finished 28th. Nevertheless, Johnson is the biggest favorite to win the Quicken Loans 400 at +600.
Even without winning the Quicken Loans 400, Johnson established himself as one of the best drivers in the Sprint Cup Series with six series championships to his name—including five straight championships from 2006-10. It is no wonder that he is once again the favorite to win it all at +250.
High-Value: Greg Biffle and Kurt Busch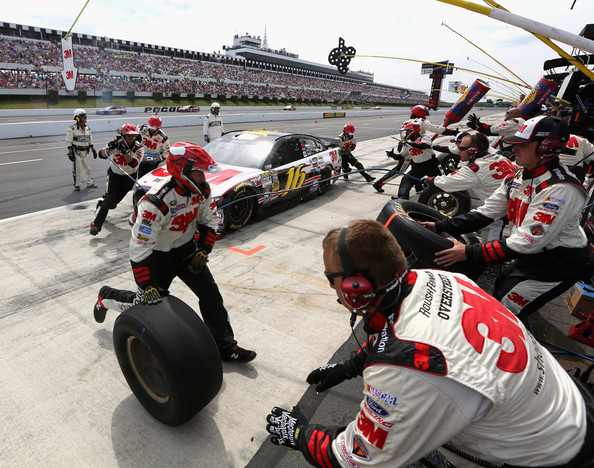 If favorites aren't your fancy, there are some well-qualified contenders who could easily steal the title in Michigan.
Greg Biffle (+2,000) has only ranked in the top 16 twice in his last four outings in this season's NASCAR Sprint Cup Series and hasn't established a lead since May 4 in Talladega. Still, Biffle could be a decent pick for the Quicken Loans 400 since he feels right at home at the Michigan International Speedway. He has won on the track a total of four times, including back-to-back races last year.
Back in March, Kurt Busch (+1,500) won his first race of the Sprint Cup Series this season in Martinsville. In the succeeding eight races of the series, he failed to break into the top eight while failing to take a lead even once. At Pocono 400, he turned things around, leading for five laps and finishing third. This may be a good time to jump on board the star driver.
Long Shots: Martin Truex Jr. and Jamie McMurray
Martin Truex Jr. (+5,000)has not led a race in the Sprint Cup Series this year. However, his two most recent appearances had him placing sixth and ninth at Dover and Pocono, respectively, a good sign that he has climbed out of his rut.
Another long shot to win the Quicken Loans 400 is Jamie McMurray (+5,500). McMurray won the Sprint Cup All-Star Race, and his best performance since then was when he led for 34 laps before finishing fifth in Charlotte.
Still, don't sleep on McMurray just by judging his current results. He was the 2003 NASCAR Sprint Cup Series Rookie of the Year for a reason. In 12 full-time years racing in the Sprint Cup Series, McMurray has 402 career starts yielding seven wins, 45 top-fives, and 108 top-10s. He is also one of just three drivers to have won the Daytona 500 and the Brickyard 400 in a single season in 2010.
Writer's Prediction
Jimmie Johnson is long overdue for a win at the track that has eluded him so far. Johnson, barring any accidents, finally wins the Quicken Loans 400, paying out bettors who took him at +600 .
[sc:Nascar490banner ]
1,941 total views, 1 views today
Comments
comments