A one-legged Aaron Rodgers was more than enough to bring the Green Bay Packers to the NFC Championship Game. Rodgers will have the chance to exorcize his Week 1 demons when he takes on the Seattle Seahawks. Meanwhile, the AFC Championship Game has a surprise entry in the Indianapolis Colts, who upset Denver in the divisional playoff. They'll have their own shot at revenge as they take on the New England Patriots for the second time this season.
Which two teams make their way to Glendale for the Super Bowl? Read on as we preview these two exciting matchups.
For more on these two games, check out our complete previews for the Packers vs. Seahawks and Colts vs. Patriots.
[sc:Football ]
2015 NFL Week 20 Predictions and Preview
Green Bay Packers vs. Seattle Seahawks (Sunday, January 18, 3:05 PM ET)
Line: Green Bay Packers (+7.5) at Seattle Seahawks (-7.5); total 47.0 – view all NFL lines
[sc:NFL240banner ]Aaron Rodgers went 24-for-35 for 316 yards and three touchdowns in a 26-21 win over the Dallas Cowboys in the divisional playoff Sunday. Rodgers should remain dangerous armed with his arsenal of receivers. Davante Adams and Randall Cobb each had 100-yard games against Dallas, while Jordy Nelson has been a consistent weapon for Rodgers after he averaged 94.9 yards in the regular season and had 13 total receiving touchdowns (second in the league).
Still, the Packers allowed 145 yards rushing to the Cowboys. The Seahawks will be licking their chops at the prospect of exploiting Green Bay's suspect rushing defense much like in their 36-16 Week 1 win over the Packers. Marshawn Lynch racked up 110 yards and two scores on 20 carries in that game. The Seahawks also had some success through the air in Week 1 with Russell Wilson's two passing touchdowns.
Writer's prediction: Rodgers manages to play through his injury to cover +7.5.
You can't miss these intriguing conference championship games. Create a betting account now and get your picks in as early as now.
Indianapolis Colts vs. New England Patriots (Sunday, January 18, 6:40 PM ET)
Line: Indianapolis Colts (+7) at New England Patriots (-7); total 54.0 – view all NFL lines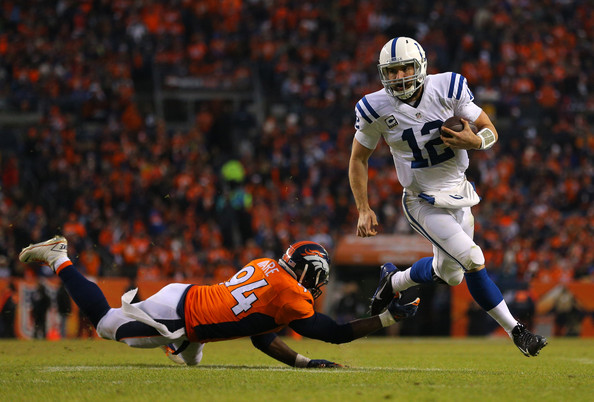 There's some good news and bad news for the New England Patriots ahead of the AFC Championship Game. The good: they already trashed the Indianapolis Colts 42-20 in Week 11 of the regular season. Rookie running back Jonas Gray racked up a whopping 201 yards rushing and four touchdowns in that game. The bad: Gray only has 80 yards in five games since Week 11, and lead back LeGarrette Blount is nursing a shoulder injury and ran for just a yard on three carries against Baltimore on Saturday.
Without a threat of the running game, Tom Brady may be forced to shoulder the bulk of the Pats' offense. He didn't have the best of performances against the Colts going 19-for-30 for 257 yards with two touchdowns and two interceptions.
Brady will be going toe-to-toe with Andrew Luck and the upset-minded Colts. Luck and his two touchdown passes proved to be the difference in the Colts' 24-13 win over the Denver Broncos. The win also improved Luck to 5-1 in temperatures 40 or below. New England experiences an average temperature of 21 degrees in January.
Writer's prediction: Luck and the Colts play tough to cover +7.
[sc:NFL490Banner ]
2,043 total views, 2 views today
Comments
comments