---
Don't you just love it when more and more college football items show up on your social media timelines and feeds each passing day? That means our Saturdays are once again going to be owned by college football and..well..betting. Speaking of betting, let's take a look at the over/under regular season wins line for each of the AP preseason top five teams.
Five College Football Over/Under Regular Season Wins Predictions and Picks
---
Cash In on the Best Online Sportsbook Offers Now at TopBet!
---
1. Alabama Crimson Tide
2015 Regular Season Record: 13-1
2016 Regular Season O/U wins line and prediction: 10.0 (OVER)

Alabama is fresh off winning another national title and they will defend it armed with a still deadly defense that lost a few pieces in the offseason but also retains the likes of defensive end Jonathan Allen (12 sacks), linebacker Reuben Foster (73 tackles) and safety Eddie Jackson.
Apart from that, the offense will be just fine even with the departure of Derrick Henry with a couple of running backs in Bo Scarbrough and Damien Harris expected to usher a new Alabama reign of terror on the ground. The non-conference schedule also appears to be cakewalk a mega program like Alabama with teams like Chattanooga and Kent Sate thrown in there.
2. Clemson Tigers
2015 Regular Season Record: 14-0
2016 Regular Season O/U wins line and prediction: 10.5 (UNDER)
Priced at +700 to win the national title this coming season, Clemson is gearing up for another College Football Playoff run. The return of 2015 Heisman Trophy candidate Deshaun Watson is a big reason why experts and fans alike have high hopes for the Tigers, particularly on the team's offense that was 16th overall last season in points (37.5 PPG) and 10th in total yards (510.4 per game). Clemson's defense lacks experience, but Will Venables managed to make a top 10 unit last season when he also had to deal with the same problem.
3. Oklahoma Sooners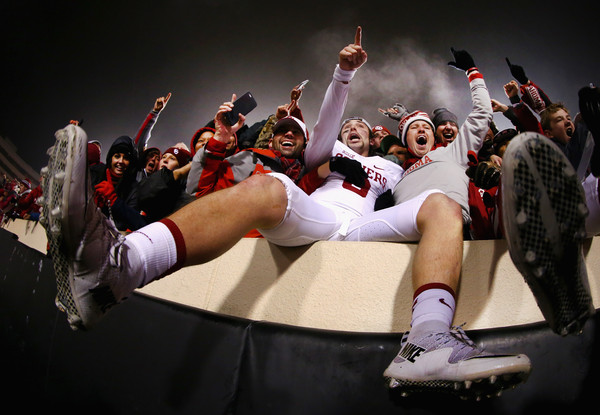 2015 Regular Season Record: 11-1
2016 Regular Season O/U wins line and prediction: 10.0 (OVER)
Having Baker Mayfield back for his senior year must be a thrill for the Sooners, who came up short of their goal to win the national title after losing to Clemson in the national semis. An unproven offensive line, however, may be a hurdle for Mayfield to lead the Sooners back into contention for at least a spot in the CFP with the unit replacing a few starters with new and inexperienced ones.
The defense also took a hit with the exits of four first-team All-Big 12 players. If the offensive line holds up though, Mayfield and a backfield composed of Samaje Perine and Joe Mixon should compensate for any shortcomings the defense will have this year.
4. Florida State Seminoles
2015 Regular Season Record: 10-3
2016 Regular Season O/U wins line and prediction: 10.0 (Over)
To say that Jimbo Fisher is doing a fantastic job of keeping the 'Noles competitive is a massive understatement. For one, his ability to replenish the team with fresh and top tier talents is arguably unmatched matched by anyone in the nation not named Nick Saban. That was reflective of last season when he led Florida State to a 10-3 record despite it being a rebuilding year.
This season should be better for the Seminoles performance wise, but a tough schedule that includes non-conference opponents Ole Miss and Florida offers potential landmines for Florida State to stumble upon.
5. LSU Tigers
2015 Regular Season Record: 8-3
2016 Regular Season O/U wins line and prediction: 10.0 (Under)
Baton Rouge will see at least one more year of Leo Fournette with the running back deciding to return to the Death Valley for his junior year. That's big for LSU, which also retains 17 other starters to help Les Miles capture his second national title for the school. The passing game has to manufacture better numbers to complement and ease the load off Fournette, however. LSU's non-conference schedule is kind of a bit meh but that road matchup with Wisconsin is pure danger for the Tigers.
Create a betting account now and win big on the NCAA football season.

2,218 total views, 1 views today
Comments
comments