---
The moment we football fans have been waiting for has finally arrived, as the NFL postseason is officially underway this week after a 17-week regular-season journey to remember.
As with playoff pictures of recent memory, the league is once again wide open for the taking with a handful of teams that have made surprising runs in the Wild Card round. As such, let's take a look below at two underdogs – one from the NFC and one from the AFC – that can possibly pull an upset this weekend or at the very least cover the spread in their respective matchups.
---
NFL News and Previews
---
NFL Playoffs: Wild Card Round Sleepers Predictions
NFC Wild Card
Detroit Lions (+8) at Seattle Seahawks (-8) (Saturday, Jan. 7 – 8:15 PM ET)
Never count out the feisty Detroit Lions to shake things up in the NFC. They've just set a new NFL record for fourth-quarter comebacks with eight this season, thanks in huge part to Matthew Stafford's stellar campaign. Stafford notched his fifth-consecutive 4,000-yard season with 4,323 passing yards – his highest output since 2013 – and his 10 interceptions is a new career-low as well.
However, the Lions hobbled their way in the playoffs with three-straight losses and now have the misfortune of being matched up with the Seattle Seahawks as their first opponent of the postseason. Although we've witnessed all four road teams in the Wild Card round advance to the divisional stage just last season, Detroit's performances come the turn of the new calendar are bound to counter that trend. The team is an abysmal 0-8 lifetime in NFL Wild Card bouts and an even worse 0-10 in playoff road games.
Not only that, but Seattle's the one place you'd never want to end up playing at when your season's on the line. The Seahawks have won 10 of their last 12 home games (7-4-1 ATS), have gone undefeated in all five playoff contests played in CenturyLink Field under head coach Pete Carroll, and have won at least one playoff match in each of their eight postseason trips since 2005.
Writer's Prediction: The Seahawks advance to the divisional round. But with a final score of 24-20, the Lions still manage to cover +8.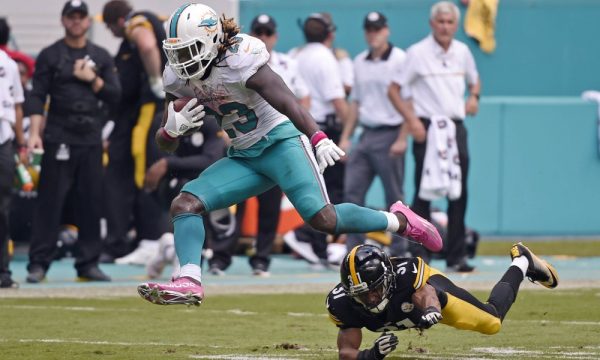 AFC Wild Card
Miami Dolphins (+10) at Pittsburgh Steelers (-10) (Sunday, Jan. 8 – 1:05 PM ET)
Call that double-digit spread above a slap to the face for the Miami Dolphins, who faced and passed great adversity this regular season (Arian Foster's sudden retirement; Ryan Tannehill's late-season injury) en route to 10 victories for them to simultaneously secure their first winning season and playoff berth since 2008.
The biggest story from Miami's turnaround is the emergence of second-year running back Jay Ajayi, who finished with 1,272 rushing yards for the season – the third-best regular-season rushing yardage total in franchise history (and he even had just 31 carries through the first four weeks at that). Ajayi was also the main reason why the Pittsburgh Steelers lost 30-15 at Miami back in Week 6, as the Boise State product gashed the Steelers for 206 rushing yards and a pair of scores. By the way, that was first of his three(!) 200-yard performances this season.
Then again, Pittsburgh's entering the Wild Card round with a seven-game win streak in tow (5-1-1 ATS) after suffering a four-game midseason skid against three current playoff entrants, including the aforementioned Dolphins loss that started their slide.
With the healthy trio of Ben Roethlisberger, Antonio Brown and Le'Veon Bell finally playing together more consistently, the Steelers have become virtually unstoppable on offense. They're 8-3 this season when all three of them are active starters, and they've also gone 28-14 overall (67-percent winning percentage) when the three Bs of Ben, Brown and Bell have taken the field at the same time.
And very much like the Seahawks, the Steelers have also won 10 of their last 12 games played in Heinz Field. However, they've also gone a rather disappointing 6-5-1 against the spread during that span, which makes the Dolphins a very enticing underdog pick this week indeed.
Writer's Prediction: The Steelers exact revenge from their regular-season loss to Miami, 33-24, as the Dolphins (+10) barely cover the spread before going on vacation.
Create a betting account now to place some stakes on all the thrilling NFL playoff clashes this instant!

2,134 total views, 1 views today
Comments
comments