---
We're only a couple of days away from the start of the 2016-17 NCAA basketball season and excitement is definitely building for the return of college hoops. One of the leagues to watch this season is the Southeastern Conference. All eyes will be on powerhouse Kentucky Wildcats as they look to defend the SEC title they won so convincingly last season.
Read on below as we take an in-depth look at this Division I conference. While you're at it, you can check out our WCC, Pac-12 and Big East basketball previews.
---
Cash In on the Best Online Sportsbook Offers Now at TopBet!
---
2016-17 SEC College Basketball Preview
*view our odds and lines for the 2016-17 NCAA Men's Basketball Championship futures here
1. Kentucky Wildcats
2015-16 Record: (27-9 overall, 13-5 in SEC)
Predicted 2016-17 SEC Record: 16-2
Even with a reshuffled roster, Kentucky is still the overwhelming favorite to win the SEC this season. Who can argue against this fact with the Wildcats collecting yet again another star-studded freshman class this year? They landed five of the 26 5-star recruits in this year's class namely: De'Aaron Fox, Malik Monk, Bam Adebayo, Wenyen Gabriel and Sacha Killeya-Jones.
Of the quintet, the ones to watch out for are Fox, Monk and Adebayo. The trio is expected to start from day one and become first-round draft picks in the NBA next June. Fox, for that matter, has already drawn comparisons to former Kentucky star John Wall because of his size, speed and athleticism. Look for the Wildcats to roll past the opposition in the SEC this season.
2. Texas A&M Aggies
2015-16 Record: (28-9 overall, 13-5 in SEC)
Predicted 2016-17 SEC Record: 12-6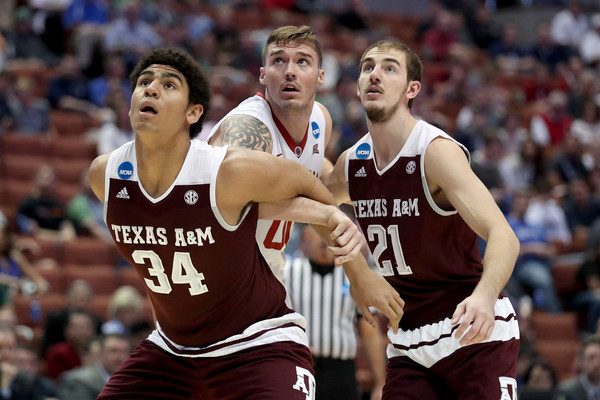 If there's one team that can threaten Kentucky's reign in the SEC, it's got to be Texas A&M. The Aggies may have lost four starters (Alex Caruso, Anthony Collins, Danuel House and Jalen Jones) from last season's 28-win squad but they still have a solid core in Tyler Davis, Admon Gilder, DJ Hogg and Tonny Trocha-Morelos. Much is expected from Davis who returns in the post for the Aggies after an SEC all-freshman season. He averaged 11.3 points for Texas A&M last campaign. Help is also on the way with the arrival of four-star prospect power forward Robert Williams.
3. Florida Gators
2015-16 Record: (21-15 overall, 9-9 in SEC)
Predicted 2016-17 SEC Record: 11-7
One team that's expected to make waves in the SEC this season is Florida. The Gators have some great incoming scoring weapons in Canyon Barry and redshirt freshman Keith Stone. Barry averaged 19.7 points per game last season at College of Charleston and he will provide some much-needed perimeter shooting to a team that was downright horrible from beyond the arc last season. Stone, on the other hand, joins Justin Leon, Kevarrius Hayes and Devin Robinson as one of Florida's many options at the power forward position. They're expected to add scoring to a Florida side that returns redshirt junior center John Egbunu (11.5 PPG, 6.5 RPG) and sophomore guard KeVaughn Allen (11.6 PPG).
4. Georgia Bulldogs
2015-16 Record: (20-14 overall, 10-8 in SEC)
Predicted 2016-17 SEC Record: 10-8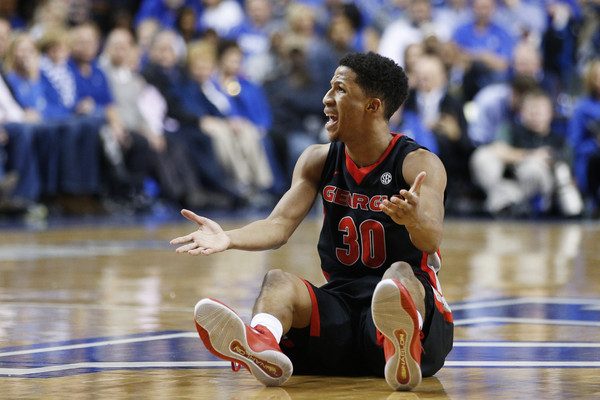 Georgia surpassed expectations last season with a surprising 20-win haul including a 10-8 record in the SEC. For the Bulldogs to match that feat this year, they will need their 1-2 punch of J.J. Frazier and Yante Maten to continue their excellent play. Frazier and Maten led the Bulldogs in scoring last season, averaging 16.9 and 16.5 points per game respectively. The Bulldogs may have lost Kenny Gaines and Charles Mann (combined for 23.7 PPG) this past summer but they have added four-star guard Tyree Crump and shooting guard Jordan Harris. Look for the Bulldogs to grab their fair share of wins in a wide-open conference this season.
5. Arkansas Razorbacks
2015-16 Record: (16-16 overall, 9-9 in SEC)
Predicted 2016-17 SEC Record: 10-8
If the Arkansas Razorbacks are to make up some ground in the SEC, they will need their JUCO recruits to take flight this season. The Razorbacks nabbed three of the top six JUCO transfers in the country this season, namely: Jaylen Barford, Daryl Macon and Arlando Cook. Barford averaged 26.2 points, 7.2 rebounds and 4.7 assists per game while playing for Motlow State last season. Macon wasn't all that far behind at 23.9 PPG while Cook averaged a double-double with 16.0 PPG and 10.1 RPG.
6. Vanderbilt Commodores
2015-16 Record: (19-14 overall, 11-7 in SEC)
Predicted 2016-17 SEC Record: 9-9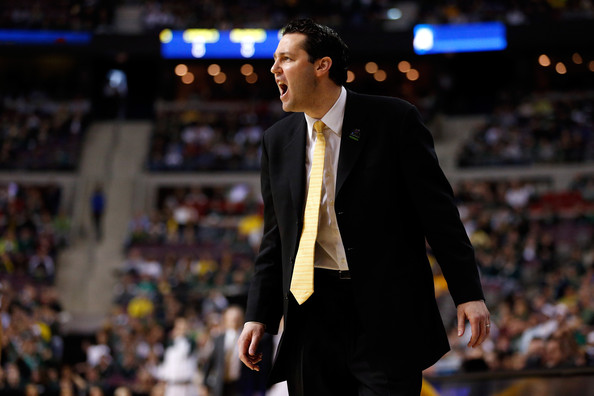 Looking for a sleeper in the SEC? How about Vanderbilt? Wade Baldwin and Damian Jones, their two leading scorers from last season may be gone but they still return with the most intact SEC roster. This side reached the NCAA tournament last season so confidence is brimming with this unit. The Commodores still possess a talent-laden squad with Riley LaChance and Matthew Fisher-Davis in their lineup so expect new head coach Bryce Drew to nab some shock wins this season.
7. Mississippi State Bulldogs
2015-16 Record: (14-17 overall, 7-11 in SEC)
Predicted 2016-17 SEC Record: 8-10
Expect great things from the Bulldogs who are desperate to end their seven-year tournament drought this season. Mississippi State has assembled quite a loaded class with six incoming 4-star freshmen, namely: Schnider Herard (center), Mario Kegler (small forward), Eli Wright (shooting guard), Lamar Peters (point guard), Tyson Carter (shooting guard) and Abdul Ado (center).
They will need to hit the ground running with the Bulldogs losing six of their top eight scorers last season. That includes the trio of Gavin Ware, Craig Sword and Malik Newman who averaged nearly 40 points per game for Mississippi State last campaign.
8. Alabama Crimson Tide
2015-16 Record: (18-15 overall, 8-10 in SEC)
Predicted 2016-17 SEC Record: 8-10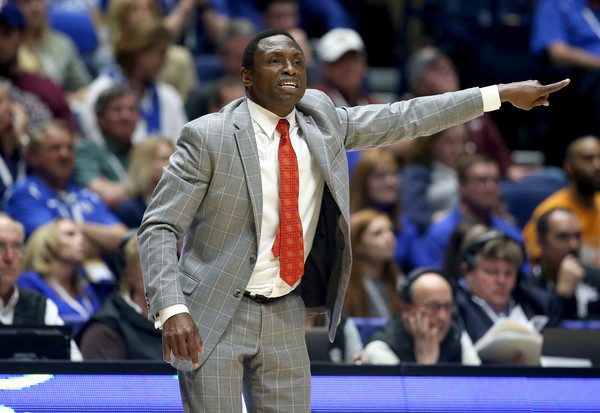 Alabama's decision to sign Avery Johnson as its new head coach immediately paid huge dividends with the Crimson Tide finishing with a respectable 18-15 record last season. In fact, they could have qualified for the 2016 NCAA tournament if not for their late-season collapse which saw the Tide lose six of their final eight games.
Improving on that record won't be that easy, though, for the former NBA Coach of the Year with the Crimson Tide losing Retin Obasohan, Arthur Edwards and Justin Coleman this past offseason. The trio averaged 34.9 points per game for the Tide last campaign. Obasohan was Mr. Everything for the Tide, scoring at least 15 points in each of Alabama's final 16 games prior to the NIT.
Expected to step up in his absence is sophomore guard Dazon Ingram. He played just seven games due to injury in his freshman year but the talent is clearly there for him to make an impact this season. Also expected to contribute for Alabama this season are Memphis transfer Nick King and 6-6 junior college transfer Ar'Mond Davis.
9. Ole Miss Rebels
2015-16 Record: (20-12 overall, 10-8 in SEC)
Predicted 2016-17 SEC Record: 7-11
Ole Miss surprised plenty of pundits with a 20-win campaign last season. The Rebels, however, will be hard-pressed to match that win total with Stefan Moody and Tomasz Gielo graduating this past summer. Moody led the league in scoring with a 23.6 PPG average while Gielo scored an average of 9.9 points for the Rebels last season.
For Ole Miss to record another winning season this year, they will need Sebastian Saiz to produce another stellar campaign. He averaged 11.7 points per game for the Rebels last season. Apart from Saiz, the pressure is also on transfers Cullen Neal from New Mexico and Deandre Burnett from Miami to help fill the huge void left by Moody.
10. Auburn Tigers
2015-16 Record: (11-20 overall, 5-13 in SEC)
Predicted 2016-17 SEC Record: 6-12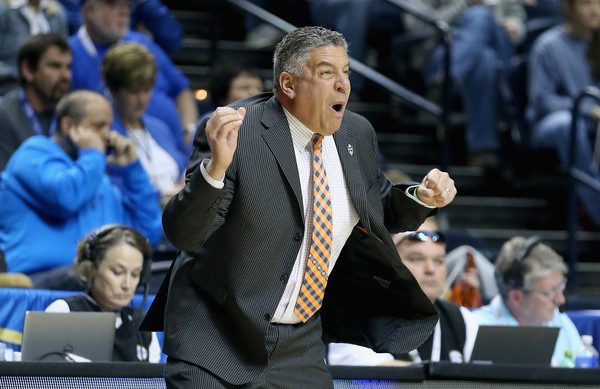 Bruce Pearl's second year in charge at Auburn didn't go exactly according to plan as the Tigers slumped to a woeful 5-13 slate. They're now 26-40 in Pearl's first two seasons on the Plains. The good news for the Tigers is that they've got a good solid bunch coming through the ranks this season. Pearl signed an impressive rookie class in 2016, nabbing five-star small forward Mustapha Heron, four-star forward Danjel Purifoy and three-star power forward Anfernee McLemore. The trio will be a welcome boost to an Auburn offense that averaged just 70.7 points per game last campaign, good for 235th in the nation.
11. South Carolina Gamecocks
2015-16 Record: (25-9 overall, 11-7 in SEC)
Predicted 2016-17 SEC Record: 5-13
South Carolina may have won 25 games last season but don't expect the Gamecocks to come even close to matching that total this campaign. They lost Michael Carrera, Mindaugas Kacinas and Laimonas Chatkevicius to graduation and their departures will cost South Carolina 34.6 points per game in scoring this campaign.
That's a major blow for a South Carolina side that scored a whopping 76.0 points per contest last season. The onus now is on the backcourt duo of Sindarius Thornwell and Duane Notice to pick up the offensive load for the Gamecocks this year. They averaged 13.4 and 10.8 points, respectively, for South Carolina last season.
12. LSU Tigers
2015-16 Record: (19-14 overall, 11-7 in SEC)
Predicted 2016-17 SEC Record: 4-14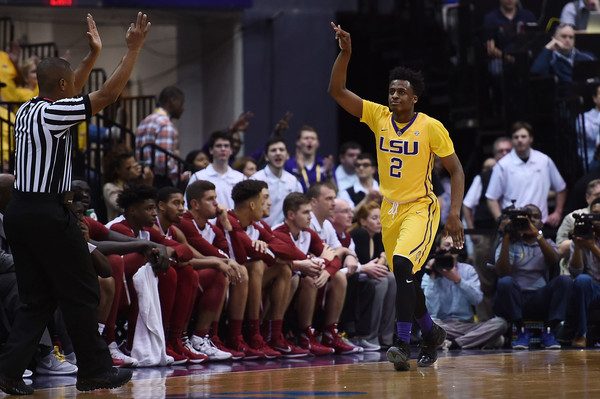 To say that LSU had a disappointing 2015-16 season would be a severe understatement. Even with the talented Ben Simmons (19.2 PPG, 11.8 RPG) in their lineup, the Tigers managed just 19 wins as they missed out on the NCAA tournament. With Simmons now plying his trade in the NBA, the road to March Madness will be doubly harder for head coach Johnny Jones. Fortunately for Jones, he has Antonio Blakeney (12.6 PPG) and forward Craig Victor II (11.6 PPG, 5.6 RPG) to carry the scoring load this season. Blakeney scored 20 points or more eight times last season for LSU and he's expected to have the green light on the offensive end this year.
13. Tennessee Volunteers
2015-16 Record: (15-19 overall, 6-12 in SEC)
Predicted 2016-17 SEC Record: 4-14
It looks like it's going to be another rebuilding season for head coach Rick Barnes. The Vols lost Kevin Punter, Armani Moore, Devon Baulkman and Derek Reese to graduation, while Ray Kasongo and Jabari McGhee transferred to other teams. Punter and Moore's departures would be hard to swallow for Barnes as they averaged a combined 34.4 points per game last season. Moore, in particular, was Mr. Everything for the Vols, leading the team not only in games played (33) but also in rebounds (7.6), assists (4.1), blocks (1.6) and steals (1.2).
To help address the lost of his key stars, Barnes signed seven freshmen and graduate transfer forward Lew Evans. He averaged 8.4 points and 5.6 rebounds for Utah State last season and his experience will be a major boost to this extremely young Tennessee roster. Evans will be the fourth incoming graduate transfer in program history, following forward John Fields (2010-11) and guards Antonio Barton (2013-14) and Ian Chiles (2014-15).
14. Missouri Tigers
2015-16 Record: (10-21 overall, 3-15 in SEC)
Predicted 2016-17 SEC Record: 2-16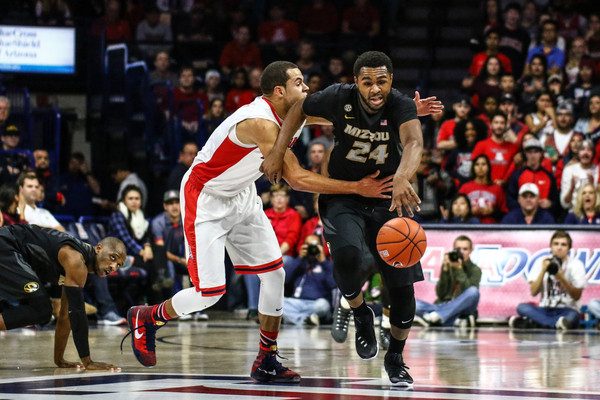 There's nowhere to go but up for the Tigers after their horrible showing in the SEC last season. Missouri finished with an abysmal 3-15 conference slate in Kim Anderson's second season as head coach. Improving on that mark will be a tall task, though, for the Tigers who lost Wes Clark, Jakeenan Gant, D'Angelo Allen, Tramaine Isabell, Namon Wright and Martavian Payne as transfers this past offseason.
It didn't help matters that Anderson's 2016 recruiting class was rated 13th out of 14 in the SEC. The pressure now is on Kevin Puryear and Terrence Phillips to carry the scoring cudgels for the Tigers this season. Puryear averaged a team-best 11.5 points and 4.6 rebounds for Missouri last season while Phillips averaged 7.8 points with 4.2 rebounds and 3.5 assists as a freshman.
The NCAA basketball season is finally upon us. Create a betting account now and put your college basketball predictions to the test!

1,793 total views, 1 views today
Comments
comments