---
This fall, we're finally going to crown a Major League Baseball team with a World Series title that's been decades in the making. Unfortunately, only one such team will emerge triumphant for that distinction, as the Chicago Cubs and the Cleveland Indians go head-to-head for what should be a championship series for the ages between two championship-starved organizations.
Let's take a look below at which facets of the game the Cubs and Indians excel over one another as a primer of sorts for your very own betting needs during the grandest baseball event of the season.
---
Cash In on the Best Online Sportsbook Offers Now at TopBet!
---
2016 World Series Predictions and Preview
Odds to win the World Series
Chicago Cubs (-120) vs. Cleveland Indians (+170)
**view game-by-game World Series odds here
Hitting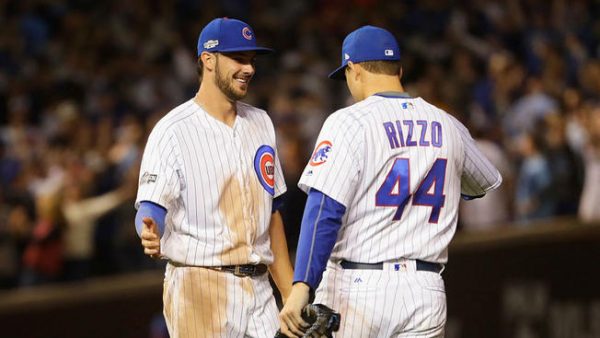 Cubs: A hard-hitting offense was basically the Cubs' bread-and-butter all season long. They have a pair of 30-homer sluggers during the regular season in Kris Bryant (39) and Anthony Rizzo (32) leading the way, complemented by stellar role players in Addison Russell (21 HRs, 95 RBIs) and Ben Zobrist (18 HRs, 76 RBIs) just to name a couple.
Bryant and Rizzo, in particular, came up huge in the final three games of the National League Championship Series against the Los Angeles Dodgers. They combined for 11 hits, two home runs and seven runs batted-in during those three-straight wins over Dodgers, with the team scoring no less than five runs in each of those contests.
Indians: Not to be outdone by Chicago's one-two punch of Rizzo and Bryant, the Indians also have a pair of big bats that hit 30 or more dingers during the regular season in Mike Napoli and Carlos Santana, who each hit 34 home runs. But beyond those two, Cleveland doesn't have as much depth in terms of sheer power as compared to the Cubs' other contributors.
Still, the Indians have an upstart shortstop in Francisco Lindor, who had a couple of homers himself during the playoffs along with a solid triple-slash line of .323/.344/.581 to give his team a much-needed boost in the lineup. Lindor could very well fill-in some numbers that the rest of the batting order can't keep up with in relation to Chicago's overall offensive depth.
Edge: Cubs
Starting Rotation
Cubs: As if they weren't already filled to the brim with talent, the Cubs also boast a stacked starting pitching rotation that helped the team finish with the best marks in the majors in ERA (3.15), WHIP (1.11) and opponent batting average (.211).
While 2015 NL Cy Young Award winner Jake Arrieta has been somewhat of a postseason underperformer once more, having Jon Lester and Kyle Hendricks ahead of him in the rotation has proven to be enough oomph for Chicago. Lester, specifically, was acquired by the team given his prowess come playoff time. This postseason, the two-time World Series champion has a smashing 0.86 ERA, allowing only two runs over three starts and 21 innings of work en route to winning NLCS MVP honors.
Indians: This is where things get tricky for the Indians. Corey Kluber (2-1, 0.98 ERA in the playoffs) and Josh Tomlin (1.98 ERA and one homer surrendered in his last six starts) have been spectacular thus far, but the rest of the rotation is one big question mark. Regular-season workhorses in Danny Salazar and Trevor Bauer could make their respective returns just in time, but as of this writing, their status is still up in the air.
Edge: Cubs
Bullpen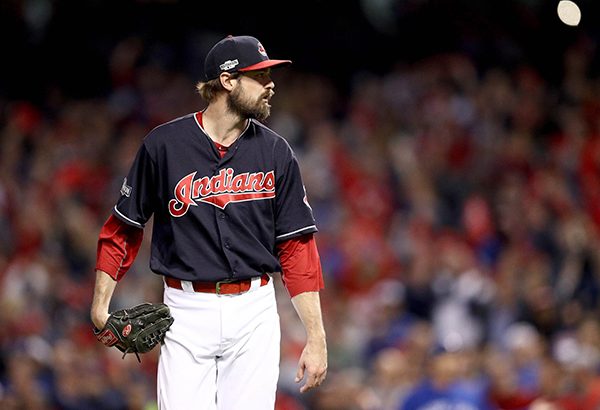 Cubs: Chicago would rather take its starting pitcher in any given game to the distance considering how shaky their relief pitching has been. Closer Aroldis Chapman had a great regular season, but his performance in the playoffs has been a mixed bag of results. In Game 5 of the NLCS, Chapman uncharacteristically gave up two runs in the eighth inning, and that was even in a non-save situation with the Cubs up big at that point.
Indians: Now this is where the Indians make amends for their ailing starting rotation. Andrew Miller, who was only the fourth relief pitcher in MLB history to win ALCS MVP honors, has simply been phenomenal through 11.2 innings of work in the playoffs. Miller allowed just five hits and struck out 21 batters of no-run ball for an insane 0.60 ERA.
The team's true closer in Cody Allen has done an equally superb job of sealing the deal after Miller. Allen has also not given up any runs through 7.2 innings to go with 12 K's and just five hits allowed; naturally converting all five of his save opportunities in the postseason at that.
Edge: Indians
Team Management
Cubs: Joe Maddon has done a fantastic job of meeting – or more like exceeding – the Cubs' preseason expectations as favorites to win the World Series. MLB-bests of 103 wins and a plus-252 run differential during the regular season differential should be enough evidences of the terrific job that he's done. Maddon was also integral in the development of rising youngsters in Russell and Bryant, who is, by the way, the leading candidate for the NL MVP award this season.
Indians: To say that Terry Francona is a baseball coaching whiz would be an understatement. Francona led the Boston Red Sox to two World Series titles in 2004 and 2007, and it was his Indians team this year that shockingly swept his former team in the ALDS this October with a rag-tag group of starting pitchers before making quick work of the high-powered Toronto Blue Jays in five games in the ALCS.
Doing so much amazing work with fewer resources of late slightly tips the scale in Francona's favor.
Edge: Indians (by a hair)
Writer's Prediction
The Cubs (-240) finally break the Curse of the Billy Goat in six games to win their first World Series title since 1908.
Complete Schedule
Game 1: Chicago at Cleveland – Tuesday, October 25, 8:08 PM ET (FOX)
Game 2: Chicago at Cleveland – Wednesday, October 26, 8:08 PM ET (FOX)
Game 3: Cleveland at Chicago – Friday, October 28, 8:08 PM ET (FOX)
Game 4: Cleveland at Chicago – Saturday, October 29, 8:08 PM ET (FOX)
*Game 5: Cleveland at Chicago – Sunday, October 30, 8:15 PM ET (FOX)
*Game 6: Chicago at Cleveland – Tuesday, November 1, 8:08 PM ET (FOX)
*Game 7: Chicago at Cleveland – Wednesday, November 2, 8:08 PM ET (FOX)
*if necessary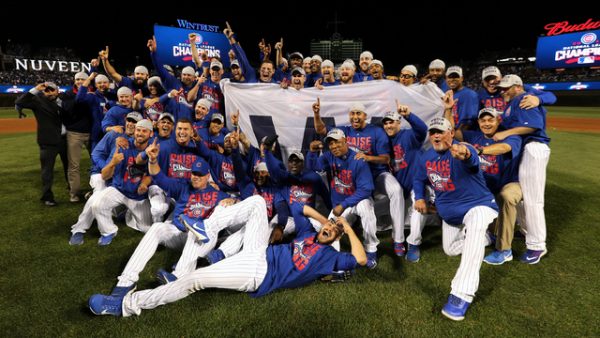 Create a betting account now to cash in from all the exciting World Series action this instant!

2,126 total views, 2 views today
Comments
comments