Having a great quarterback often leads to success for an NFL team, but the same isn't true of a fantasy NFL team. There are more than enough good QBs to go around that grabbing one of the top guys isn't an absolute necessity. Nevertheless, if you're one of those players who likes the security of taking one early, here are the top five fantasy QBs for the upcoming 2016 NFL regular season according to ESPN's points projection.
And for more fantasy points projections, check out our lists of the projected top 5 fantasy running backs, wide receivers and tight ends.
*Note that the stats and fantasy points are all from ESPN fantasy scoring
---
Cash In on the Best Online Sportsbook Offers Now at TopBet!
---
Top 5 NFL QB Fantasy Points Projections for 2016
1. Cam Newton (Carolina Panthers)

2015 Stats: 3,837 passing yards, 35 passing TDs, 10 INTs; 636 rushing yards, 10 rushing TDs
2015 Fantasy Points: 373 (No. 1 QB)
2016 Projected Fantasy Points: 333.7
It'll take a truly special season for anyone to knock Cam Newton off his throne as the king of fantasy QBs. Cam has always been a threat with his legs, and he was again with 636 yards and 10 rushing TDs last season. But he was finally able to take a huge step up as a passer, as he threw for a career-high 35 TDs.
Cam could be set to take yet another leap as a passer this year with the help of Kelvin Benjamin, who returns after a year out with a knee injury. The former first-round pick had over 1,000 yards and nine TDs in his rookie season.
Newton is priced at +700 to defend as NFL MVP, but with his unmatched dual-threat ability, he'll have a similarly good chance to repeat as the NFL's leader in quarterback points.
2. Aaron Rodgers (Green Bay Packers)
2015 Stats: 3,821 yards, 31 TDs, 8 INTs
2015 Fantasy Points: 286 (No. 7 QB)
2016 Projected Fantasy Points: 309.2
The 2015 season was a bit of a step down for Aaron Rodgers relative to the insanely high standards he has set for himself. The 31 touchdowns he threw last season were his fewest while playing in at least 15 games since 2010. His 60.7 completion percentage was also his lowest since taking over as the starter in 2008. As a result, he fell down to seventh in quarterback fantasy points.
However, don't forget that he was without No. 1 receiver Jordy Nelson, who missed the entire season with a knee injury. The last time Rodgers had a healthy Nelson at his disposal, Aaron had 38 touchdowns with 13 going to Jordy.
Nelson's return should only bode well for Rodgers and his chances of reclaiming his fantasy quarterback crown, not to mention the Packers' championship hopes. Green Bay is the top NFC favorite at +850 to win the Super Bowl.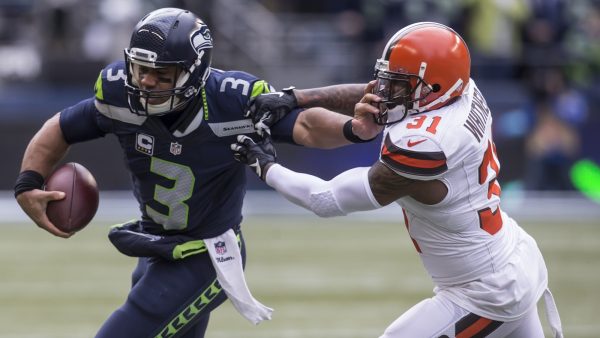 3. Russell Wilson (Seattle Seahawks)
2015 Stats: 4,024 passing yards, 34 passing TDs, 8 INTs; 553 rushing yards, 1 rushing TD
2015 Fantasy Points: 322 (No. 3 QB)
2016 Projected Fantasy Points: 307.8
With Beast Mode now in retirement mode, the keys to the Seahawks offense is now well and truly in Russell Wilson's hands. He took it for quite a test drive last season, as he shattered career-highs in completion percentage, passing yards, and passing touchdowns to finish top-three overall in fantasy points for QBs.
Wilson will have at his disposal one of the most dynamic receiving corps in the entire league with Doug Baldwin (the NFL's leader in touchdowns last season), Tyler Lockett, and Jermaine Kearse (with a possible bounce-back season from Jimmy Graham). And thanks to one of the least-effective pass-blocking offensive lines, Wilson also has a decent shot at topping 500 rushing yards for the fourth year in a row.
All in all, this season is set up for Wilson to firmly establish himself as a fantasy superstar. (Or, maybe even MVP, which Wilson is a +700 contender to win.)
4. Andrew Luck (Indianapolis Colts)
2015 Stats: 1,881 yards, 15 TDs, 12 INTs
2015 Fantasy Points: 126 (No. 27 QB)
2016 Projected Fantasy Points: 293.5
Obviously, last season was a disaster for both Andrew Luck and Andrew Luck fantasy owners. The Colts QB played in just seven games due to injury, and was a shadow of his usually excellent self when he was on the field.
But you better believe a bounce-back season is coming from Luck in this upcoming campaign. He's still got a very solid receiving corps led by T.Y. Hilton, Donte Moncrief and Dwayne Allen, and the addition of center Ryan Kelly should be able to provide Luck with more protection in the pocket.
Health permitting, Luck is bound to be right there at the top the fantasy points leaderboard for QBs.
5. Drew Brees (New Orleans Saints)
2015 Stats: 4,870 yards, 32 TDs, 11 INTs
2015 Fantasy Points: 299 (No. 5 QB)
2016 Projected Fantasy Points: 291.2
Even with his advancing age and niggling injuries, Drew Brees just keeps putting up numbers. Last season, he proved just how valuable he still is as he led the league and passing yards and had the fifth-most fantasy QB points despite a subpar receiving corps (on paper, at least). He made a 34-year-old Benjamin Watson look like Jimmy Graham, and turned undrafted rookie Willie Snead into a 1,000-yard receiver (he had 984 in 15 games).
Free agent signing Coby Fleener and rookie Michael Thomas figure to be upgrades over Watson and the departed Marques Colston, which should only help the 37-year-old Brees become a top-five fantasy quarterback once again.
Create a betting account now and get ready to finally cash in on some NFL football action.

2,116 total views, 2 views today
Comments
comments