---
Unlike in previous seasons, this year's Big 12 tournament is the Kansas Jayhawks' to lose. However, we'd be foolish to assume that the Jayhawks are locked in to win yet another conference title, as there are still some notable contenders in the group waiting in the wings.
Having said that, let's run down the other teams worth keeping an eye on this week before you ultimately decide to go or not go all-in on Kansas.
---
College Basketball News and Previews
---
2017 Big 12 Basketball Tournament Preview
Favorites
Kansas Jayhawks (+110)
Big 12 record: 16-2
Who are we even kidding? No. 1-ranked Kansas has been a relentless force this entire season, and winning its 13th-straight Big 12 regular-season championship in as many seasons under head coach Bill Self should serve as definitive proof of the team's dominance. From National Player of the Year Frank Mason III to his outstanding supporting cast with the likes of Josh Jackson, Devonte' Graham, Landen Lucas and Carlton Bragg Jr., the Jayhawks are ripe with top-notch talent that other schools can only envy of.
What further increases the team's chances of winning yet another Big 12 title is the fact that this week's tournament will be held in none other than good ol' Kansas City, giving the Jayhawks a virtual home-court advantage throughout the entire event to rouse even more anxiety unto their opposition.
West Virginia Mountaineers (+200)
Big 12 record: 12-6
Even without prolific star Jaysean Paige from last year's campaign, West Virginia once again found itself as the Big 12's regular-season runner-up. This time around, it's junior guard Jevon Carter who's leading the charge. Carter is this season's Defensive Player of the Year with a conference-best 85 steals, and he's also only the third player in Big 12 history to be named to three-consecutive All-Defensive Teams.
In addition, the Mountaineers proved earlier this season that they're the Jayhawks' worst nightmare should they meet in the final round as many had expected. WVU's stunning 16-point victory and the narrow five-point loss against Kansas this regular season are rather damning evidences that the Jayhawks are mortal after all.
Sleeper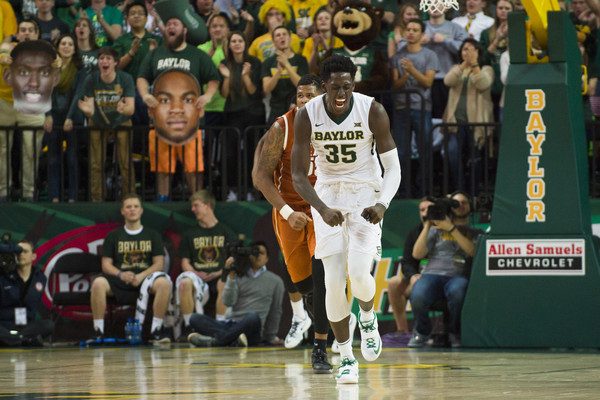 Baylor Bears (+450)
Big 12 record: 12-6
Behind a solid defense that has allowed just 62.5 points per contest this season (18th in the nation), Baylor is another terrific foil to Kansas' wealth of firepower. Junior forward Johnathan Motley, in particular, is a bona fide beast in the post, as his double-double averages of 17.5 points and 10 rebounds for the season is no fluke.
Although the Bears lost both of their meetings against Kansas this season and sputtered a bit in conference play after a scorching 15-0 start, they pulled through with crucial victories over non-conference standouts in Xavier, Oregon and Louisville. As such, the boys from Waco sure have the chops to stun the Big 12's two heavyweights on their path to the title.
Long Shot
Texas Longhorns (+3,000)
Big 12 record: 4-14
On the plus side, one of Texas' measly four wins in Big-12 play was against their first-round opponent this Wednesday, Texas Tech. However, the Longhorns also lost by 10 points to that same, mediocre Red Raiders team in their first meeting of the season, and they're also entering this week's tournament with a dismal seven-game losing streak.
Lack of experience and backcourt depth ultimately served as the real downfalls for head coach Shaka Smart and his boys, and there's not a whole lot of other bright spots to be found in these Longhorns to put a more positive spin to their season that's pretty much about to be wrapped up with an inevitable first-round exit from the tourney.
Complete Big 12 Tournament Odds
Writer's Prediction: 
Kansas (+110) breezes past its competition to win its seventh Big 12 title in the Bill Self era.
Create a betting account now to win big from all the heart-stopping March Madness action!

1,828 total views, 1 views today
Comments
comments