[sc:NBA240banner ]
Ever wonder why the most unpopular jersey color at Lakers home games is green? Names like Bill Russell, ML Carr, Cornbread, and the close-liner himself, Kevin McHale just might have something to do with it…
These 5 jerseys just shouldn't be worn at Staples Center
1) Bill Russell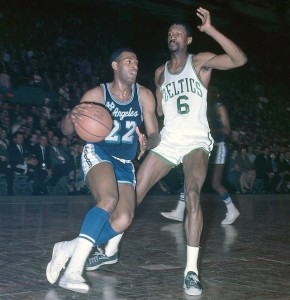 He's one of the most respected elder statesmen of the league and one of the trailblazers for African-American basketball players. But the Lakers will always remember Bill Russell as the man who cost them seven championships.
From 1959 to 1969, the Celtics and Lakers met in the NBA Finals seven times, and all seven times Russell's Celtics prevailed. Because of him, beloved Lakers like Elgin Baylor and Jerry West won significantly fewer championships in their careers.
2) Kevin McHale
Kevin McHale made more than a few enemies for life when he damn-near decapitated Kurt Rambis in Los Angeles.
That clothesline would become something of a symbolic moment in the Celtics-Lakers rivalry, one that signifies just what is so hate-worthy about those Celtics for Laker fans. McHale is front and center as the poster child for all of that animosity, which is why his number 32 is a most unwelcome sight at Staples.
3) ML Carr
ML Carr developed a certain reputation within the NBA during his playing days. He was the arrogant, trash-talking, towel-waving 12th man who got into too many on-the-court altercations to count. But he will forever be especially despised in Los Angeles, where he called its basketball team the "Fakers."
So it shouldn't be too much of a surprise to know that Carr was once the target of an actual physical attack by a Lakers fan, when he was hit with a beer cup full of "unidentified liquid" after Game 6 of the 1984 Finals. Tell us, what liquid looks like beer?
4) Cedric Maxwell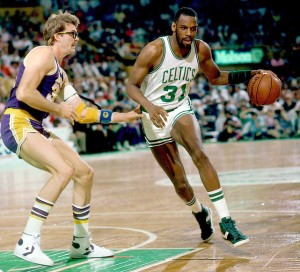 Some choice cuts from the Celtic known as Cornbread:
"There was a time, if I saw a Laker on fire and I was holding a glass of water, I'd drink the water."
"There was a time I couldn't say the name 'Kareem Abdul-Jabbar' without throwing up."
Did we mention he was also the guy who walked across the foul line in Game 4 in 1984 and did the choking gesture to James Worthy after he missed a free throw, and the guy who said, "Let's kill those freaks," referring to the Lakers?
Yeah, no one's wearing that guy's jersey in Staples.
5) Dwight Howard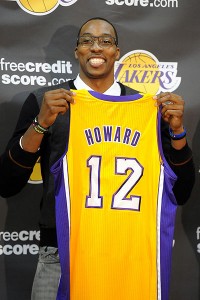 Remember that time when Lakers fans were hailing Dwight Howard as the successor to Wilt, Kareem and Shaq as the next great Lakers center? [sc:NBA240banner ]
Lakers fans sure don't.
Howard's ill-fated season in LA was riddled with disappointment, unmet expectations and constant conflict with Kobe Bryant and Mike D'Antoni.
The wounds are still fresh and Los Angeles' Dwightmare experience was unpleasant for everyone. So please, leave your Dwight Howard jerseys at home the next time you head to watch the Lakers.
Don't forget to check out the sportsbook for odds and lines for all of the Lakers games this NBA season.
2,511 total views, 1 views today
Comments
comments