San Francisco 49ers History: The Gold Rush
The San Francisco 49ers were founded in 1946, making them the oldest professional sports franchise on the West Coast of the United States.
They experienced minimal success in their early goings, but that all changed in 1978 with the arrival of head coach Bill Walsh and quarterback Joe Montana.
Coach Walsh had the perfect quarterback to run his innovative West Coast offense, which emphasized short passes to set up the run. Montana's touchdown pass to Dwight Clark in 1981, forever dubbed "The Catch", set up the Niner's dynasty—one that saw them win four Super Bowls in the 80's.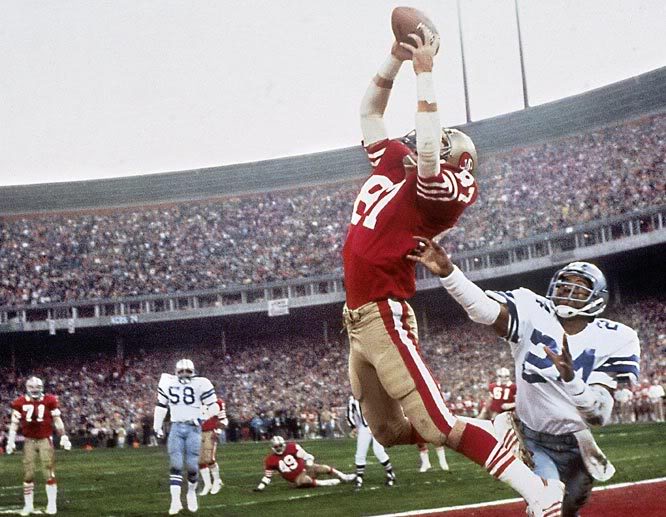 Along with Montana, the 49ers fielded Hall-of-Fame players like Jerry Rice, Ronnie Lott, Fred Dean, and Steve Young, who succeeded the great quarterback and helped his team win a Super Bowl in 1995. After those glory years, they struggled in the 2000's.
However, 49ers Nation has a lot to be excited about with their recent rise to prominence, thanks to Aldon Smith, Vernon Davis and Colin Kaepernick. Last year, the emergence of the young quarterback helped the Red and Gold to the NFC Championship, ushering in a new era of great San Francisco football.
[sc:Other490banner ]
The Name:
The 49ers (1946-present)
After San Francisco was awarded a franchise, the wives of the two original owners, Tony Morabito and his younger brother Victor, suggested the nickname "49ers" in honor of the men who were part of the 1849 gold rush in the Sierra Nevada Mountains east of San Francisco.
The Championships:
League Championships (5): 1981 (Super Bowl XVI), 1984 (XIX), 1988 (XXIII), 1989 (XXIV), 1994 (XXIX)
NFC Championships (6): 1981, 1984, 1988, 1989, 1994, 2012
Playoff appearances (25): 1949, 1957, 1970, 1971, 1972, 1981, 1983, 1984, 1985, 1986, 1987, 1988, 1989, 1990, 1992, 1993, 1994, 1995, 1996, 1997, 1998, 2001, 2002, 2011, 2012
Home Fields:
Kezar Stadium, capacity: 59,942 (1946–1970)
Candlestick Park, capacity: 69,732 (1971-present)
Levi's Stadium, capacity: 75,000 (planned 2014)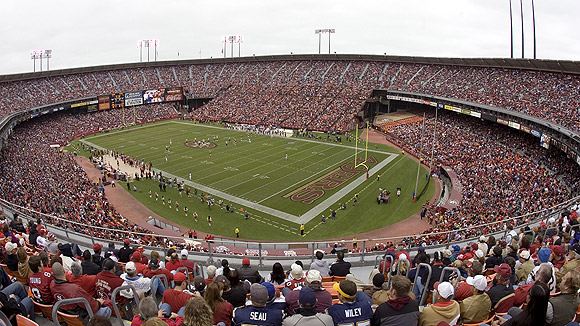 [sc:49ersArticles ]
4,658 total views, 1 views today
Comments
comments