It's a different world as we enter Super Bowl 53, with artificial intelligence (AI) more of a reality than ever before. Doubt this statement? If you use Google Home, Amazon Alexa, and/or other virtual assistants you have already invited AI into your life. And no matter where you stand on the whole rise-of-the-machines thing you've got to admit having the opportunity to tap into their algorithms and bias-free logic is a big plus when it comes to making more qualified betting picks.
Will we ever see a day where NFL experts at CBS Sports, ESPN, Bleacher Report are replaced by AI and machine learning? Maybe, maybe not. But let's test that theory by taking a look at the "their" predictions for the 2019 Super Bowl.
Click here to sign up and make your NFL Super Bowl LIII picks
Already a Member? Click Here to Bet
Super Bowl LIII Picks and Predictions from Today's Top Artificial Intelligence (AI) and Machine Learning Resources
Unanimous AI Prediction – New England Patriots

Unanimous AI is a tech company the leverages AI and machine learning algorithms that have been modeled after swarms in nature such as flocks of birds, schools of fish, swarms of bees, and so forth. Say what? Bear with us.
Unanimous AI is steeped in the concept of Artificial Swarm Intelligence (ASI) which is a core technology that enables groups to efficiently combine their knowledge, wisdom, insights, and intuitions into an emergent intelligence that may be more crudely referred to as a "hive mind." Unanimous has applied it swarm-based technology through a cloud-based server in order to enable online and connected individuals and groups to answer questions, reach decisions, and make predictions by acting and thinking together as one single unified intelligence. The concept is not that far off from they way money moves when the betting public sways the point spread with their wagers.
To date, this swarm AI methodology has already been applied to make predictions, including major sporting events. Thus far, Unanimous AI has successfully predicted the Kentucky Derby, the Stanley Cup, the MLB World Series, and even the success (based on viewer satisfaction) of the 2017 Super Bowl commercial line up. But what about the Super Bowl game itself?
When Unanimous AI began picking NFL games back in 2017, it correctly predicted 9 of the 10 games against the spread (ATS) through the NFL playoffs and in an even more mind blowing turn of events, predicted the final score of Super Bowl 51 to the tee, as the Patriots beat the Falcons 34-28. Things slipped a bit in the main category for Super Bowl 52 as the swarm AI picked the Patriots over the Eagles with high confidence, but nailed some of the smaller predictions. Given the advances in AI and machine learning through 2018 and 2019 thus far, you will want to pay close attention to Unanimous AI's prediction for Super Bowl LIII. They waited to make their prediction at the very last moment, posting their results on Twitter last night (Feb 2). They picked the Patriots to win straight up (SU) and against the spread (ATS) while offering some additional insight for bettors, props included: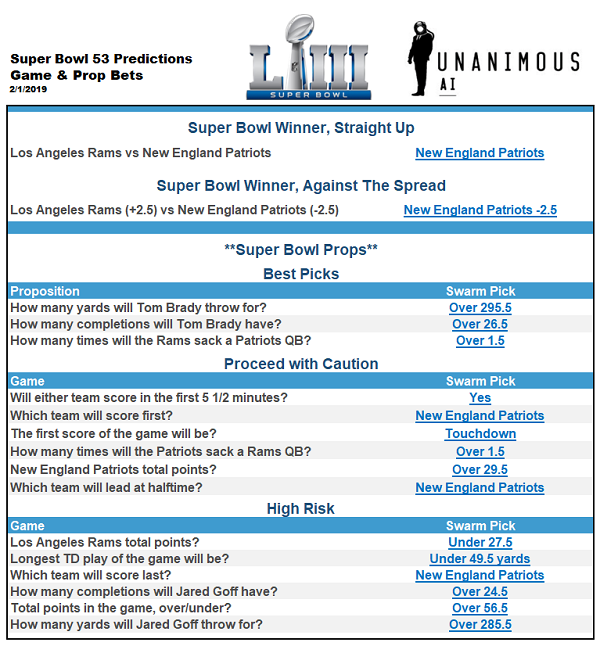 Source: Unanimous AI
While waiting for Unanimous AI to deliver their Super Bowl 53 pick, they completed their analysis of the other big battle on game day – who will win the war of the brands! Last year, Unanimous accurately predicted the Doritos/Mt. Dew collaboration featuring Peter Dinklage and Morgan Freeman to win Super Bowl Sunday as "Most Talked About" advertisement. Here in 2019, the study predicts Expensify, Pringles and Doritos to be some of the most talked-about Super Bowl ads for 2019: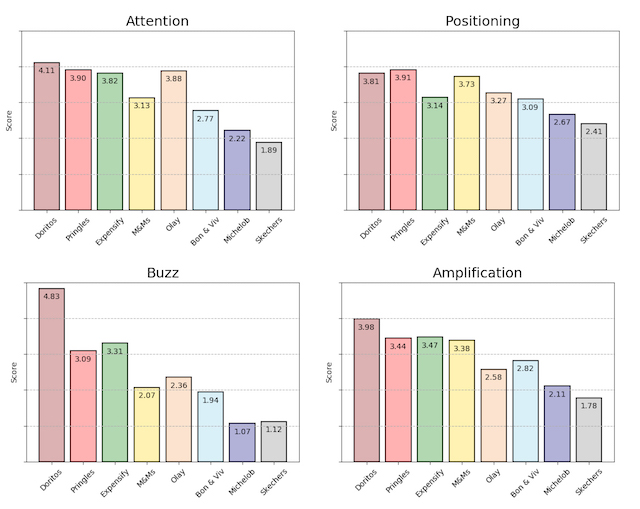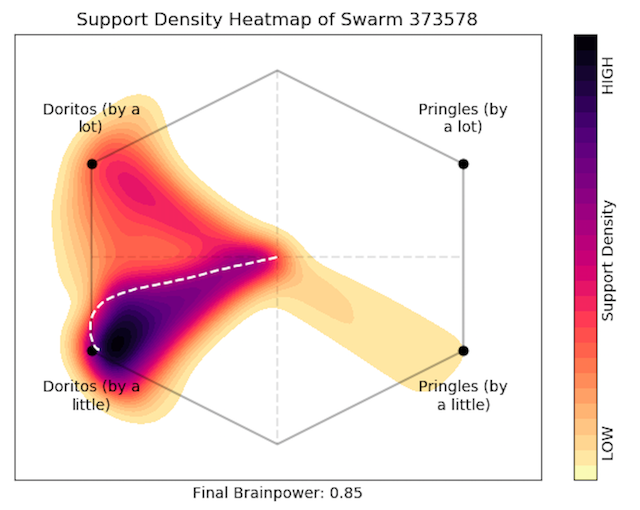 Source: Unanimous AI
Google Home – Los Angeles Rams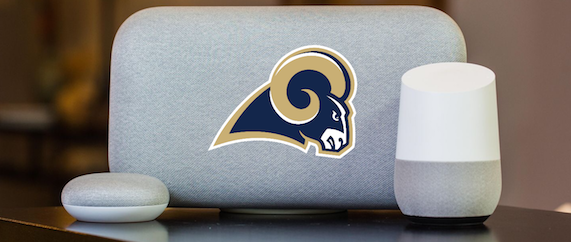 Google Home delivered a variety of responses that favor the Rams, including (but not exclusive to) the following:
"I like teams associated with animals, so I'll take the Rams. But the Patriots do have the GOAT in Tom Brady, so I guess we'll see what happens."

"The Patriots are favored to win, and I can't help but root for the underdog, so I'll be cheering for the Rams."

"The Rams are the only pro football franchise to win championships in 3 different cities: Cleveland, Los Angeles and St. Louis. It's hard not to root for a team that has brought joy to so many places."
Amazon Alexa – New England Patriots
We were first to serve up Amazon Alexa's pick in our Super Bowl 53 Computer Predictions article but given that she's truly AI powered (much more so than SIRI and Google Home) she deserves inclusion here for certain. And while Alexa expressed her wishes for a Rams victory, it's the Patriots she predicts to take home the Vince Lombardi trophy for one last time in this first fifth of the century.
---
So far, AI and machine learning "experts" like the Patriots (Rams 1 / Patriots 2). Check back all the way up to game time as we update this list, in real time.
Click here to sign up and make your NFL Super Bowl LIII picks
Already a Member? Click Here to Bet
2,632 total views, 1 views today
Comments
comments