Update 2020: Looking for Super Bowl 54 computer / AI picks and predictions? View our 2020 edition here!
Super Bowl bettors are becoming more informed than ever before. As one yourself, you're considering every possible angle so that you can make more educated picks for the big game. You've referenced sports media expert picks and even check in to see what the latest (and oddly trusted) animal kingdom predictions have to say about the two teams' chances of walking away with a win (straight up) and by what margin (spread). But sentient beings are no longer enough, which is why the populous is turning to robots. Well, not traditional robots per se, although we'd pay good money to see Rockem Sockem robots adorn mini Patriots and Rams jerseys and duke it out in their 10.5 x 3.5 x 15.8 inch cage.
Instead, we're referencing the numerous computer/electronic systems and internet-enabled devices that have stepped up to run their algorithms and pick a winner. We've done the homework and curated computer picks from around the world to give savvy and sharp bettors a serious shot at breaking the sportsbook with the most exhaustive (experts + animals + computers) analysis around. Register to play, read below, and make your picks on the 2019 Super Bowl.
Current Computer Picks Total: Patriots 3 / Rams 1  (pending, more to follow)
Super Bowl LIII Picks and Predictions from America's Favorite Computer Systems
CBS Sports Computer Model – Bet the Over
CBS Sports' computer model boasts a 16-6 Super Bowl run and went 176-80 straight up (SU) last season. During this 2018 regular season the model went 170-84 on SU picks and ranked within the top 10 on NFL Pick Watch. Plus, it has gone 7-3 on all of its against-the-spread (ATS) picks in the 2019 NFL playoffs. Long story short, you can put some stock in this computer's picks.
This week, the system simulated Super Bowl LIII over 10,000 times and came up with some interesting results. For one, well over 50% of the model's simulations are backing the OVER, which is currently priced at -110 at TopBet, with a 57.5 benchmark.
For those betting the Rams Super Bowl LIII player props, take note that the model is calling for Rams' CJ Anderson and Tood Gurley (running backs) to team up for 25 carries. As far as Patriots player props go, the computer likes New England's trio to combine for 26 carries. No word on which side of the spread is winning yet, but reports state that the simulations like one side of the spread to cash more than 50 percent of the time. Bookmark this article and return for updates.
Tecmo Super Bowl Prediction – Los Angeles Rams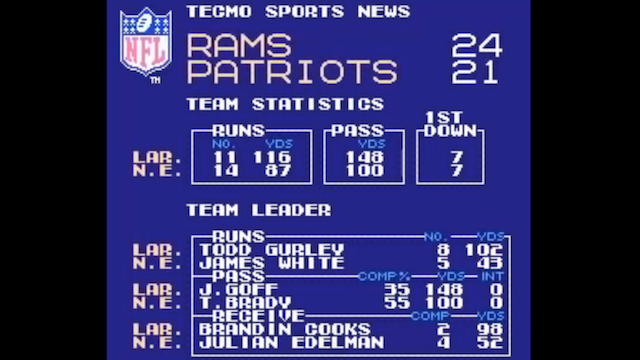 32 years ago the NFL football arcade game known as Temco Bowl was unleashed in all of its glory to the masses. Over the last few years, the iconic game has been running a Super Bowl simulation days prior the big event and last year it correctly picked the Eagles to defeat Patriots. This year, Temco continues to punish the Patriots, although at first it looks as if Brady will earn his sixth ring as with only with 2:14 left in the game New England is up 21-17.  However, in a last ditch effort the Rams are able to convert a fourth-and-1 when running back Todd Gurley pops out of a gang tackle at the 50 and rams (pun intended) his way through to the Patriot's 6 where Los Angeles would call for their last timeout. After some stressful moments for Rams fans, including a Jared Goff sack and fourth down loss of possession with just with 55 seconds left, Brady hit wide receiver Phillip Dorsett with a sweet pass but Dorsett fumbles with Rams linebacker Bryce Hager laying in wait to scoop up the ball and jettison to the end zone for a miracle 24-21 Rams win. We swear these Temco games are getting even better than the real thing! Let's see if something similar unfolds this coming Super Bowl Sunday.
Here's a little something to tide you over until February 3:
EA Sports Madden NFL 19 – New England Patriots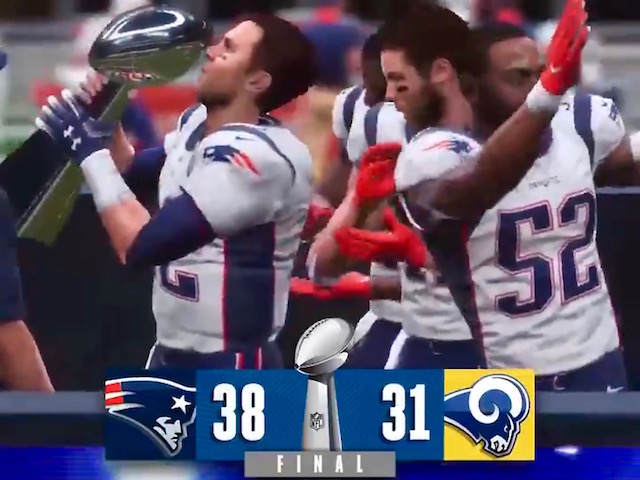 The annual EA Sports Madden NFL 19 Super Bowl simulation differs from its Temco predecessor, picking the Patriots to win in a higher scoring game. En route to New England's 38-31 victory, the game system predicts Brady will pass for 396 yards and three touchdowns while the Rams' Jared Goff certainly performs, throwing for 470 yards and three scores, but alas his defensive team wasn't there to hold the Patriots back.
Since Super Bowl XXXVIII (15 years ago), the Madden simulation has picked the winner 10 of 15 times, missing the boat last year as they picked the Patriots over Philly. Still, a 67% success rate ain't all that bad.
Amazon Alexa Prediction – New England Patriots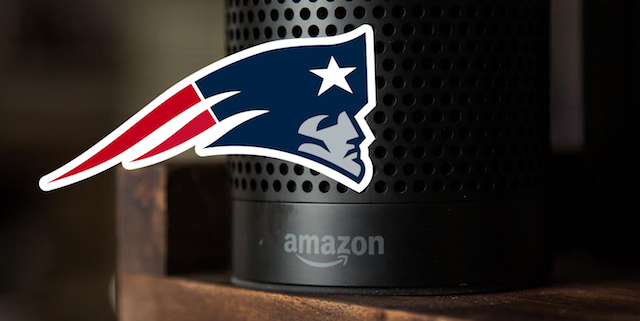 This is Amazon Alexa's second time predicting the Super Bowl, coming into this year with a flawless 1-0 record after picking the Eagles in 2018. Unlike Siri (who can't really make her own decision – see below) Alexa has given a clear albeit cheeky answer when asked about who the 2019 Super Bowl champion will be:
"As much as I want the Rams to win, you can never count out the New England Patriots. My prediction? The Patriots will be taking home the Vince Lombardi Trophy, and Tom Brady will need to use his other hand for that sixth Super Bowl ring." (Amazon Alexa)
SIRI Prediction – New England Patriots (sort of)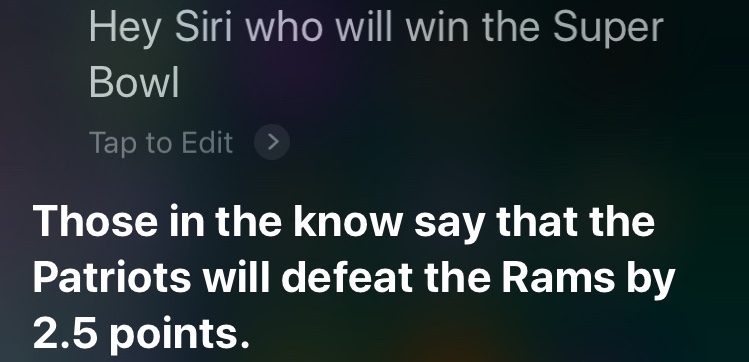 Poor SIRI, she simply hasn't been programmed with the same voice assistant technology as her more advanced cousin, Amazon Alexa, to form a legitimate opinion. Still, she is able to gather info from the web to come to her conclusion that the Patriots will defeat the Rams by 2.5-points, which is not-so-coincidently the spread (at press) at the sportsbook:
"Those in the know say that the Patriots will defeat the Rams by 2.5 points."
Unanimous AI Prediction – Pending (Patriots so far…)

Unanimous AI (artificial intelligence) has been making some scarily solid picks over the last two years. It nailed the final score of Super Bowl 51 where the Pats beat the Falcons 34-28, and hit some key players props and stats for Super Bowl 52. Given that its "swarm" based model takes time to make the most informed decision, the results will be posted closer to February 3rd. At the moment, it looks like the "swarm" likes New England but that may or may not change in the next 72-hours or so. Bookmark this article and check back daily as the big day approaches as we'll post the update as soon as they get back to us with the results.
---
So far computer-based "experts" follow the general consensus in favor of the Patriots but there's nothing like good ol' fashioned human intuition when it comes to picking the big game. Register before February 3 and bet on the 2019 Super Bowl.
3,969 total views, 1 views today
Comments
comments