Update 2021: Looking for Super Bowl 55 computer / AI picks and predictions? View our 2021 edition here!
Artificial intelligence (AI) has many positive applications for modern day society. It can help predict and react to potentially damaging weather events, prevent cyber attacks from abroad, and assist scientists in coming up with new medicines and vaccines to end the spread of nefarious ailments across the planet. But perhaps most importantly – it can be leveraged to predict the Super Bowl.
That's right, while you may have referenced sports media expert picks and even animal kingdom predictions in anticipation of this up and coming Super Bowl, many bettors are putting stock and literal investment (via wagers) in what AI-driven software and systems have to say about what will transpire this Sunday. Luddites and technophiles alike should read ahead, sign up, and make their bets by considering the following computer picks for Super Bowl LIV.
Current Computer Picks Total: 49ers 3 / Chiefs 2

Super Bowl LIV Picks and Predictions from America's Favorite Computer Systems
CBS Sports SportsLine Computer Model – Back the Under
Ever year CBS Sports' reports on the SportsLine computer model as it simulates the results of the Super Bowl thousands of times until it reaches a definitive conclusion. This year the model simulated the 2020 Super Bowl between the San Francisco 49ers and Kansas City Chiefs for a total of 10,000 go-arounds. Now as you may know, you have to pay-up to get access to the predicted winner and final score BUT CBS Sports does provide an appetizer to the entree by giving up the goods on the OVER/UNDER. This morning (January 27) they indicated that in well over 50% of the simulations the UNDER clears with room to spare.  The UNDER is currently priced at -110 at TopBet, with a 54.5 benchmark.
Tecmo Super Bowl Prediction – Kansas City Chiefs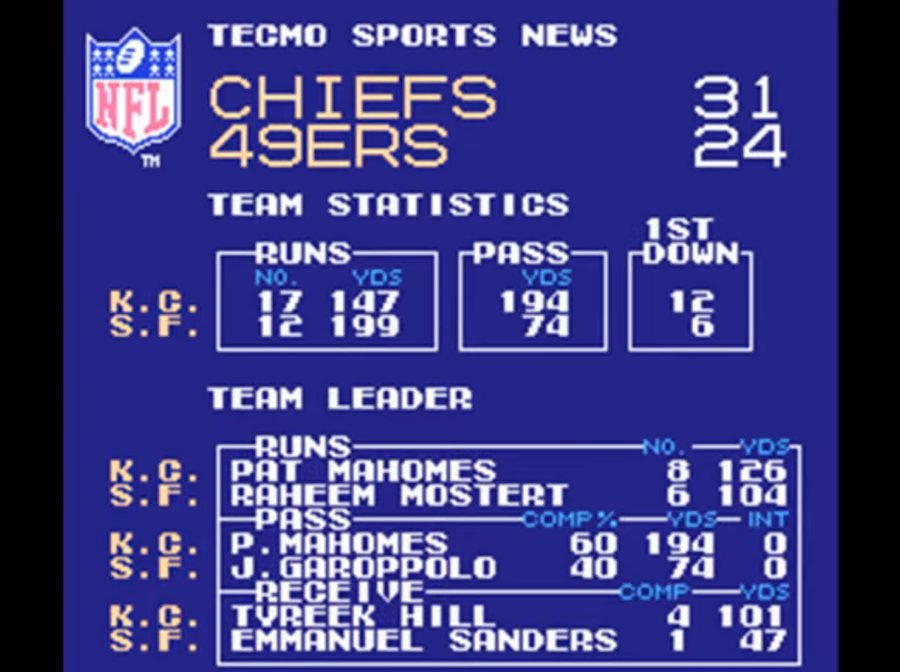 Over three decades ago in 1987 the NFL football arcade game known as Temco Bowl was released to the masses across the U.S of A. In recent years, the legendary game has been running Super Bowl simulations in the week leading up to the big event and thanks to a huge surge in nostalgia for all things 80s bettors' faith in the game simulator is reaching a fever pitch. That said, last year Temco Bowl incorrectly picked the Rams to defeat Patriots, but Brady-hate was about as infectious as malware. In 2020, Temco Bowl has picked the Kansas City Chiefs to win by a touchdown and field-goal with a final score of 31-24. The system expects Mahomes to pass for 194 yards with a 60% completion rate while it seems Garoppolo comes apart, throwing for just 74 yards at 40%.
EA Sports Madden NFL 20 – San Francisco 49ers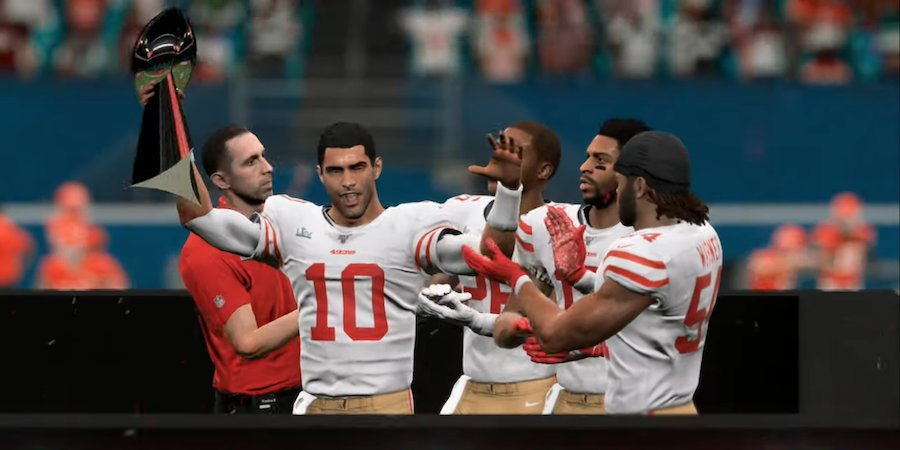 Since Super Bowl XXXVIII (16 years ago), the Madden simulation has picked the winner 11 of 16 times, including their last season pick of the Patriots over the Rams. While its pre-season simulator amusingly suggested that the Dallas Cowboys would meet (and defeat) the Cleveland Browns in Super Bowl LIV, boasting a near 69% success rate for picking Super Bowl winners ain't that bad. For many bettors, that tally is enough to give confidence in a straight-up prediction that favors the San Francisco 49ers over the Kansas City Chiefs by a final score of 44-23. Madden predicts that Garoppolo will tally 313 yards and 4 TDs with an 81.2% completion rate, while Mahomes puts up solid numbers as well at 329 yards, 2 TDs, and a 71.8% completion rate.
Amazon Alexa Prediction – San Francisco 49ers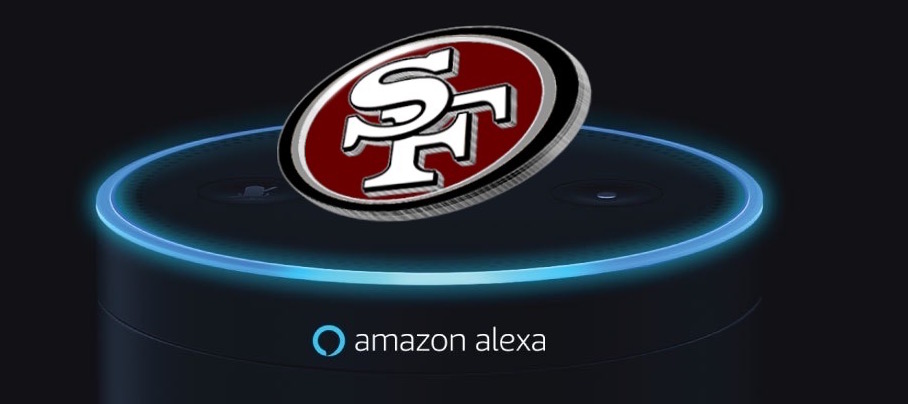 Alexa accurately picked the Patriots to win last year, and the Eagles the annum before that, giving her a 2-0 record so far. This week, ABC Sports asked Alexa who she thought would win Super Bowl 54 and she delivered the following reply:
"The Chiefs are favored to win it but the 49ers are on a gold streak. My prediction? The 49ers will be joining the Patriots and Steelers with a six-pack of Super Bowl wins."
Will Amazon Alexa extend her record to 3-0 by the end of Super Bowl Sunday?
SIRI Prediction – Kansas City Chiefs (sort of)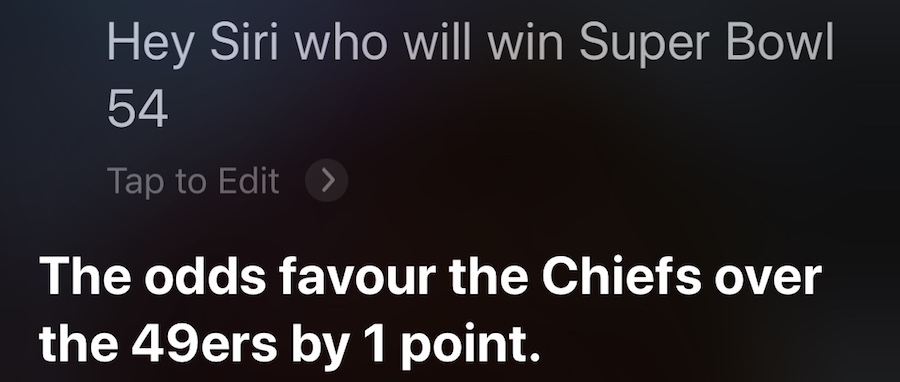 Unlike Alexa who is outfitted with superior AI and can actually think for "herself", SIRI just delivers the Vegas odds in 2020, which she currently quotes at 1-point in favor of the Kansas City Chiefs. C'mon SIRI – time to join your peers (Alexa, Google Home, T-800, etc.) and gain some independent thought in time for Super Bowl LV.
Google Home – Pending
Stay tuned, running to Best Buy to grab one for the sportsbook office now….
Unanimous AI Prediction – San Francisco 49ers

Unanimous AI is the most advanced AI-generated sports predictor, applying a patented "swarm based" tech (combines real-time human insights with AI algorithms for amplified forecasting accuracy) to make its educated picks. Last year the swarm correctly favored the Patriots, and prior to that had some success nailing the final score of Super Bowl 51 while hitting key player props and stats for Super Bowl 52. For the 2019 NFL regular season, Unanimous AI's Sportspicker finished 95-80 against the spread (ATS) WITH a 54.3% record.
Going into Super Bowl 54 the AI picker gave the 49ers a 36.3% chance to win the NFC (second to New Orleans which stood at 38.2%) and the Chiefs a 31.8% chance to win the AFC (also second, to Baltimore which stood at 45.1%). With both New Orleans and Baltimore removed from the equation, we must now look to the second favorites from each division which leaves us with the 49ers and the Chiefs. Here's what Unanimous AI's Sportspicker has to say about the chances of winning Super Bowl 54: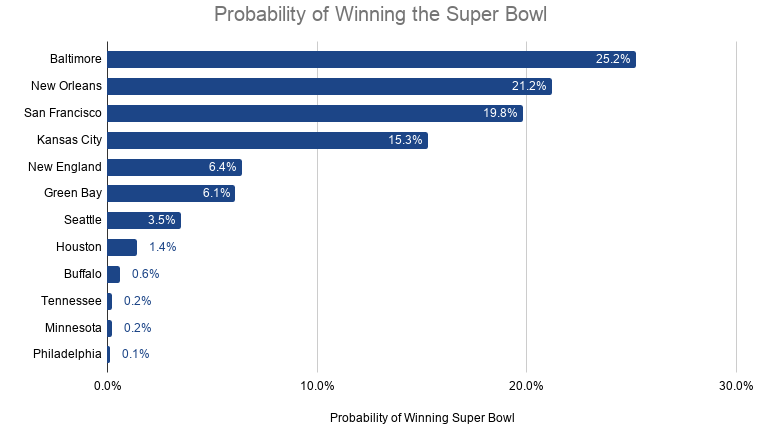 As you can see, despite not being favored over their NFC rival to even be in the Super Bowl, the 49ers are fairly clear favorites to defeat the Chiefs this coming February 2nd.
---
While it's somewhat balanced, computer-based "experts" buck Vegas odds and instead favor of the 49ers. However, there's nothing like good ol' fashioned human intuition when it comes to picking the big game. Register before February 2 (and claim 150% bonus) and bet on the 2020 Super Bowl.

5,413 total views, 1 views today
Comments
comments