Super Bowl 55 is upon us and it's time to make your picks. While you may have referenced sports media expert advice and even animal kingdom predictions many bettors are looking to more technically sophisticated systems prior to making wagers. This is where artificial intelligence (AI) and machine learning come into play. AI-driven software and predictive modeling networks have something to say about the eventual outcome of this Sunday's main event, and even luddites are looking to them to make their picks. Read ahead, sign up, and make your bets by considering the following computer predictions for Super Bowl LV.
Current Computer Picks Total: Chiefs 4 / Buccaneers 0

Super Bowl LV Picks and Predictions from America's Favorite Computer Systems
---
CBS Sports SportsLine Computer Model – Back the UNDER (and more)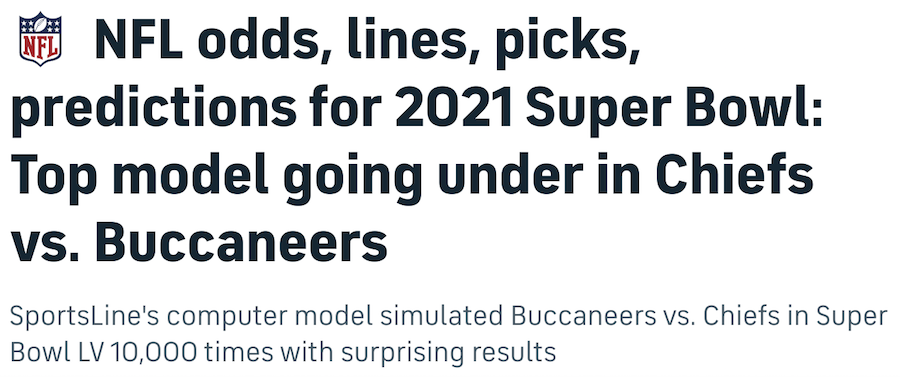 Sponsored by CBS Sports, SportsLine's computer model has simulated the Super Bowl LV matchup between the Chiefs and Buccaneers a total 10,000 times. Given that this is the FIRST time in NFL history that a team has ever hosted a Super Bowl in its home stadium many are wondering how this popular model will respond.
While you have to pay big bucks to get the final score and winner prediction, SportsLine does release some predictions that you can bet on right now. For one, the computer model tells bettors to take the UNDER. The UNDER is currently priced at -110 at TopBet, with a 56.5 benchmark.
SportsLine also predicts that Brady throws for fewer than 275 yards. Brady is currently priced at priced at -114 to throw under 300.5 yards at TopBet, so this seems like a safe bet if putting stock in the predictor.
---
Tecmo Super Bowl Prediction – Kansas City Chiefs
Tecmo Bowl has been "predicting" the Super Bowl since it was released as an arcade game decades ago (1987) and has been uploading their simulation results after YouTube launched in the late 2000s. Staying true to their "vintage" tech this is the most popular and often-referenced Super Bowl predictor to date. What do they expect this Sunday? Sportsbooks predict a close one with a 3-point spread in favor of the Chiefs, but Temco Bowl suggests it will be even closer. The Chiefs win 28-27. Watch the game simulation below to pull more data that you can use for Super Bowl LV player prop betting too!
---
EA Sports Madden NFL 21 – Kansas City Chiefs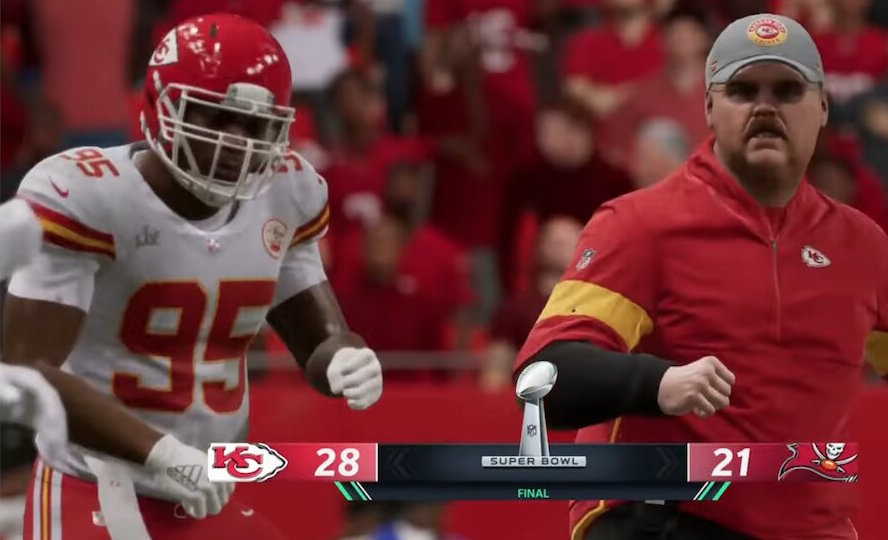 You can't have Super Bowl computer picks and predictions without an entry from EA Sports Madden. The Madden simulation has picked the winner 11 of 17 times, but fumbled in their last season pick of the 49ers. For the 21st edition they have flipped the script and instead roll with a 28-21 win in favor of the Kansas City Chiefs.
---
SIRI Prediction – Kansas City Chiefs (sort of)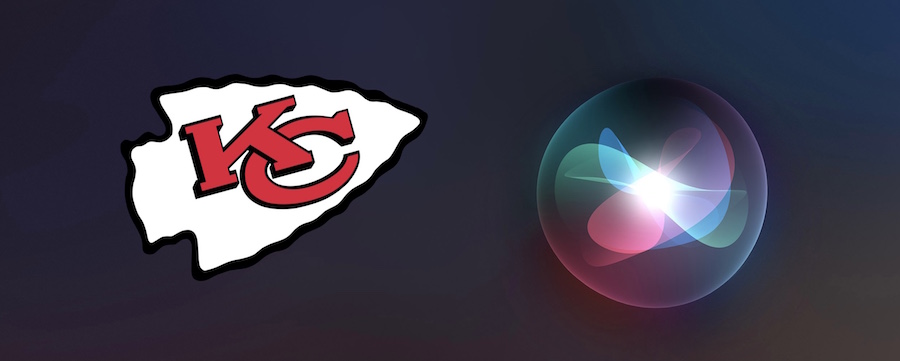 SIRI is the worst. We asked him/her numerous times about his/her opinion on who will win Super Bowl LV and he/she continues to deliver variations of the same answer, committing to nothing more than a quote about what Vegas odds and bookmakers have to say:
"Those in the know say the odds favor the Chiefs over the Buccaneers by 3-points."
---
Google Home – No Decision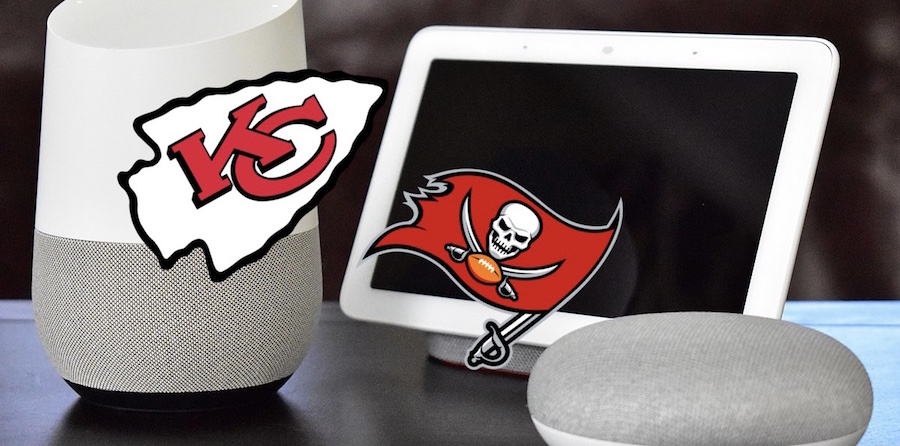 Google Home isn't much better than SIRI when it comes to making a commitment. In fact, he/she is a cheeky bastard. At the sportsbook office today we posed the query "Hey Google, who will win Super Bowl 55?" and received the following response:
"I have a feeling that it will be a team from the AFC, or NFC"
So we tried again:
"I like the team with the helmets"
And again:
"It's hard to pick sides. I'm mostly rooting for the scoreboard"
Then we had one a 7-year old kid (who stopped by the office with Dad today) ask, because maybe the innocent voice would bypass Google Home's nonpartisan program:
"I root for the chain crew, they always go for the whole ten yards"
Ugh.
---
Unanimous AI Prediction – Kansas City Chiefs

This is the most advanced AI-generated sports predictor. The program applies a patented "swarm based" technology (combining real-time human insights with AI algorithms for amplified forecasting accuracy) to make its educated picks. In 2019, the swarm correctly favored the Patriots. However, when "polled" during the start of the playoffs prior to Super bowl 54 Unanimous AI's Sportspicker gave the 49ers a 19.8% chance to win it all, and gave the Chiefs just 15.3%. They may have lost that bet, but what does the tech have to say about the Chiefs vs Buccaneers matchup this Sunday?
Lets first consider how they have performed during the 2020 regular season. Over the course of the entire 17 week season, the Sportspicker's winning percentage was 6 percentage points higher than Vegas favorites, when picking against the spread: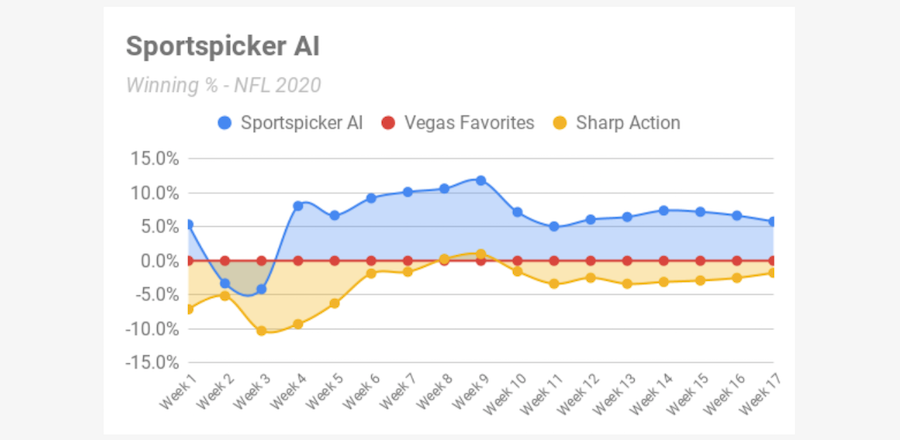 While they look pretty good when picking ATS, Sportspicker AI is not making a prediction in the days leading up to the Super Bowl, which means we have to look at their data from the beginning of the playoffs: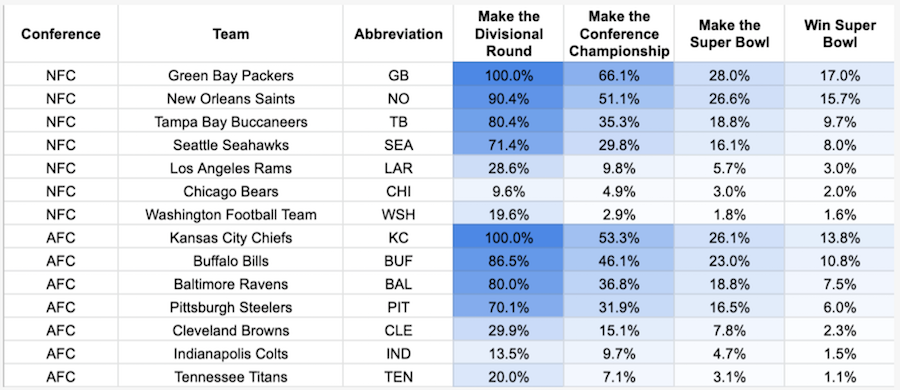 The Chiefs are listed with a 13.8% probability to win, whereas the Buccaneers are listed with a 9.7% probability to hoist the Vince Lombardi Trophy.
---
While there isn't exactly a firm commitment from the world of AI, computer-based "experts" do indeed appear to go with Vegas odds and favor of the Chiefs. However, there's nothing like good ol' fashioned human intuition when it comes to picking the big game. Register before February 7 (and claim 150% bonus) and bet on the 2021 Super Bowl.

2,586 total views, 1 views today
Comments
comments