Update 2019: Looking for Super Bowl 53 animal expert picks and predictions? View our 2019 edition here!
Here we are heading into the Super Bowl and while sports media picks are being published left and right, we all know what sharp bettors have a keen eye on – the animals. It makes sense when you think about it. Animals have been known to predict earthquakes, tsunamis, hurricanes, and all sorts of natural phenomena, so why not the world's greatest sporting event too?
That's right, we all eagerly anticipate annual predictions from the furry, fuzzy, and scaly experts that chime in at this special time of the year. And while some of the beasts are taking their time in delivering picks, we've been on the ball to post both their early and last-minute (bookmark this article for updates) predictions for those of you who need to know. After all, you can't make your bet until Fezzik the Porcupine weighs in, right?
Current Animal Picks Total: Eagles 6 / Patriots 2
Super Bowl LII Picks and Predictions from America's Favorite Animals
Bubbles the Elephant – Philadelphia Eagles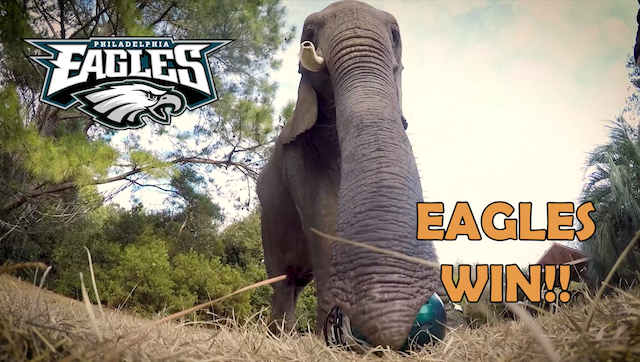 The best entry for this year's animal picks comes from Myrtle Beach Safari, where Bubbles the adorable elephant decisively put the pick in her trunk, giving the Philadelphia Eagles the win. View the full video below:
Walter the Camel – Philadelphia Eagles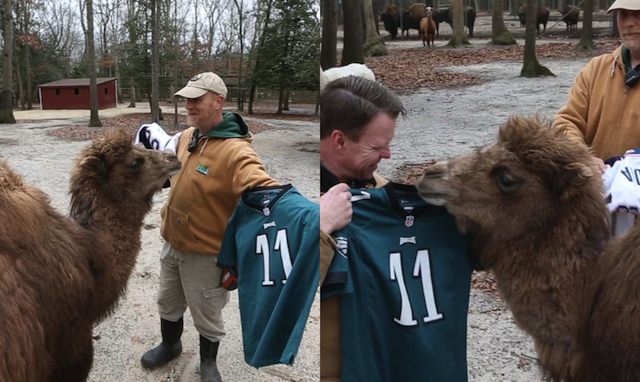 (photos: Dale Gerhard)
A Cape May County Zoo (NJ) resident Bactrian camel named Walter is just under one-year old, making this his first time at picking the Super Bowl, but most certainly not his last (may as well lean into it big fella). Walter stepped up as Marty, the other and much older camel at Cape May County Zoo, bowed out due to lack of interest. With a penchant for nail biting drama, the young camel cut a line right down the middle, making the spectators (and zookeeper) wait until he returned for his official prediction – the underdog Philadelphia Eagles. Now if only the jaded Marty would weigh in and force a tie (he just looks like a Pats fan).
NBC 5's Fort Worth DOGGIE Bowl – Philadelphia Eagles
NBC 5's Fort Worth PUPPY Bowl – New England Patriots
Fort Worth Animal Care and Control has teamed up with local station NBC 5 to put on the Fort Worth Doggie Bowl. The highly anticipated event paired two teams of pups and grown-ups (dogs), with one of each pack wearing New England Patriots colors, and the other decked out in Philadelphia Eagles swamp green. All dogs at the Fort Worth shelter will be available for adoption for a fee of just $10 from today up until the 2018 Super Bowl (Feb. 4). If you live in the area and are in need of a companion, you may as well come on down and adopt one that can also help with your sports picks, year in and out.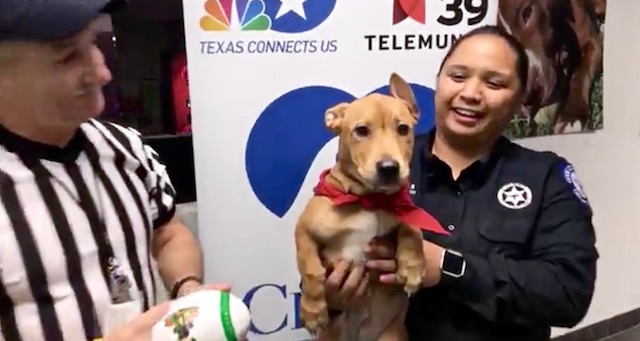 The puppies picked the Patriots (red)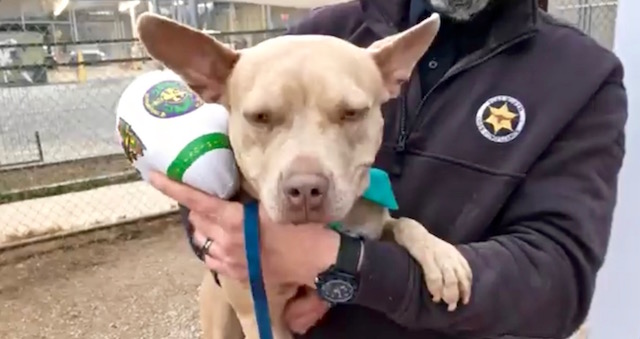 The grown-ups picked the Eagles (green)
Fezzik the Porcupine – New England Patriots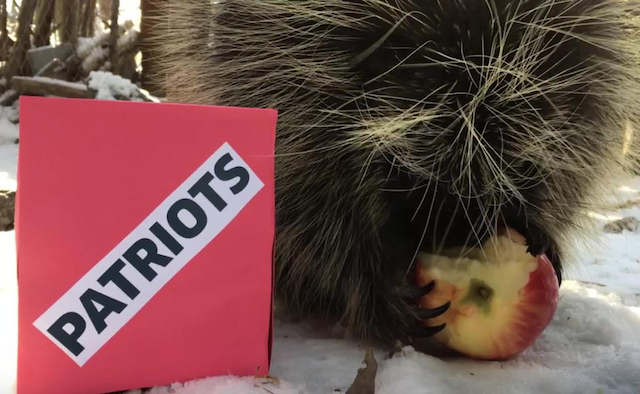 Stone Zoo (Stoneham, MA) resident porcupine Fezzik correctly picked the Patriots to win the 2018 AFC Conference Championship and has carried his prediction over into Super Bowl LII, giving the hometown Pats the clear victory. How do you like them apples??
Ozzy the Grizzly Bear – TBD (JAN 30!)
ZooMontana (Billings, MT) resident grizzly bear Ozzy, took his time choosing the New England Patriots to win the Super Bowl last year. The reason for his procrastination became evident as the game was a close one, with the Patriots winning in overtime against the Falcons. Ozzy is looking to extend his record on Tuesday, January 30th at 8:00 am (EST) when he predicts this season's champion. Stay tuned (bookmark) as we update this list as the event unfolds.
Carlos the Hairless Cat – Philadelphia Eagles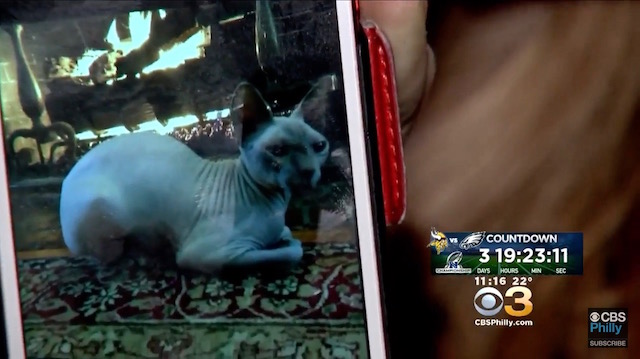 We had to dig deep for this entry, with a fan in Philly giving us the heads up on a hairless cat that has been watching his favorite team religiously this season, which his owner thinks has played an important part in the Eagles' success so far. Perhaps he's glued to the tube for the simple fact that the Eagles' emblem resembles his favorite outdoor meal (not knowing that it would be the other way around if an actual eagle spotted him on the lawn), but whatever the reason, he apparently gave the nod to Philadelphia in the 2018 NFC Championship (pictured above) and has done so again for the Super Bowl. We're not sure how the owner knows this, but we're not about to argue with her, or Carlos (hairless cats creep us out).
Mike the Trout Pick – Philadelphia Eagles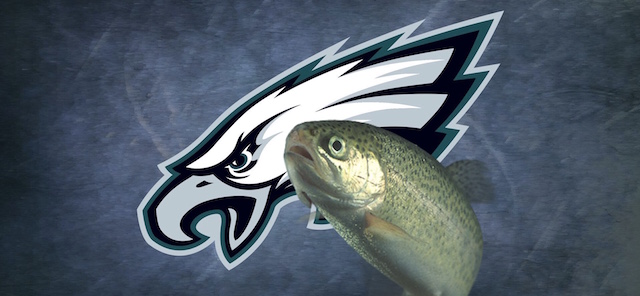 OK, we're stretching this one a bit, given that we're talking about MLB star Mike Trout and not the freshwater Oncorhynchus mykiss species. But really, the Angles pitcher wore a dog mask through the Philadelphia Eagles 2018 NFC Conference Championship game, so he qualifies.
Trout shared his Super Bowl LII prediction on a conference call with the media this week. While it's no surprise that the hardcore Eagles fan picked his team to win over the New England Patriots, he provided a prediction that may be worth noting. Trout singles out a late interception by Tom Brady to seal the deal that results in an underdog win.
Honorable Mention: Amazon's Alexa – Philadelphia Eagles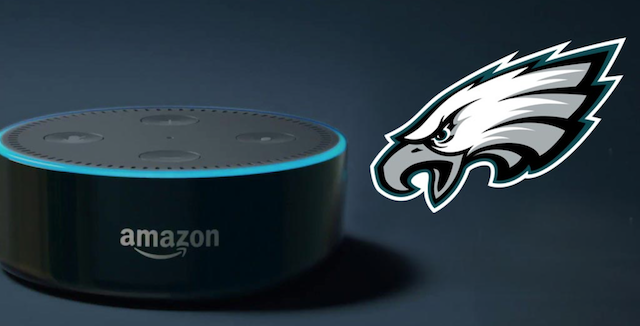 Some say Amazon Alexa (Echo / Dot) has become a sentient being. While we certainly can't call "her" a human, she may be nearing animal status, right? OK, this is another reach (more so than Trout above) but you can't blame us for jotting in this early entry as an honorable mention. The local zoos and the wildlife kingdom in general have been taking their sweet time in delivering Super Bowl LII predictions, so we thought it fair to add Alexa to the mix. And yes, she has reportedly made her early pick (go ahead and ask if you have one) in emphatic fashion:
"I'm flying with the Eagles with this one because of their relentless defense and the momentum they've been riding off their underdog status. E-A-G-L-E-S. Eagles."
No word from Siri yet, that non-committal minx.
---
It's no surprise that the animal kingdom likes the dog on this game, with a healthy 6-2 record in favor of the Eagles. Now that you're armed with the expert opinions above, are you ready to make your own Super Bowl LII predictions? Register to do so and make your NFL wager here.
4,284 total views, 1 views today
Comments
comments