---
If there was ever an acceptable time to call a team that choked a 3-1 championship series lead "unbeatable," now is probably it. The Golden State Warriors, who pretty much ran past everyone last year to finish with a record-breaking 73-9 season, were able to lure Kevin Durant to join the gang in the off-season.
Durant, as you may remember, being a former MVP and all, turned the basketball world upside down with his decision. It was indeed puzzling, since he and his Oklahoma City Thunder was THIS close to beating the Warriors just one month prior.
It is what it is, though. The 2014 NBA MVP is undoubtedly making the Warriors an even scarier team. He will be bringing in career averages 27 points, seven rebounds, and four assists, on 48-percent shooting, along with great size, shooting, speed, athleticism, and more.
So, is Golden State, the first NBA team with four reigning All-NBAers, really unbeatable? Allow us to explore on that, and the teams that can give them some tough challenges.
VIEW THE WARRIORS' ODDS IN WINNING THE DIVISION, CONFERENCE, and THE NBA TITLE
---
NBA News & Predictions
---
What makes them "unbeatable?"
It obviously starts with the unbelievable shooting ability. In the history of the league, Durant, Curry, Thompson, and Green are probably the best core of shooters in one team. Those four made 964 combined threes last season, which is more than what 29 other teams made for the whole year.
Defensively, they are a force as well. The team was seventh in steals (710), fifth in opponent field goal percentage (43.5), and sixth in fewest threes allowed (640) last year.
They lost key guys Harrison Barnes, Andrew Bogut, Mo Speights, Leandro Barbosa, and Festus Ezeli, but were able to replace them with veterans Zaza Pachulia, David West, and JaVale McGee.
Which teams can pose a real threat?
Milwaukee Bucks
SCHEDULE:
November 19th (at Milwaukee)
March 18th (at Oakland)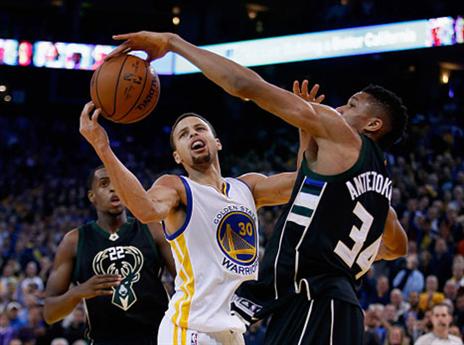 Milwaukee is first on the list, as the Bucks were the team to snap the Warriors' incredible start last season. Part of the reason they were able to do so is their defense, athleticism, and awesome supply of wingspan, which is a good foil for Warriors' small ball system. Here are some of the guys they have, along with their wingspans:
Giannis Antetokounmpo – 7′ 3″
Greg Monroe – 7′ 2″
Jabari Parker – 6′ 11″
John Henson – 7′ 5″
Miles Plumlee –  7′ 0″
Mirza Teletovic – 6′ 11″
Rashad Vaughn – 6′ 7″
Steve Novak – 6′ 10″
Thon Maker – 7′ 3″
In their two matchups last season, the Bucks only gave up 15 three pointers (the Warriors' fewest versus all teams). They also joined the Pistons as the only teams to average more points than the Warriors during their respective regular season series.
Los Angeles Clippers
SCHEDULE:
December 7th (at LA)
January 28th (at Oakland)
February 2nd (at LA)
February 23rd (at Oakland)
Despite their many losses (and 4th quarter collapses) to Golden State, the Clippers are still projected to give the Warriors a good run for their money, mainly because of Blake Griffin and DeAndre Jordan. The presence that those two give in the paint is a tough challenge to any front court, as both are faster and more athletic than most bigs.
The Clips' great offense and shooting firepower, meanwhile, allows them to go toe-to-toe with the Warriors in scoring.
San Antonio Spurs
SCHEDULE:
October 25th (at Oakland)
March 11th (at SA)
March 29th (at SA)
Yes, they lost Tim Duncan's presence, leadership, and veteran defense, but you know Gregg Poppovich always has tricks up his sleeves. Also, the Spurs still have Kawhi Leonard, arguably the best two-way player in the league. He will be joined by Tony Parker, LaMarcus Aldridge, Danny Green and key off-season acquisiton Pau Gasol in limiting the Warriors offense.
The Spurs was also responsible for the Warriors' lowest scoring output last season. In the 87-79 win, the Splash Brothers were held to an awful 11-of-38 shooting.
Cleveland Cavaliers
SCHEDULE:
December 25th (at Cleveland)
January 16th (at Oakland)
The defending champs have to be here. After being down 3-1, they beat the Warriors three straight games to win the championship, all while holding Golden State to under 40-percent shooting.
Entering the 2016-2017 season, the Cavs basically have the same team from last year, and added veteran shooter Mike Dunleavy, bruising rebounder Chris Andersen, and athletic rookie guard Kay Felder.

2,275 total views, 1 views today
Comments
comments