With both the Baltimore Ravens and Indianapolis Colts looking dominant in their most recent outings, we can expect a fun, exciting football game come Sunday afternoon. Can the Ravens continue their hot streak of three-consecutive wins? Or will the Andrew Luck deliver another excellent performance to halt Baltimore? Read on as we break down everything you need to know to bet on this game.
For more football analysis, check out our complete NFL Week 5 Picks and Predictions. It's going to be a week of exciting football you won't want to miss.
[sc:Football ]
Baltimore Ravens vs. Indianapolis Colts Preview
Where: Lucas Oil Stadium, Indianapolis
When: Sunday, October 5, 1:00 PM ET
Line: Baltimore Ravens (+3.5) at Indianapolis Colts (-3.5); total 47.0 – view all NFL lines
Betting on the Baltimore Ravens
Steven Smith Sr. burned his former team, the Carolina Panthers, with a couple of big plays in a 38-10 victory on Sunday. Smith caught a deflected pass for a 61-yard touchdown, and dove for another score on a 21-yard pass. The Ravens are now on a three-game winning streak.
[sc:NFL240banner ]The 35-year-old Smith finished with seven catches for 139 yards and two touchdowns. Still, Smith wouldn't have been able make the big plays he did without a huge performance from his quarterback. The Ravens' Joe Flacco completed 22 of 31 passes for 327 yards and three touchdowns. Together, Flacco and Smith should be able to connect on a few big plays against a Colts defense which has allowed 251.2 yards per game in the air.
The Ravens should be able to keep the Colts' defense off-balance with what has been a surprisingly solid backfield rotation without Ray Rice. Running back Justin Forsett repeatedly found holes against Carolina's defensive line finishing with 66 yards on 14 carries, including an 11-yard touchdown run, while rookie Lorenzo Taliaferro also proved to be a live threat finishing with 58 yards and a score on 15 carries.
The Ravens have won both of their meetings with the Colts since 2011.
Betting on the Indianapolis Colts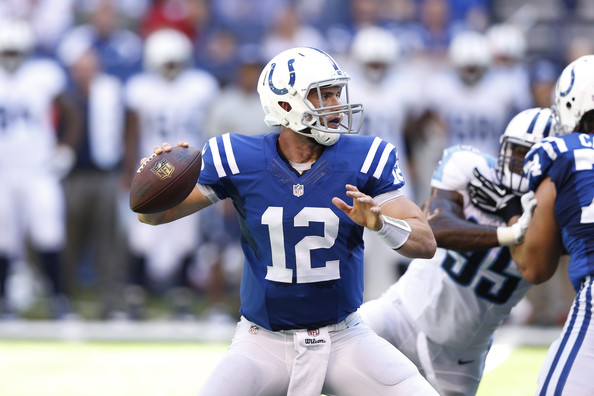 After two disappointing losses to start the season, the Indianapolis Colts rebounded with back-to-back blowouts against Jacksonville and Tennessee over the past two weeks.
Even though the Colts looked good in their last two games, those wins came against two of the worst teams in the elague. The Colts will have a bigger challenge on Sunday when they welcome the Baltimore Ravens to Lucas Oil Stadium, where they are 8-3 since 2013.
Andrew Luck has been solid in his third year with the Colts. He is currently tied with the Giants' Eli Manning for the most passing touchdowns in the league (nine) in just four games this season. Four of those touchdowns came against the Tennessee Titans on Sunday.
Luck's success may be attributed to the Colts' solid receiving corps. Reggie Wayne and T.Y. Hilton, as well as tight ends Coby Fleener, Dwayne Allen and Donte Moncrief are all averaging 10 yards or more per catch. Fleener and Allen have been especially useful in grabbing five combined receiving touchdowns.
Luck and his legion of receivers may be able to move the chains against a Baltimore pass defense which allows 260.2 yards per game, but scoring against Baltimore is a different story. The Ravens have only allowed 15 points per game this season.
The total has gone under in the Colts' last five games against Baltimore.
Writer's Prediction
Behind a solid running game, the Baltimore Ravens (+3.5) grind out a close win against the Colts. Create a betting account now as the NFL games start to heat up.
[sc:NFL490Banner ]
2,255 total views, 1 views today
Comments
comments