The defending Champion Chicago Blackhawks can fall into a 0-3 hole against the St. Louis Blues if they don't show up tonight. Meanwhile, the LA Clippers are down 0-1 against the team they love to hate, the Golden State Warriors.
St. Louis Blues vs. Chicago Blackhawks (8:30 PM EST)
Line: St. Louis Blues (+150) at Chicago Blackhawks (-170); total 5.0 – view all NHL lines
Betting on the St. Louis Blues
Two down. Two more to go. The St. Louis Blues have a chance tonight to push the defending Western Conference champions to the brink of elimination when they travel to the Windy City after back-to-back overtime wins at home against the Chicago Blackhawks.
In a battle of high-scoring squads, the Blues apparently have the edge. After suffering from a lack of offense down the stretch of the regular season, in which they lost all of their last six games, the Blues have now recovered their scoring touch. They have outscored the Blackhawks 8-6 in two high-scoring games.
The Blues could be missing the services of captain David Backes in Game 3 after being hit in the head by Blackhawks' defenseman Brent Seabrook, which in turn earned him a 3 game suspension.
The Blues' 4-3 win in Game 2 improved their record to 7-3 in the last 10 meetings with Chicago. They are also 3-1 over in their last four road games.
Betting on the Chicago Blackhawks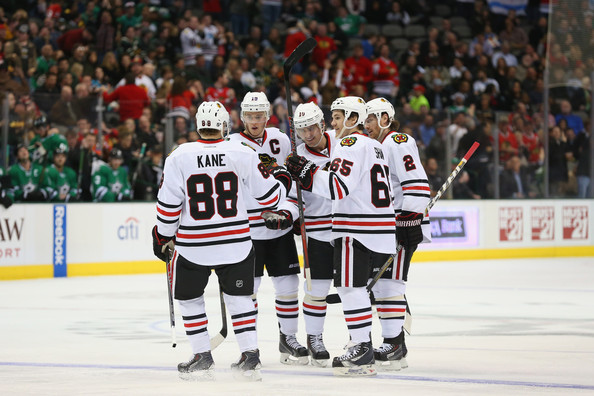 The Blackhawks still have time to right their ship. A game at home could just be what they need to get their first win in the Playoffs. They are 8-2 in their last 10 home games. Likewise, they are 8-2 in the last 10 visits of St. Louis to United Center.
The Blackhawks have been getting their goals, scoring three in each of the first two games. However, engaging St. Louis in a shootout hasn't given them much success yet.  St. Louis has been given lanes and plenty of shots on net. The Blues are averaging 41.5 SOG in the series, while Joel Quenneville's team only musters 35.0.
Without defenseman Brent Seabrook (suspended), the Blackhawks are now faced with an added challenge when it comes to stiffling St. Louis' attack. That means goalie Corey Crawford should be ready to face more shots and added pressure. He had an amazing 48-save effort – albeit in a loss – in Game 1, but has allowed four goals in each game.
Writer's Prediction
The Blackhawks rarely lose at home. St. Louis will get its first defeat in the postseason tonight at the United Center.
Golden State Warriors vs. Los Angeles Clippers (10:00 PM EST)
Line: Golden State Warriors (+8) at Los Angeles Clippers (-8); total: 212.0 – view all NBA lines
Betting on the Golden State Warriors
[sc:NBA240banner ]Blake Griffin could only douse a Warriors fan with a cup of water after seeing his team get drenched by 38 points from the Splash Brothers. Stephen Curry only had 14 points but backcourt partner Klay Thompson scattered 22 points to help the Warriors pull out a 109-105 upset win against the LA Clippers.
Jermaine O'Neal put up a vintage performance, too, in lieu of injured center Andrew Bogut. O'Neal contributed 13 points, including momentum-boosting back-to-back dunks in the last quarter. Behind David Lee's 13 boards, the Warriors dominated the glass with 48 rebounds as compared to the Clippers' 42.
With the victory, the Warriors extended their streak of successful covers to five games. They have also gone over the line in all of their last four games.
Betting on the Los Angeles Clippers
With Blake Griffin hounded by foul trouble in Game 1, the LA Clippers found It hard to get a rhythm. Griffin (16 points, 6-13 FG) only played for 19 minutes before fouling out.
Chris Paul was also saddled with fouls late in the game, but managed to finish with 28 points, eight assists, and seven rebounds. With Griffin spending lots of time on the bench, the Clippers were abused inside by Golden State, which scored 48 points in the paint. DeAndre Jordan simply couldn't do it alone despite churning out 11 points, 14 rebounds, and five blocks.
The Clippers could've won the game if only they fared better at the charity stripe. Paul and Jordan had eight of the Clippers' 12 missed free throws (23-35) for an ugly percentage of 65.7%.
The Clippers are 3-1 SU and ATS in their last four games at home against Golden State.
Writer's Prediction
Things could have gone differently had not Griffin and Paul got into foul trouble in Game 1. Barring a repeat, the Clippers will even this series tonight with a close victory. Take the Clippers straight up and the Warriors +8 to cover.
[sc:NBA490banner ]
1,869 total views, 2 views today
Comments
comments