It's a huge day for football as we are now on to Week 15 of the 2015 NFL Regular Season. With the playoffs just around the corner, teams are looking to separate themselves from their competition. More so for the Carolina Panthers, who are the only unbeaten team heading into this week. The Panthers face pretty tough opponents on the road, the New York Giants.
Much later into the day, the Arizona Cardinals continue their dominant run as they take on the Philadelphia Eagles. Can the Cardinals put a stamp on their season with a big win? Or will the Eagles spring a surprise?
Read on for today's best games to bet on. If you're looking for more football action this Sunday, check out our complete previews for the Broncos vs. Steelers and Packers vs. Raiders.
[sc:MultiSportArticles ]
Carolina Panthers vs. New York Giants (1:00 PM ET)
Line: Carolina Panthers (-4) at New York Giants (+4); total 48.5 – view all NFL lines
[sc:NFL240banner ]The Carolina Panthers clinched a first round bye in the NFC Playoffs with a 38-0 beatdown of Atlanta on Sunday. But they still have plenty to play for as the Panthers are the only unbeaten team left in the NFL, standing with a sparkling 13-0 record. Quarterback Cam Newton continues to impress, most recently completing 15 of 21 passes for 265 yards and three touchdowns against Atlanta. He finished with a near-perfect passer rating of 153.3.
Newton will have a chance to shine against New York. The Giants have the worst passing defense in the league allowing a whopping 308 yards per game. But quarterback Eli Manning could still fire back with his own strong arm. Manning's 28 touchdowns rank fourth in the league this season.
Writer's Prediction
The Giants fight to the bitter end, ultimately losing by a field goal. New York covers +4.
Arizona Cardinals vs. Philadelphia Eagles (8:30 PM ET)
Line: Arizona Cardinals (-4) at Philadelphia Eagles (+4); total 51.5 – view all NFL lines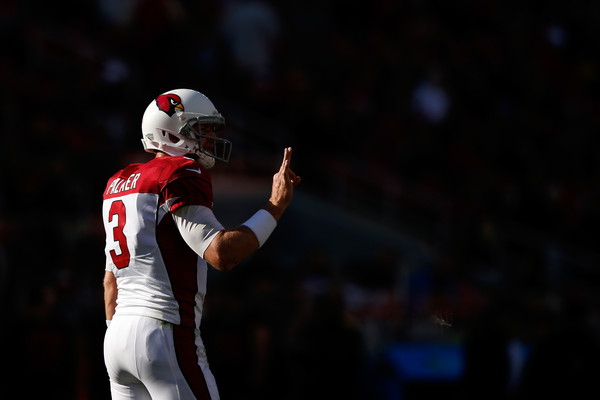 Arizona quarterback Carson Palmer has been solid all season long, most recently torching Minnesota for 310 yards and two touchdowns in Week 14. The Cardinals are now one win away from clinching NFC West to book a berth in the playoffs. Palmer will have a chance to shine against Philadelphia's injury-riddled secondary missing cornerbacks Erik Rowe and Nolan Carroll.
The Eagles won't back down without a fight, though. Quarterback Sam Bradford can continue to shine after his last two outings. Bradford threw for two touchdowns in a 35-28 upset of New England in Week 13. He then threw for 247 yards, including a long 53-yard touchdown to Nelson Agholor, in a 23-20 win against Buffalo in Week 14.
Writer's Prediction
The Eagles upset Arizona to cover +4.
Create a betting account now and get in on a busy day of football action.
[sc:NFL490banner ]
2,151 total views, 1 views today
Comments
comments